Exclusive homes erected, in very heart of Tallinn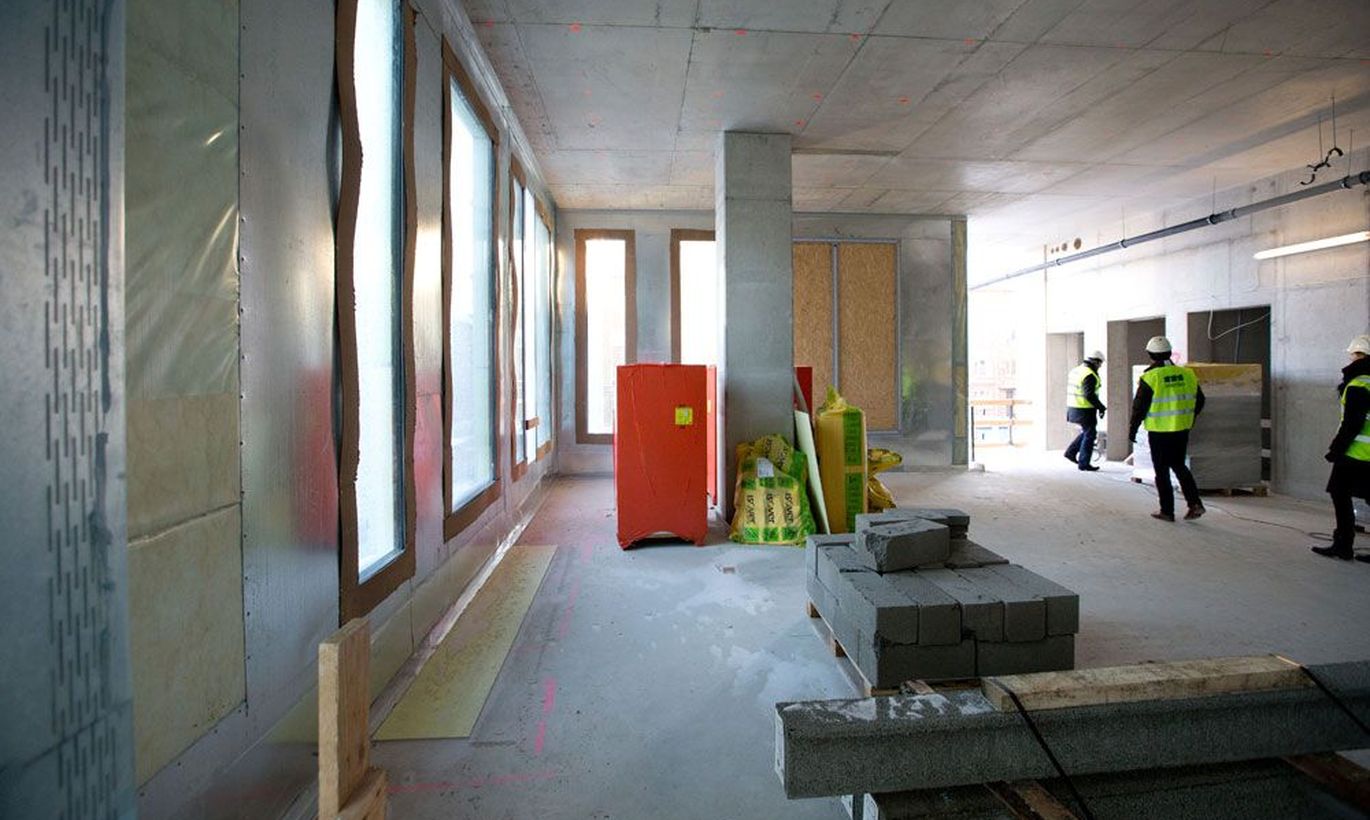 Strolling down Kentmanni Street, in Tallinn City centre, one may have stumbled upon a concrete cube, on contemporary chicken legs, being erected. The construction still in process, the pillars and planning do look impressive. At the moment, this is considered the best located and most exclusive development in town.
Glancing from the street, one wonders: who, in their right mind, would cough up over €5,000 for a square metre at Kentmanni St 6? Climbing up the makeshift stairs in the elevator shaft, with each storey the price makes more sense – this is Tallinn's best view and top spot.
Under supervision and without endangering life too much, one may currently climb up to the 12th floor of the 14 storey house. From there, the most exclusive apartments offer view of entire Tallinn, almost. On an overly frosty day, a foreign guest might be treated to an Old Town tour without leaving home: all the important churches, towers and skyscrapers are in plain sight. 
With a price that high, one might think it's only the wealthy foreigner who buys a home here; even so, as assured by the developer Merko Ehitus Eesti's dwelling development marketing chief Simar Selezov, there's many an Estonian eye on the flats. In the house to be completed by year's end, 85 per cent of apartments are sold. To Mr Selezov's knowledge, about half of these have been purchased to dwell in; the rest have been bought to be sold on or rented out.
«The house has got 93 flats; of these, ten are still available at the moment. The square metre of the most expensive one stands at €5,150, the cheapest at €3,240,» says Mr Selezov. «The price is mainly linked to the view, size, cardinal point, and whether or not the apartment has a balcony,» he adds. Due to houses all around being lower, the panoramic view starts at flats on sixth and seventh floors. 
According to Pindi Kinnisvara CEO Peep Sooman, a curious situation has emerged on the real estate market regarding new projects – either the very expensive or under average, about €1,800 m3 flats find buyers.
As an example of that, he points out the Kasekodu residential area on Nõmme-Laagri border; with square metre price at €1,500, and the walls only being laid, 11 of the 20 apartments of the first house have already been booked – lightning fast. Same goes for Peetri small town in Rae Commune: the houses not ready yet, lion's share has been covered by contracts.
«From the other end, the very Kentmanni house does serve as a good example; clearly the best located development in Tallinn. As wealthy real estate investors will clearly see, the house is an evergreen just due to location, for the market. Even with dark scenarios, goods like that will always do deals,» says Mr Sooman. «As living quarters, Kentmanni ST and Kaupmehe St also are very highly appreciated, and Kentmanni St 6 is a very unique house.»
As confirmed by Tiit Kuusik, Merko Ehitus Eesti's housing projects division director, location is what matters most with this one. «There's nothing else in sight so near to city centre, it seems; no vacant lots there, either,» says Mr Kuusik.
According to him, the product as such is top notch, in Estonia's context: technically, there are things not done too much earlier. Like the entire house being «smart» i.e. equipped with the solutions, for instance, allowing for climate and lights directed via tablet computer of telephone, communicating with guests about to arrive and letting them in – all without being home. Also, the smart-home-system will notify a smart device of water leakage in kitchen, say.
Mr Sooman also underlines the importance of this being a Merko development. «Merko does build quality stuff and, even in hard times, they have always sold for higher prices than other developers, always carrying a highly positive image. Maybe the house would not be the success that it is without Merko being its developer,» he adds.
In equal price and exclusiveness class with Kentmanni St 6 is the Old Town Pagari St 1 building, opened with pomp last summer. According to Uus Maa agent Margit Sild, apartments still available come at €4,000 m3, average. Last year's most expensive deal happened with an apartment in that very house, businesswoman Reet Roos purchasing real estate for close to €1.2m.