Thousands of Tallinners cannot get to work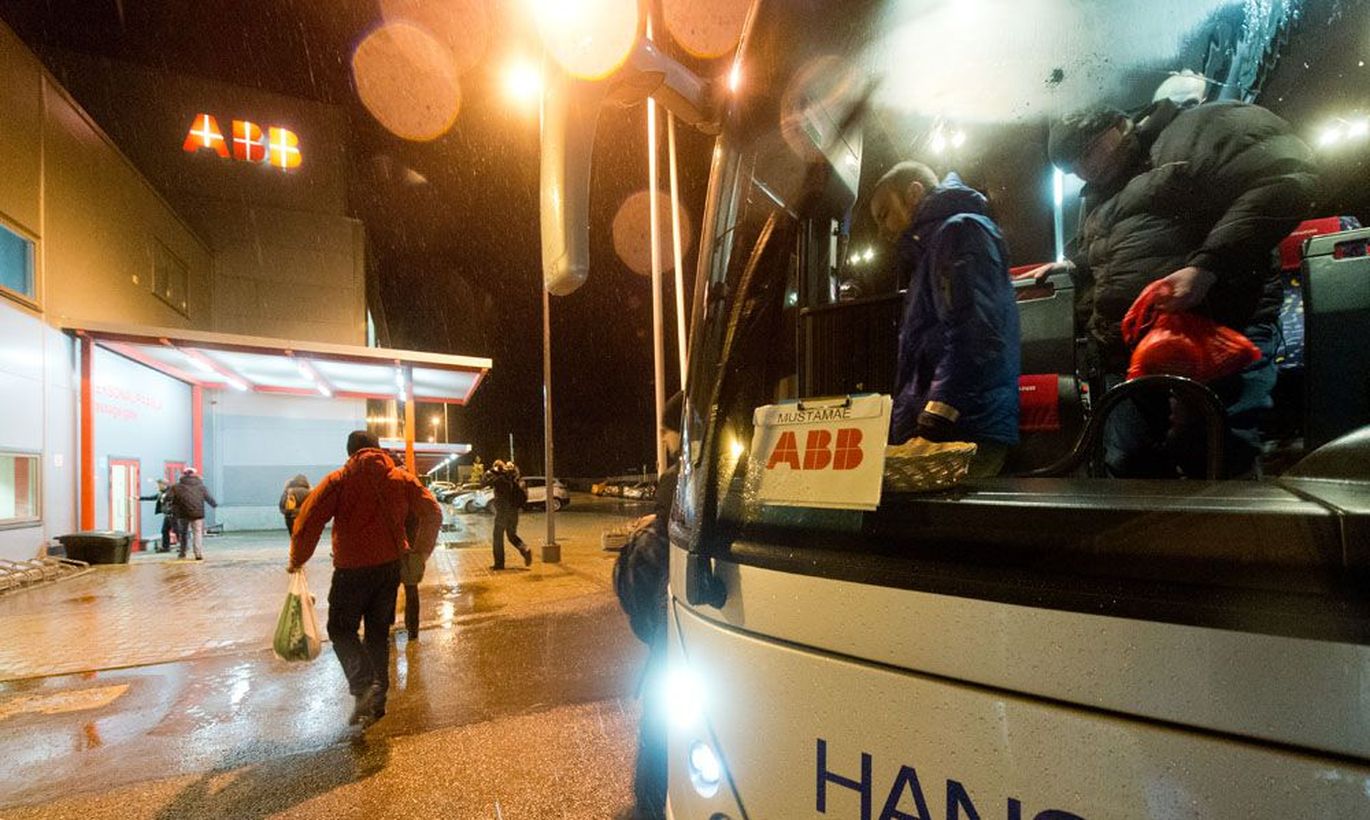 Harju County public transport is built on people getting from countryside to capital; options for getting from Tallinn to work outside of town are altogether lacking.
Every day, the ABB bus lines take 600 to 700 people to work in its Rae Commune plants. And back home for the evening, naturally. The buses go from Õismäe, Mustamäe, Lasnamäe, and Maardu. One line comes from Keila.
It all has the appearance of bona fide public transport: fixed lines, stops, times, departures. Like ABB, other companies around the area are also hauling their staff to work. Kalev, Itella, lots of logistics companies and factories, to name some.
Last year, in cooperation Harju County public transport centre, the entrepreneurs started to map the labour movements (Tallinn–Rae–Tallinn). Now, looking back, the Rae Mayor Mart Võrklaev states the following: «Naturally we knew that people were moving like that; what we were most surprised by were the numbers... how massive that was.»
Based on the findings, Harju County public transport centre applied to economy ministry for subsidies, this fall, to have 20 new bus lines travel between the aforementioned Tallinn districts and Jüri area of Rae commune.
«We expected to get a quick no,» said the public transport centre manager Ago Kokser. «However, they didn't say no. They didn't say yes either.» This means the ministry is aware of the problem; Juhan Parts has said that whenever they get together with entrepreneurs, one of the first questions asked is about transport.
ABB supplies chain chief Peep Tomingas adds that whenever the minister pays a visit, asking how the state might help, they always answer the question. «The issue of getting to work is a basic and poignant topic,» says Mr Tomingas.
There has been a lot of talk about people moving between Tallinn and areas of Harju County; first and foremost, it has come from the angle of getting to Tallinn, from elsewhere. The county-wide public transport has been arranged with this view in mind.
Meanwhile, the opposite movements have rapidly increased in volume. Precise figures nobody knows; even so, a glance at how many Tallinners head from apartment areas to plants outside city limits, and those communing between Harju County settlements (for instance, Maardu folks working in Paldiski), we may be talking about tens of thousands, daily.
The two trends – into Tallinn, and out of Tallinn – are somewhat differing, by composition. From the new developments on near-city fields, white collar folks are headed to Tallinn city centre, by car of public transport, complaining over traffic jams or bus schedules. The opposite direction is a blue collar flow from apartment blocks to factories.
The latter, however, is not sufficiently covered by public transport; neither does it sufficiently cover «insides» of Harju County. Overall, the problem is rather large and neglected. Public transport is lacking, everyone tries to get to work, somehow.
Large companies like ABB, Kalev or Itella have launched their own lines and buses. The smaller ones have no such option. For example: waste water drain producer PipeLife, located 10 kilometres from Tallinn and employing about 70 people, has no bus line. As explained by representative Karina Vaiksaar, they have arranged transport compensation to a certain limit, paid by the company; also, they try to organise car-pooling. 
Similar methods are employed by Tallinn branch of Maag Grupp, located in the same area. For their own bus, employees are too few; Maag has searched for options to have a joint bus with some other companies; no solution has been found. In the end, everyone sees to himself. «Bus operators» or not, companies have to deal with problems outside their main activity.
For the companies, this makes it harder to find workers. As for the workers... it is obvious that those who would be willing to work, earn wages and pay taxes in these areas, will not even apply if they cannot get there – from Õismäe of Lasnamäe. Therefore, companies are not established, expansions fail to materialise, developments are shelved.
The need is obvious as admitted by everyone – by the companies, by Harju County public transport centre, by communes, by state officials, by the ordinary worker.
The solution, however, is nowhere in sight. The problem is not merely money, there are other aspects. The movements crossing city-commune borders, this is an issue of local government cooperation; this, in turn, raises the issue: who will win and who will lose, who will profit and who will pay.
For instance: the Tallinn bus line No 18 travels from city centre to Laagri; from thence to the Tänassilma Industrial Park the bus won't go. The city is not interested in lengthening the bus line. For a while Harju County public transport centre launched a Tänassilma line; alas, they run into lack of passengers as people preferred taking bus No 18 (which was cheaper and now free of charge) to Laagri, walking the couple of kilometres to Tänassilma.
And: when public transport was arranged to the Kalev candy factory, workers thereof avoided the bus line, preferring to ride on to Kalev by a bus of their own. The companies and plants, however, have a problem: they would prefer public transport and would be ready to compensate the costs for employees; that, however, would mean fringe benefit tax i.e. making it costlier for the companies.
No simple solution here. Local government cooperation would be needed; state should intervene. Several entrepreneurs have proposed tax incentives for those going to work in Harju County (the very fringe benefit tax topic); this, however, would take a wider political and financial shift.