Monument to fallen in Afghanistan moved to Paldiski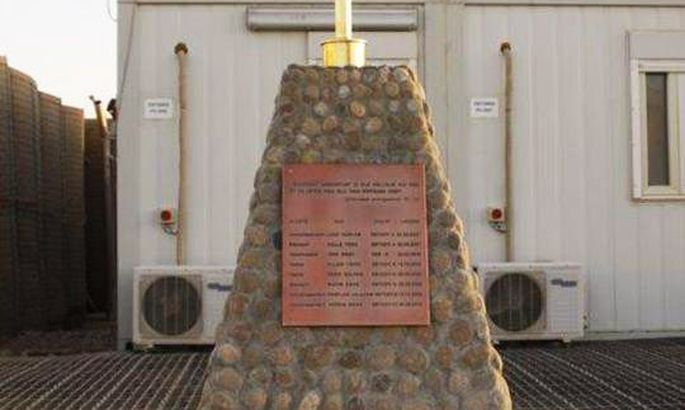 Commander of the Defence Forces, Major General Riho Terras, on visit to Afghanistan since Monday night, assisted by Estonian soldiers serving in Afghanistan, yesterday removed the cross and plaque bearing names of the nine fallen from the monument at Camp Bastion; the elements of the monument will be transported to Estonia and will, in April 2014, be erected in vicinity of 1st Infantry Brigade, in Paldiski.
«Just as we never leave the fallen behind, on battle fields, we will never leave behind the memory of the fallen,» said Major General Terras, adding that as all who have given their lives for Estonia rest in native soil, the monument will be standing where relatives and brothers-in-arms are able to visit.
The monument was dedicated in 2010 with participation of President Toomas Hendrik Ilves, announced the Defence Forces HQ. In Afghanistan, Mr Terras also met Regional Command Southwest chief Major General Walter Lee Miller, granting him an overview of developments in the domain. «A lot has been accomplished, in Afghanistan and the Helmand province, by international security forces; even so, at the end of the day, it is all up to how the Afghani state wants and wills to make headway,» he said.
Estonian infantry company's Estcoy-16 serves in Afghanistan since May; Estcoy-17, to enter service in November, will remain the last rotation by Estonian infantry company. Next year, responsibility for security in Afghanistan will be transferred to local units; the company returns home next summer.