Bank owners at loggerheads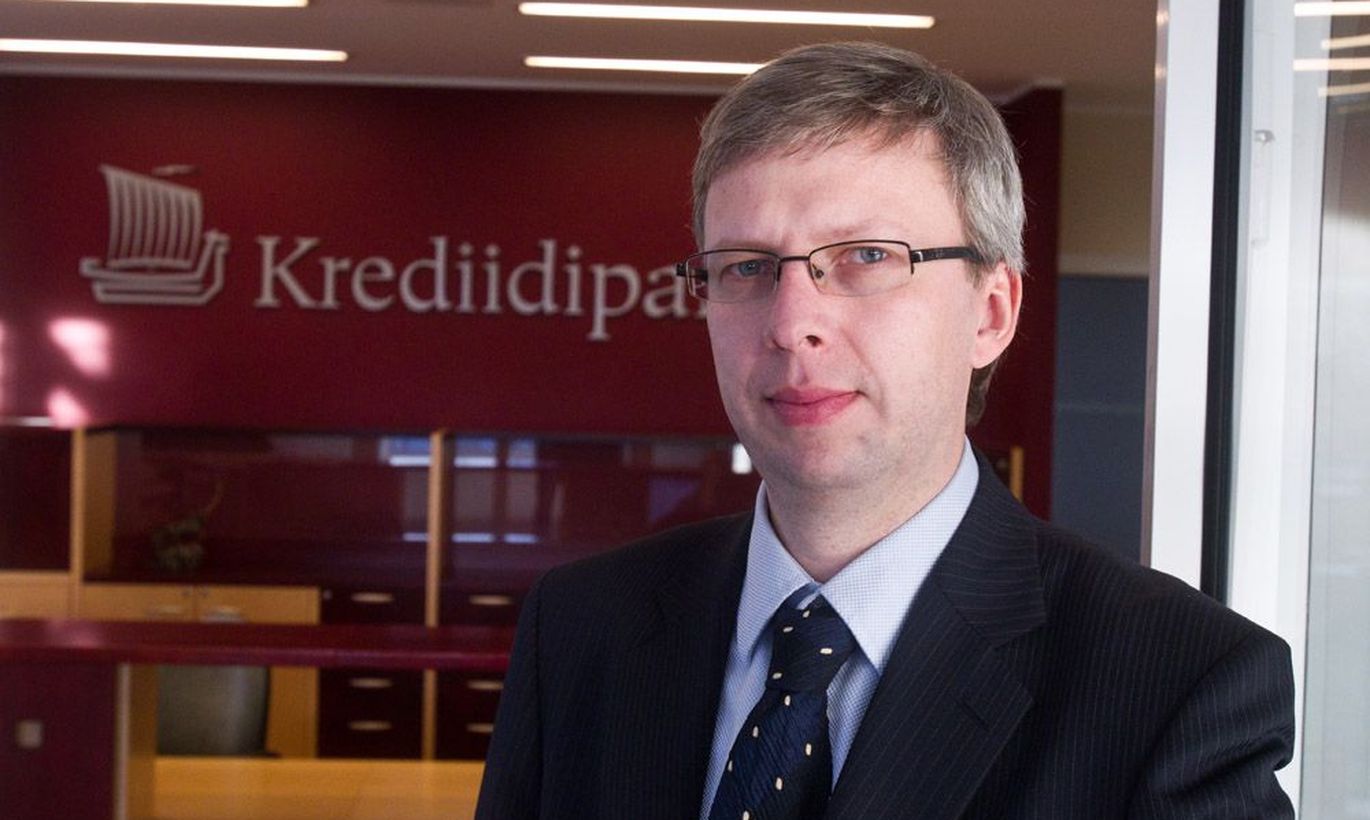 Banker suspects Financial Supervision Authority collusion with Russians of murky background. 
As required by Estonian Financial Supervision Authority (FSA), Krediidipank's chairman Andrus Kluge will have to hurry up and leave the bank. Mr Kluge has contested the FSA decision in court. What is more: he views the precept, dating September 9th, as an act of retaliation.
Teaming up with Krediidipank's minority shareholders, Mr Kluge sued FSA last fall, demanding that Tallinn Administrative Court check legality of actions by the supervisor. Also, they demand that the court annul the licence given to Bank of Moscow to hold a majority in Krediidipank. Mr Kluge, a 4 per cent owner of Krediidipank, thinks Bank of Moscow, owning close to 60 per cent of Krediidipank, should not be majority owner. «Bank of Moscow has repeatedly violated Estonian law, FSA has not reacted to that nor has it protected the interests of minority holders of Krediidipank,» said he.
Mr Kluge specified that Bank of Moscow has attempted to access Krediidipank's customer data. According to him, majority owners may not infringe information subject to banking secrecy nor inquire who are keeping their money in the bank.
Another violation mentioned by Mr Kluge was that, in 2011, Bank of Moscow hired former security police commissar Indrek Põder and businessman Oleg Smoli to put pressure on Krediidipank, paying them about €300,000 for their services. According to chairman, Mr Põder and his accomplice were tasked with bullying bank employees into submission to monitoring committee required by Bank of Moscow.
The players hired by Muscovites were persistent. In October 2011, Mr Smoli, together with his partner Nikolai Holopov, took the time to search out Krediidipank's private banking chief at his holiday, with a girlfriend, in Italy – to remind him of the importance of agreeing to the monitoring.
«Bank of Moscow was looking for the money allegedly lost during the term of its former chief Andrei Borodin. €300-400m was supposed to have been on accounts of our bank,» said Mr Kluge.
Even so, Mr Kluge suspects it was rather that Russian special services wanted to get an overview of rich Russians' accounts, as, pursuant to Russia's policies, officials may not hold accounts abroad.
According to Mr Kluge, he has repeatedly informed FSA that Muscovites are demanding banking secrets. However, FSA has not reacted.
Neither has FSA paid any attention to notifications by Krediidipank managers that Bank of Moscow last year deprived two shareholders with Russian citizenships of their shares, by use of FSB – all in all, amounting to about 16 per cent of Krediidipank shares. 
Mr Kluge admitted that a fair price was paid to the two Russian businessmen by Bank of Moscow; however, he said the men were presented a choice: either you give up the shares, or else you are opponents of Russian state. One of the men thus forced out was Aleksandr Yevnevich, up until recently sitting in the bank's council.
The third violation, in Mr Kluge's opinion making Bank of Moscow unfit as owner of the bank, is that for a year and a half Bank of Moscow had no licence to hold controlling interests in Estonian credit institutions. 
In spring of 2011, Russia's second largest banking group VTB acquired majority holding in the struggling Bank of Moscow. After ownership change, Bank of Moscow should have secured approval by Estonia's FSA – which was only granted last fall. As, in the meantime, Bank of Moscow has also increased its holding, Mr Kluge and other minority shareholders are of the opinion that a company, having possessed holdings without licence, should not be owner of an eurozone bank.
FSA's head Raul Malmstein told Postimees by e-mail that he will not comment on the court dispute with minority shareholders of Krediidipank, launched last fall. According to Mr Kluge, FSA is doing its best, in court, to prove that courts have no right to assess activities of FSA. 
With no right to assess, his main complaint – Bank of Moscow not having the right to hold majority in Krediidipank – would go unanswered. As stated above: since last fall, the case is more or less stuck in Tallinn Administrative Court.
Mr Malmstein stood ready, however, to explain why, in the FSA's opinion, Mr Kluge is unfit to chair the bank council. By the way: should Mr Kluge not succeed in annulling the precept in court, he will no longer be able to work as banker in the European Union.
Among other things, Mr Kluge stated that when his relations with Bank of Moscow got tense, last spring, the chief in Moscow told him point blank he would make his life miserable. «Financial Supervision Authority has proposed to Krediidipank shareholders to call Andrus Kluge back from being chairman, his reputation not being blameless,» said Mr Malmstein in explanation of his precept.
According to Mr Malmstein, Mr Kluge's company Firmex Investeeringud acquired, in the spring of 2011, close to 16 per cent of Krediidipank's shares. The FSA chief stressed that the contract was signed by Andrei Borodin, the then Bank of Moscow CEO, by now kicked out due to alleged theft and peculation of assets.
Mysterious loan by mysterious lender
Mr Malmstein said FSA ought to have been informed of the deal and his approval secured; however, this Ms Kluge failed to do.
Immediately, Firmex resold some of the shares to a company called Genovia Invest, controlled by other members of Krediidipank board. Thereby, holdings of both companies remained below the ten per cent threshold i.e. under the level requiring FSA approval.
«Asset purchases by Firmex and Genovia was financed by one and the same person, an on extraordinary conditions. In the opinion of FSA, Andrus Kluge's activities at financing Firmex and Genovia are highly questionable. Namely, financing for both companies has been arranged by Andrus Kluge, and that from sources and on conditions causing serious doubts for FSA,» said Mr Malmstein.
Though not officially so stated by FSA, Mr Kluge allegedly was loaned over €2m to purchase Krediidipank shares. Postimees was hinted the loan came from Mr Borodin.
Mr Kluge said he got the loan from a Russian company, not from Mr Borodin. Referring to confidentiality, he will not name the company.
According to Mr Kluge, the accusation is unfounded and the shares were on the account of his company for about fifteen minutes. This was a technical transfer, he said. Also, Mr Kluge claims the FSA statement – this having been a single transaction formalised with two companies – can in no way be proven.
FSA's precept contains a contradiction. Namely: in spring of 2012, FSA assessed Mr Kluge's business reputation as he left the post of Krediidipank's CEO to be elected to chair the council thereof; at the time, FSA found no fault with him whatsoever, esteeming him as fitting to chair the bank council. The deal referred to by Mr Malmstein, however, took place as early as 2011.
Now, however, FSA has changed its mind. And. the agency's precept just happened to be issued a couple of days after a letter from Bank of Moscow, the latter demanding the very same: that Mr Kluge be removed from chairing Krediidipank council.
One more link is to be found, between Bank of Moscow's interests and Estonia's FSA. Bank of Moscow is represented by Paul Keres of law office Glikman Alvin & Partnerid. As claimed by Mr Kluge, the FSA lawyer tasked with preparing Krediidipank-related decisions fir FSA management, is a good friend of Mr Keres'.
This March already, Mr Kluge applied for the said lawyer to be removed from the case, as he would not be impartial in supervision procedures due to personal connections. FSA rejected the application.
«Mr Kluge is not an honest person, therefore his is unfit to chair Krediidipank's council,» is how Mr Keres refers to his client's, Bank of Moscow's, stand. «Mr Kluge has invented all kinds of tricks to limit Bank of Moscow's voting rights in Krediidipank.»
From Bank of Moscow's point of view, Mr Kluge is no doubt an opponent –but why shouldn't he? In the bank founded by Rein Otsason, Mr Kluge started out as currency swapper, rose to be the latter's right hand man, and finally to head the bank. 
Mr Kluge freely admits he does not consider the Muscovites fit to own the bank. Thus, Bank of Moscow currently only has one representative only in Krediidipank council. And, Muscovites only succeeded to vote their man in this spring, as Mr Yevnevich left after giving up his shares.
Last spring, the general meeting ended up giving Bank of Moscow no council seats at all. Mr Keres said last year's general meeting decisions have been contested in court, as the person chairing the meeting unfairly colluded with minority shareholders. In the court of first instance, Mr Keres' client proved loser; the case has been contested.
Over the complex relations of Krediidipank's owners, there hovers the shadow of oligarch Borodin, formed Bank of Moscow boss, currently in hiding, in London. Demanding anonymity, Estonian officials say that Mr Kluge is mere «straw man» for Mr Borodin, in arguments between Russians.
•    December 2010 to April 2011 – Bank of Moscow sells its holding in Krediidipank to Cypriot companies, as well as Krediidipank's managers and investors sought out by the latter.
•    April 2011 – VTB takes over Bank of Moscow, the owner of which, Andrei Borodin, flees to London.
•    May 2011 – Bank of Moscow reverses the purchases and increases its holding in Krediidipank to 43 per cent.
•    Spring 2012 – Financial Supervision Authority (FSA) denies licence to Swiss foundation RLS Finance to acquire majority holding in Krediidipank, the seller would have been Bank of Moscow.
•    March 2012 – currently CEO, Andrus Kluge becomes chairman of Krediidipank council, the renewed council lacking any representative of Bank of Moscow. Bank of Moscow sues the elections at general meeting.
•    November 2012 – Mr Kluge and minority shareholders have recourse to court that FSA would annul the licence granted to Bank of Moscow to hold Krediidipank shares.
•    September 2013 – FSA issues precept to Krediidipank, informing the bank that Mr Kluge is unfit to chair its council. Mr Kluge contests the precept in court.
•    Bank of Moscow    59.73%
•    BSI SA nominee account    13.9%
(on the account, Krediidipank council members Ain Soidla and Andrus Kluge keep their shares, as well as Riccardo Tattoni who desired majority at bank)
•    East European Capital Investment LTD    9.81%
•    Radio Elektroniks OÜ, Timur Djakov    9.28%
•    Raiffeisen Bank International's nominee account    6.22%