Topmost finder's fee nearly €100,000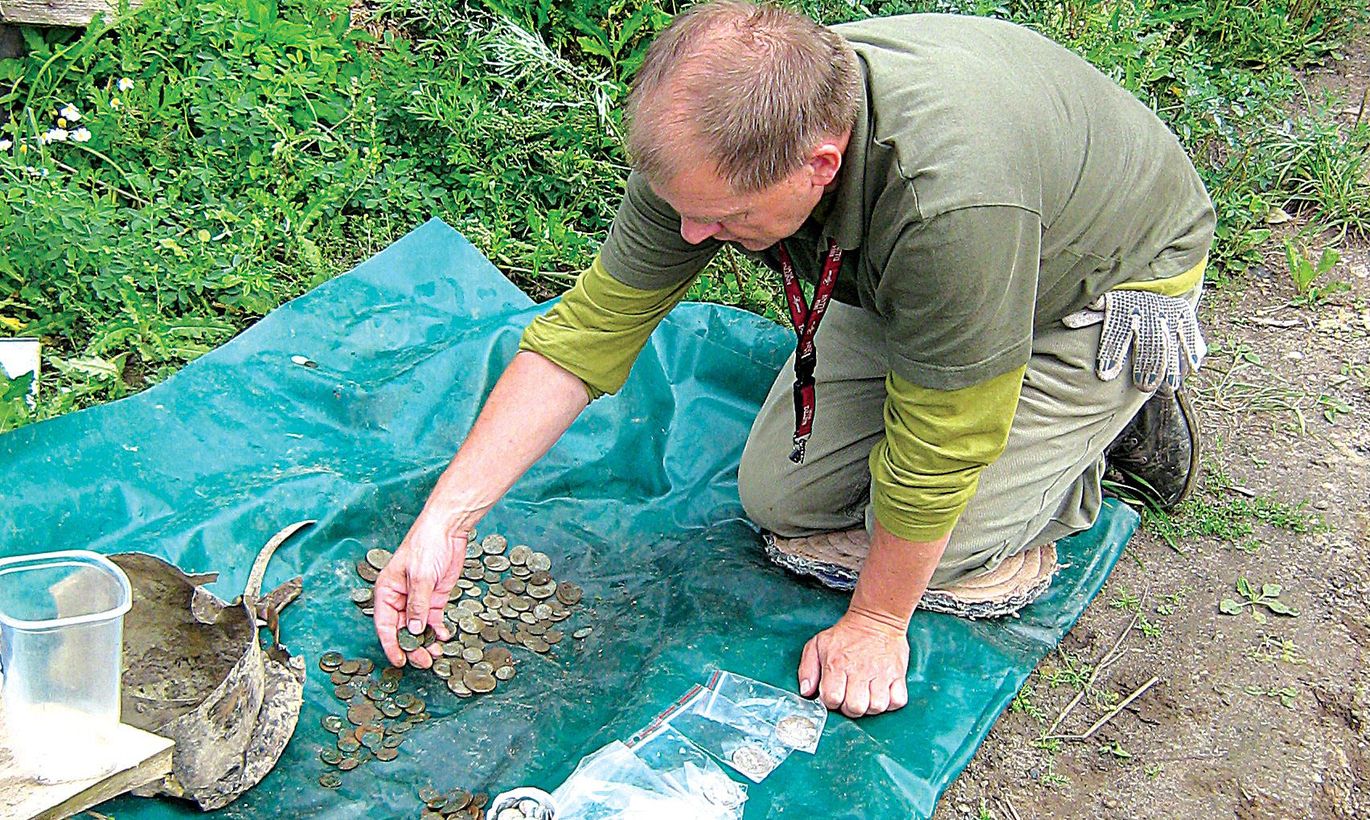 Since 2002 AD, finders of ancient treasures have been awarded, by Estonian state, with thousands of kroons and euros. The largest sum paid out so far stands at €99,063 – for the Raasiku trove.
Namely, in 2011, an archaeology fan hit a Viking Era silver treasure in Linnakse village, Anija commune, Harju County: 1,329 coins in all, plus nine silver items. Leaving the treasure in the earth, the finder at once proceeded to notify National Heritage Board.
Indeed, the size of finder's fee hangs on law-abiding behaviour of finder, the cultural-historical value of the find etc. The fee is not related to possible monetary value of the find on black market.
Treasures have also been found while hobby diving – one such example being a 13th century Pirita merchant's box, the finder of which pocketed a fee of €4,000. On a smaller scale, items like axes, arrow heads and the like have been found, the fees falling between €100-500. 
In addition to findings «for fee», citizens have handed dozens of items over to the state without asking for anything in return.
«Findings of cultural value are things of historical, archaeological or other cultural value found in the earth, buildings, water or bottoms of water bodies, the existence of which was not known to anybody prior to being found. A thing like that will not belong to the finder or the landowner. Pursuant to law, a finding of cultural value belongs to the state,» explained Margit Pulk, public and foreign relations specialist at National Heritage Board. She added that finder's fees usually go to the so-called hobby archaeologists.
In 2011, Riigikogu adopted an amendment to Heritage Conservation Act, regulating how things of cultural value may be searched by searching devises such as metal detectors, on landscape. For that, those interested are to pass a specific training, thereafter applying licence from National Heritage Board for searching for things of cultural value by use of metal detectors. «All findings of cultural value shall be examined; an expert committee shall determine if there be reason to awards the finder, or whether leaving the find with the finder may be considered,» described Ms Pulk.
Ms Pulk also underlined that awarding a fee will only be considered if the find was located outside of areas declared archaeological monuments or in the process of usual use of land (farming, gardening) allowed on the monuments.
«More important that the monetary value of a find is its cultural-historical value, conservation and options for further research and exhibition [opportunities],» said Ms Pulk.
--------------------------------------------------------------------
Ancient treasures with big finder's fees
•    Raasiku Treasure, €99,063 (finder's fee paid in 2011)
    On August 16th 2010, a Viking Era silver treasure was found in Linnakse village, Anija commune, Harju County of 1,329 coins in all, plus nine silver items. 
•    Kaarma treasure of 17th century, 510,990 Estonian kroons or €32,658 (finder's fee paid in 2008)
    On August 16th 2007, in Kuke village, Kaarma commune, on the isle of Saaremaa, coins were discovered in the Jaani farmstead yard while digging ground; with 947 coins reaching the Saaremaa Museum, with the metal vessel used to hide the money. Probably, the coins had been additionally wrapped in cloth, to which textile remains in the interior of the pot seen to indicate. The Kuke treasure, judging by the money dating after 1708, is similar to other Northern War time treasures found in Estonia, mostly composed of Swedish marks and öre's, including a smaller share of thalers. In addition to Swedish coins from Stockholm mint (914 items) and Western European thaler system money (15), the Kuke treasure also contains Danish small change (4) and local Livonian money.
•    Kinksi treasure, €5,000 (finder's fee paid in 2012)
    In 2011, treasures were discovered in Kinksi village, Lääne County, which, in addition to spiral silver bars from Ojamaa (Gotland), also contains the oldest Viking Era merchant's weighing set on Eastern shore of Baltic Sea. The three rhombic-diameter spiral silver bars included in the treasure kept in Tallinn University history represent widely used payments items in Gotland of 10th century, not widely known outside the island.
•    Pirita merchant chest, €4,000 (fee paid in 2012)
    On August 8th 2011, a wooden chest of 13th century was found in Tallinn Bay during hobby diving, containing 143 coins, fold-away brass scales, set of tin weights, knife sheaths, remains of belts, knife-handles etc.  
•    Kiia treasure, 53,400 kroons or €3,413 (finder's fee paid in 2005)
    Treasure contains 446 coins and clay vessel.
•    Mäetaguse treasure, 33,000 kroons or €2,109 (fee paid in 2008)
•    Saarde Napsu treasure, 22,000 kroons or €1,406 (fee paid in 2008)
    The find kept in Pärnu Museum contained, in addition to a silver horse-shoe-brooch, 58 coins hidden on a cow horn. The treasure was discovered on the bank of a brook flowing into Reiu River, in a forest close to Napsu Village. Next to öre and mark coins minted in Sweden, the horn also held two coins minted in Tallinn.
•    Öötla treasure find, €1,266 (fee paid in 2011)
    The Öötla treasure kept in Järvamaa Museum contains typical 16th century farmers' wives ornaments worn on chest, around the neck, as well as various chains, beads, bells and silver coins. Based on the latest coin on time-scale, the find has been hidden during the last Livonian war (1558–1583). Only once prior to the Öötla find has archaeologists succeeded in digging out an entire treasure «in one peace».
•    Salme ship find, €1,000 (fee paid in 2012)
    A 7th century ancient vessel found in Salme small town resembles, by its shape, the later Viking warships. The vessel had six pairs of oars, it was fast and easy to steer. Remains of seven men were found in the ship, the vessel having been used in burial.