Andrus Järg vows Estonia will keep keeping Skype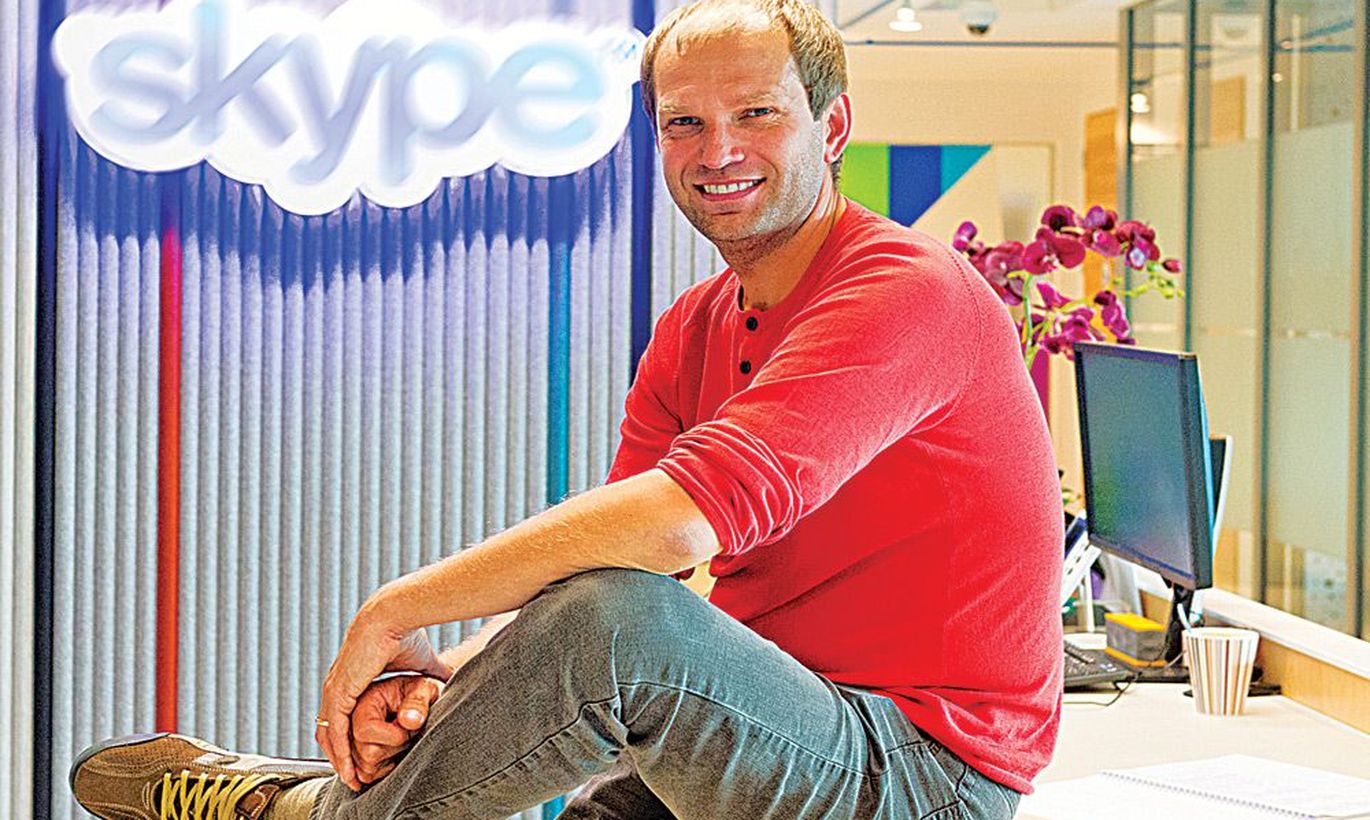 Fresh chief of Skype's Tallinn unit hopes to convince parent company in the viability of its Estonian office by evolving into a development centre with a clear and strong vision.
Yesterday, ten years passed since the Estonia-linked success story Skype launched free telephone calls. During the decade, 1.4 trillion minutes of video and ordinary calls have been made, making for 2.6 million years worth of conversations.
As a birthday present, Skype gave itself a new manager – in Tallinn, Andrus Järg has taken over from former boss Tiit Paananen.
Mr Järg gives the impression of a man subdued and well balanced, picking his words carefully and avoiding overly radical statements. Having been at Skype a little less than the decade – seven years – he has prior working experience from software development at former Hansapank and If Kindlustus (Insurance).
So when will Skype shut its Tallinn shop?
I see no reason for Skype to close down its office, in foreseeable future. We continue developing the Skype software here and, continually, Microsoft also is interested in our development centre. So I have no basis to believe, whatsoever, that Skype should soon close shop.
You said «foreseeable future»; but, in longer perspective – is it prudent for Microsoft to keep a development centre in Estonia?
It surely is. We are rather working towards the Skype office to birth a clear and strong vision.
We continue to employ top specialists of our field both in Estonia and from abroad; and we are looking to find extra areas we could offer to Microsoft, as a development centre.
How, in your opinion, does Estonia's current business environment favour Skype's presence?
Pretty well, I should say. We have some issues with taxation and people desiring to work here who are not EU citizens. But, generally speaking, Estonia is a very good location for companies like Skype. Estonia is good start-up soil.
What, in addition to good salary, has been the added value keeping you at Skype these seven years?
As added value, I would mention two things. One being working with extremely talented IT-people; secondly: this is a very interesting job, a very interesting environment. The environment has undergone constant change, Skype had grown from being a small start-up to be a part of a large corporation; having gone through various stages of growth. But we haven't hit the ceiling, our company keeps on growing.
What do you think of the employee assessment system of former Microsoft CEO Steve Ballmer's, heavily criticised by media, where all are divided into categories according to their results – even called the most destructive process at Microsoft?
Every corporation ought to have a way of motivating its staff, Microsoft having chosen one of such. Obviously, such a selection would not have been utilised without having detected, therein, some positive sides.
Discussing what is better and what is worse... I'm well aquatinted with that very assessment system, being of the opinion that any motivational system may be utilised rationally and prudently. Rather, it will be the leader's personal responsibility, how he has made the system work regarding his team.
Has the system been utilised rationally and prudently in Estonia?
Yes, I have utilised it rationally and prudently, and I do believe the same regarding the other managers as well.
A couple of weeks ago, Eesti Ekspress featured an opinion article by Priit Hõbemägi, in which he said that Skype is dead and its development disregarded. How do you comment?
Looking at the recent developments of Skype, allowing for Skype calls via Xbox and the soon-to-be-released new Windows 8.1 operating system with Skype integrated into it... I wouldn't agree about Skype somehow fading away.
Rather, integrations with various Microsoft products add value to us; we also adding value to Microsoft's products. I think that as a result of such joint integration we are very successful – as evidenced by the rapid rise of Skype users following merger with Microsoft.
How do you assess competition with Google Hangouts or WhatsApp, say?
In the economy of today, competition is absolutely normal, and good for the market. Naturally, we do have competitors; however, looking at the profiles and activities of the ones named by you, we all do differ, slightly. When it comes to calls, Skype still leads the pack; and we are showing an obvious and fast growth, which will speak for itself.
•    1996 graduated from Tallinn University of technology, in systems technology and informatics
•    1997–2001 IT-department heat at Tax and Customs Boart, Tallinn Region
•    2001–2006 head of software development at If P&C Insurance
•    2005–2006 responsible for software development outsourcing at Swedbank
•    Starting 2006, at Skype (various leadership posts in project management and development)
Skype has failed to use its full potential*
Thursday marked 10 years since the launch of Skype, the calling software that may rank as the most successful internet company to come out of Europe. One in three international voice calls is now made using Skype.
But the celebrations were bound to be muted, even among those who made billions from the technology. Skype's Swedish founders, Niklas Zennström and Janus Friis, who ended up suing the company twice, have moved on. EBay, which bought the company for $3.1bn, was never able to generate synergies with its online marketplace, although it made a handy financial profit.
And some observers and former employees say Skype's first decade is a tale of missed opportunities.
«In some ways Skype is a victim of its own success,» said Taavet Hinrikus, the company's first employee. «It stopped innovating. The last meaningful thing to be launched by Skype was video calling in 2005.»
Skype aimed to put traditional telephone companies out of business by making all calls free, leading one analyst to liken it to «a giant meteor hurtling on a collision course toward earth».
The software launched on August 29 2003 from a Soviet-era university block in Tallinn, Estonia. Its slogan was «Free internet telephone that just works».
That soon became a double entendre when call quality turned out to be volatile, yet within a month it had been downloaded 500,000 times.
It continues to grow. Skype had «more than twice the volume growth achieved by all the phone companies in the world combined» last year, according to Telegeography, a research organisation. It has had a particular impact on international calls, traffic growth for which has slowed a lot since 2008.
Yet that success could have been much broader.
In 2005, a year before Twitter emerged, Skype started allowing users to enter a mood message alongside their name, but it did not expand the feature.
Skype never dominated instant messaging on mobile, despite promising as early as 2007 that it would do «much more than voice». Instead a new crop of chat app start-ups, such as Viber and WhatsApp, have become the mobile messaging tool of choice, especially in Asia.
«Good video calling was the number one priority. Instant messaging was always seen as a secondary feature,» says Henn Ruukel, an engineer who has left Skype to set up a messaging service, Fleep.
While messaging apps have integrated with other services, Skype's revenues continue to come entirely from calls.
Some observers say the lack of recent innovation could be traced to Skype becoming just one part of a much larger company. This could provide lessons for other start-ups that became high-profile acquisitions.
«I would suspect that [Skype] could have achieved more if it had been an independent company,» said Danny Rimer, a partner at Index Ventures, which invested in Skype in 2004.
Mr Ruukel said Skype «changed rather quickly after the eBay acquisition [in 2003]. It became about how to meet the next quarter's goals».
Meg Whitman, eBay's chief executive, envisaged that video calling would enhance ecommerce - allowing dialogue between seller and customer, as in bricks-and-mortar retail.
«The synergies were not stupid,» says Michael Jackson, Skype's one-time chief operating officer. But «a lot of people liked the anonymity of eBay».
After eBay wrote down its investment by $1.4bn and sold most of its stake in the company, Skype's backers tried to engineer an acquisition by Facebook.
Instead, Microsoft bought the company for five times more than Google had paid for YouTube three years earlier. «Steve Ballmer was in a bidding war with himself,» said one person close to the deal.
«We thought at the time, the primary reason for acquiring Skype was because it's a verb,» said David Mitchell Smith, an analyst at Gartner. «I'd venture to guess that if you ask most people, they don't even know that Skype is owned by Microsoft.»
* Copyright The Financial Times Limited 2013