Groceries go secretive on future workers wages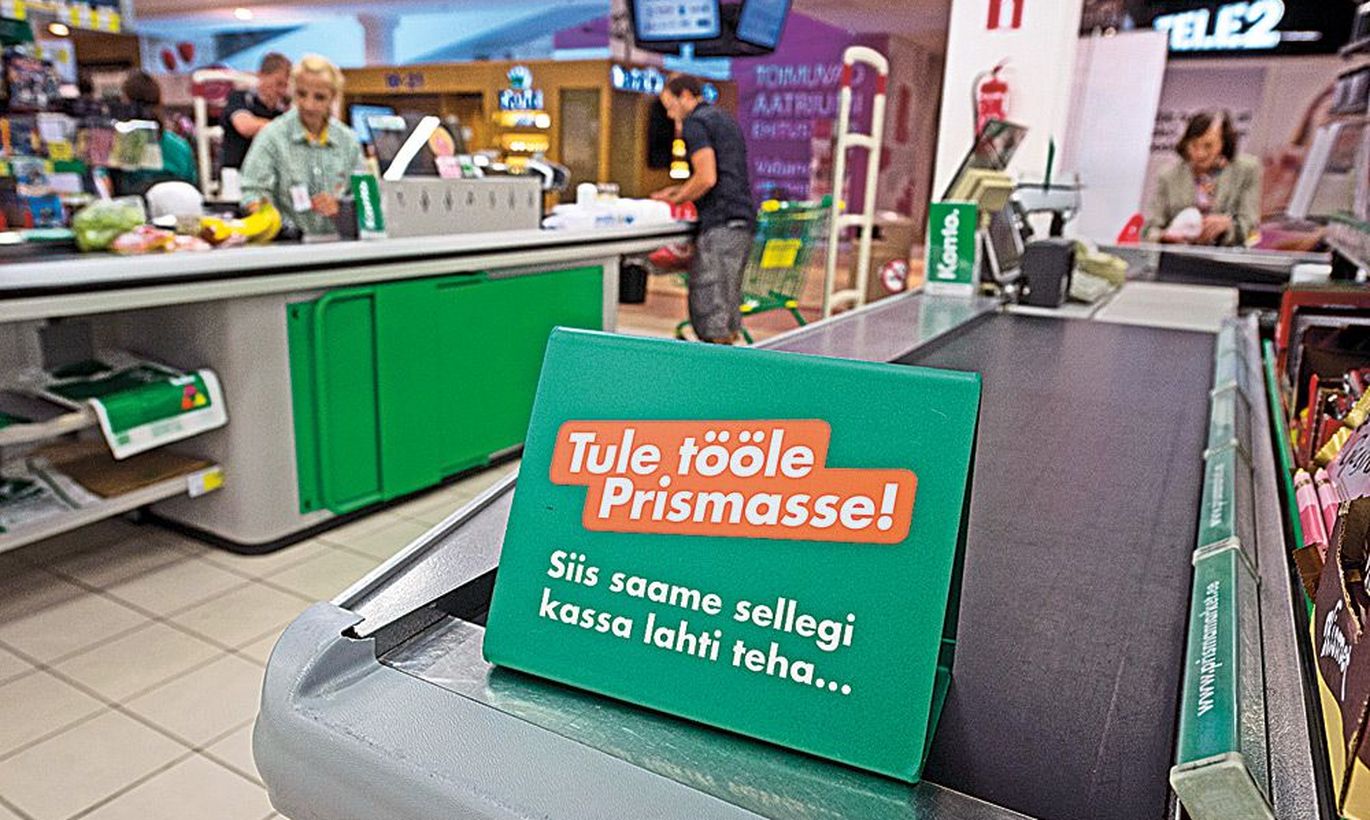 As bonuses, shop assistants are offered discounts on buys and slightly cheaper sporting opportunities.
Retail chains are having a bout of headhunting, advertisements abounding in stores, buses, the Internet. At that, they zealously conceal the clerk-to-be earnings and the bonuses on employees' horizon. Calling up phone numbers presented in job ads, Postimees sought to find out what recruits are being offered.
Kicking off the research, I inquired about job opportunities at the Rocca al Mare Prisma. A young man with a Russian accent answered the phone, who, after a prolonged wait, directed the call to a lady with a Russian accent even more pronounced.
The talk remained rather short. All I found out was the schedule is «the volatile kind» divided into morning, day and night shifts, the longest being ten hours. The wages are linked to length of working time. Asked how much an hourly pay might be, the lady retorted she could not say at the moment as the «information [is] occupied». I'm asking if the workers happen to have any benefits. «Yes yes, of course. As you come here, we will do more definite talk,» said the lady.
The call to Maxima starts off quite confusing. I begin by asking about the salary and a female voice is kindly prepared to tell it. «Shelves assistant gets ... one moment ... €2.75 an hour, at counters they also get €2.75. No, shelves assistants get €2.60, those at counters €2.75, clerks get, no, okay well... let me see ... One moment ... Clerks get €2.75 to €3 gross; behind the counters that'll be €3.20 gross as well and shelves assistants get €2.75,» unfolds the discourse. I am informed that in Maxima also the so-called long and short week system applies, a shift being 12 hours.
I ask about premiums and bonuses. «If you know there is an apparatus at the clerk, you know where one can push «good service», «bad» or «normal» or «long queue», did you notice? If there is a «good service» button and this is being pushed: extra five cents to your salary. And also: if you are a clerk it is up to your speed – the faster you work the more [people] you will service,» meditates the voice.
«And we also offer our workers free lunch, payday is on the 15th sharp,» adds the lady. I probe about the free lunch. «The cleaner cooks, on the spot. All of it, [it is] bought from the store,» I am answered.
«Do the Maxima staff have some discounts on the goods?» I also ask. «On the goods, I think, not; even so, we have a card «Thanks!». If you come work, you get this [card] free of charge,» says the lady and asks if I would be willing to attend a job interview as «all will be told» for she «cannot tell you everything over the phone you see».
The phone number provided by Rimi's job ad is answered by a lady quite tight-lipped. I learn that I would have to work five days a week and surely there would also be two days off. Mostly, Rimi stores are open from 8 am till 10 am, thus the shift will come within that range; should a worker desire to do longer days, it'll be «long and short week» or «two at work, two off»; even so, it is all as agreed.
At Rimi, transport compensation is €30 a month. «For instance, if you take the bus and pay for that, then we will pay you €30 extra to your monthly salary,» said the lady.
«And the insurance?» I ask, based on the ad. «Insurance?» she asks. «Accidents...,» I specify. «Uh-huh!» she seems to say.
As stated on the Rimi website, the company's social policy aims to support staff at special occasions. For instance, a Rimi employee receives a one-off support with the birth of a baby or loss of a loved one. Asking about that, the lady is swift to reply: «Yes, exactly. That really is the case. Well, for instance if a child goes to 1st grade, you get a school bag.»
In Selver, however, they were rather talkative. Even so, it was emphasised that an eye-to-eye talk at interview would be better for more specific information-sharing. Still, the lady answering the phone was kindly willing to tell me that an employee works for four months with total working time, with maximum working way length of 12 hours; and at some stores like Järve Selver and Kadaka Selver, nigh shifts are used for shelves assistants.
In the Selver duty roster, half of the 30 calendar days are working days, the other half free. «In a sense it's better than at office, as office work is 20 or 21 days,» added she.
Once upon a time, Selver used to have the long-short working week system (i.e. «one week you do two working days and the other week five»), but right now she would not dare promise that as the stores and schedules differ. «Each working time schedule is prepared by the department head or store director; as you attend the interview they will show you exactly which post and what kind of a schedule you would have,» she said, also emphasising the importance of job interviews.
For a Selver employee, Partner-cards come free and by using it, they get twice the bonus of an ordinary client.
Of ETK Grupp, I inquire about working at the Laagri Maksimarket. This will be the longest phone call of mine. The job ad not specifying wage figures, the lady is open about all ETK Grupp shop assistants receiving net €400 or slightly over that.
«I say it like this, roundly, for we have basic wages and performance pay. Let's say basic wages are €390 net and then the performance pay comes on top of that,» explains she.
Concerning the schedule, however, she is hesitant to say as this is compiled in cooperation between store director and employees. «To my knowledge, they practice the long and short days. There are some who do 11-hours shifts; others do 8 hours a time. That simply determines the number of free days,» I'm told.
For ETK Grupp staff, the Säästukaart (economy card) gives an extra bonus, over the ordinary. «As all ETK Grupp staff can have the Säästukaart Pluss with, let's say, a bit better condition, the people are getting a so-called double bonus on the retail side of things,» explained the lady.
She also made mention of joint summer events and Christmas parties. «And then, of course, we have various financial bonuses, but these are things one will not talk about over the phone,» discloses the lady, still adding that «we would obviously have thought about the employees to also motivate them with some things outside the working time as well».
In Comarket, the female voice is also kind enough to tell me that, in Laagri, a clerk gets €520 gross. Regarding schedules id depends as in Comarket also, this is to be agreed with the director of the store.
«But at least the 36 hours of uninterrupted res will be granted, at least,» adds the woman, also advising me to go visit the store in person. «But, let's say, we are trying to be as helpful as we can with the schedules,» the soothing voice added.
Laagri Comarket folks get free taxi cards and «no-one will have to spend night in store». «It may simply happen that if someone has to deliver the cash or close down the store, it may happen the last bus leaves and there is no other way to get home,» she tells me.
In addition to basic salary, Comarket features extra pay calculated on quality and results. Employees of the month are proclaimed all through the year, who will be able to buy products for a certain sum of money. Comarket's staff, also, receives a customer card providing a 5 per cent discount on purchases.
«Not much else to boast about... there's also the kids Christmas party and the summer event like in many companies,» she says, in closing.
Lion's share of retail chains also provides staff with sporting opportunities and trainings, at favourable prices.
Selver offers membership of its sports society; in this case, a «solidarity sum» is to be paid, granting the chance to go swimming for free, from fall to spring, or purchase a monthly workout group card on favourable terms.
Rimi, also, is offering sports at slightly better prices. Namely, its partners include Meriton, Kalev Spa and various other sports facilities – the «others» the lady at the phone was not able to immediately recall. In addition to that, it is possible to get health checks via the Rimi partners.
Rimi job ad also mentions language courses. «For that, one will have to have passed the probation period; and then, as the group is being put together, you may attend,» the lady explained.
The ETK Grupp «voice» said they have agreement with most sports clubs in Tallinn for their employees to have certain discounts; still, the larger part of the ticket money will be paid by the employees themselves.
Comarket partners with the sports club Arctic, which offers its monthly card at half price. «And, say, should you work in Laagri – Laagri has a swimming pool, and should you want to go swimming in Laagri, before or after work, we will compensate €20 a month as you present the cheques,» said the lady describing what is on offer.