The rise of an intellectual investigator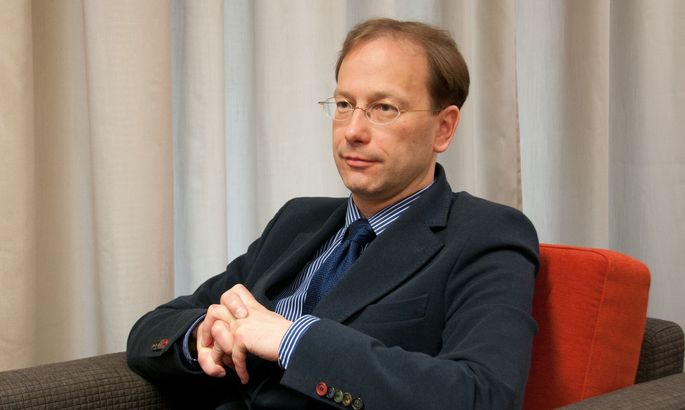 Arnold Sinisalu (43), the new candidate for Security Police Board (Kapo) director general, experienced in investigations and punctual in legalities, indicated an interest for the job ten years back, already.
The interest shown by Mr Sinisalu towards the chair to be vacated by Jüri Pihl, has two interpretations. Some saw in it a personal ambition to become director general. Others thought Mr Sinisalu was aiming at preventing the then deputy director general Aldis Alus from becoming the head of Kapo – who indeed became exactly that, in 2003.
But let bygones be bygones – now, a decade later, in all probability, Mr Sinisalu will himself become the head of Kapo. As suggested by Minister of the Interior Ken-Marti Vaher (IRL).
Commenting on the new situation, on Friday, Mr Sinisalu was not talkative. Which is understandable. «The time for detailed answers is not here, yet. All I can do, at the moment, is thank the interior minister for the trust shown towards me. The years spent working in Kapo have given me a picture of what the job would mean. The decision cannot be taken lightly – I weighed it long and deep.»
The people, for years involved in working with Mr Sinisalu as head of investigative department, we more eager to speak.
«For me, the Friday morning news was a hundred percent positive,»  said Alar Kirs, a pillar in the Public Prosecutor's Office, working in the monitoring department. «Sinisalu is a professional if a very high level, precise and qualified. A man, under whose leadership, very complicated matters were investigated in Kapo, with excellent quality.»
For the past four years, Mr Sinisalu has not been into investigations a lot, however. As Kapo's so-called third deputy director general, he had to take responsibility for the administrative side of the work.
Formally in the sidelines, Mr Sinisalu was even better positioned for to job candidate. Due to his tasks, he has not been involved in the quiet confrontation between the Kapo counter-intelligence and those dealing with criminal proceedings.
One of the new director general's tasks being to put out the fires of opposition. Looking dry to onlookers, Mr Sinisalu cannot be accused in avoiding conflicts or difficult decisions. It is no secret that due to one-time differences with the former director general Jüri Pihl, for instance (heading Kapo in 1993-2000), they still do not get along.
At the same time, many former top officials from the times of Mr Pihl still think Mr Sinisalu to be among the best options from within Kapo.
«I think Minister had quite a good shot, setting up Mr Sinisalu,» said entrepreneur Jaanus Rahumägi, for years in charge of the so-called Kapo Committee in Riigikogu.
«Sinisalu is an intellectual, not one for gunboat diplomacy. And that could be the new Kapo identity: to do the counter-intelligence quietly, unnoticed,» he added.
Mr Sinisalu became an investigator as early as in 1993, as the newly created Kapo lured him over from the Central Tallinn police department. One of his initial jobs was investigating a case of anti-Semitic books being distributed in Tartu. For the public, Mr Sinisalu is perhaps best known by the scandalous criminal case of the mid-90ies, which resulted in the conviction for bribery of Indrek Toome, a former top official of Estonian SSR.
And indeed, in 1995, Mr Sinisalu became head of the Kapo investigative department. With four long years to go to the University diploma. The times being different, top state job not necessarily requiring a diploma.
During that time, Mr Sinisalu also investigated the Edgar Savisaar and private detective bureau SIA case. While at that, the man managed a feat of sorts – officially interrogating the boss of a competing intelligence authority, the head of Information Board (then dealing with foreign intelligence) Ants Frosch.
The reason being a complaint filed to Kapo. In states with developed democracy, official interrogations would have been avoided. Therefore, Mr Sinisalu, having acted on his own initiative, was sternly rebuked by his superiors. Still, the episode serves to show how principled he can be in certain legal matters.
As, in 1998, Kapo did away with the investigative department, Mr Sinisalu became its Tallinn district head. That was an extraordinary situation, considering him coming to work from Tartu – where he dwells.
The Tartu thing being, for some, a minus with Mr Sinisalu's Kapo candidature. However, the Tartu-dwelling prime minister Andrus Ansip has well managed to lead the whole state living in the same conditions – why wouldn't it work with a head of Kapo?
For the past four years, Mr Sinisalu has not been actively involved in investigation. Which enabled him to delve into studies. Last year, he defended a Doctoral thesis at University of Tartu's Law faculty, called Limits on Sanctions in International law.
The Doctoral level degree being one of the arguments in favour of Mr Sinisalu, in the eyes of interior minister, Mr Vaher. The minister delaying publishing the candidate till the last moment, conspiracy theories again started to crop up.
To those, the news of Mr Sinisalu's candidature put a stop. In a way, Mr Sinisalu agreeing to the top post was a surprise, as not long ago his thoughts, revealed in a private discussion, rather pointed to him not being interested in being director general.
On the other hand, by Mr Sinisalu's agreement, Kapo avoided the possible surprises – from outside the institution.
«Broadly speaking, working in Kapo may be compared to service on board a submarine, from where the society is viewed through a limited angle periscope.»
This is a sentence uttered by a one-time top Kapo official, now serving in a high public office – arguing in favour of a leader from the outside. As an intellectual, the hope is Mr Sinisalu has the potential to develop into a leader like that: with a world view a bit broader.
•    Director general of Security Police Board is appointed for five years, by government of the republic, at the proposal by minister of the interior, having heard the opinions of Riigikogu's Legal Affairs Committee and Select Supervisory Committee Security of Authorities.
•    The current term of office by Kapo director general Raivo Aeg expires on June 15th. His term will be remembered by the first serious inner purge of the institution – Kapo itself catching the traitor within, Aleksei Dressen, and the corrupt corruption investigator Indrek Põder.
Source: Police and Border Guard Act; PM