Gerd Kanter banks on experience, not youth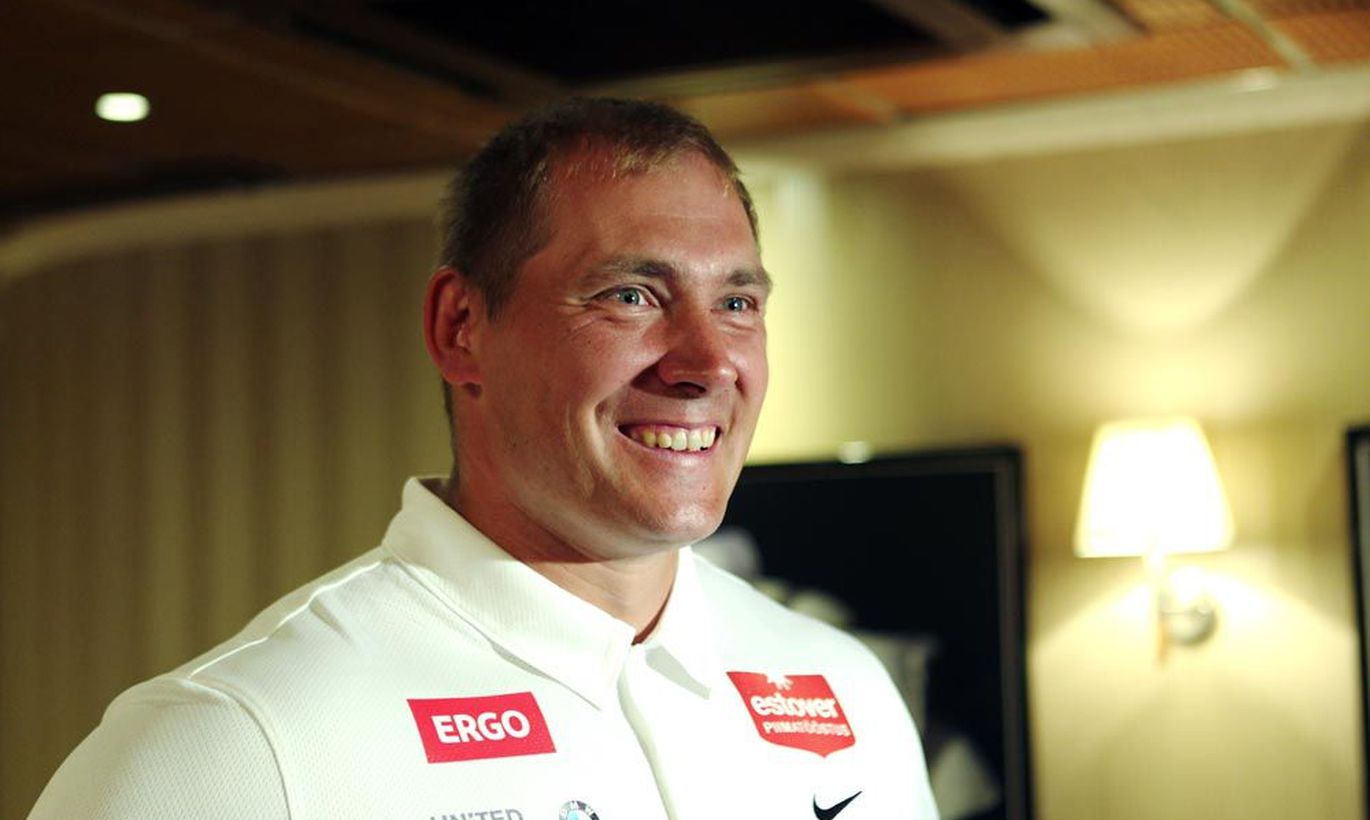 Six years have passed since Gerd Kanter took his World Champ title. The only one, so far. Coming into years, he would love to feel the feeling once more.
Glued to the screen, Gerd Kanter watches himself rising to World Champion status, six years back. In Osaka. Beholding the emotions exploding after the final throw, a blissful look lightens his countenance. The video grinds to its end. There is a moment of silence. The big man then says: «I'd love to experience something grand, again. It is six years from my only World Championship title, and I will do my best to have it like this again. I can no longer bank on youth – now, my trump card is experience.»
This is what Mr Kanter had to say, yesterday, about the season to begin. For the 34 years old discus thrower, many a thing is different: Vesteinn Hafsteinsson no longer advising him in training; he will have to do with himself and assistant Indrek Tustit. Based on preparations, at least, the sportsman thinks he will make it. Mr Tustit also trusting that all is well, the sportsman being in a good shape.
Despite the success in grand competitions, Mr Kanter has always struggled with his throwing technique. Even this year, it fluctuates. However, Mr Kanter senses no tragedy here. «As the physical form improves, the technique also stabilises,» he assures. «We have done a lot of watching and analysing previous years' throws, and done some measuring with Aadu Krevald. I don't trust the naked eye alone. Prior the training camp, in Spain, I'm seeing positive signs.»
Mr Kanter added that by the more important competitions, he hopes the technique to be in place, stable. Without that, he would fail with his high goals for the summer – like crossing the 70 m line, after many years. «Logic says the best time to attempt that would be after the Moscow World Championships,» came a little hint.
Big results, however, is only one of the three goals for the season. This Saturday already, it's Diamond League for him, in Shanghai, the season culminating with the Moscow World Championships, in the latter part of August.
At the opening session of Diamond League, Mr Kanter hopes for 66.5 m, approximately. That should probably grant him the victory – the more so that the two grand rivals Robert Harting and Virgilijus Alekna will not be there. The latter kicking in at «second stage», in USA.
Mr Kanter himself also plans to compete less, this year. The plan includes seven Diamond League competitions, European Cup, World Championships and some other lesser events. In Estonia, he only appears thrice. At the start of July, he will be in Viljandi, trying to rob Märt Israel of the event's record. At the end of the same month, he plans to take another Estonian champ title, and, on the final day of August, the home season winds up in Kohila. He has not excluded throwing over 70 m that day.
All else, however, is but prelude to the Moscow World Championships. Even though it's close to us, Mr Kanter plans to go ten days in advance, train on the spot, get acclimatised and aim for the top spot.
«I believe, to win in Moscow, I need to throw 68 to 69 metres – that's the title tournaments' level, of late,» thinks he. «Last year, I got my big competition level back beyond 68 m, hope for the same this year. I believe Harting has his winning thirst quenched, with these past years. I see no reason why I could not beat him.»
Mr Kanter added that he sees no new men amongst contenders for medals – it's the same old bunch fighting one another.