In father's footsteps – Kristian Kullamäe scores 90 points in one game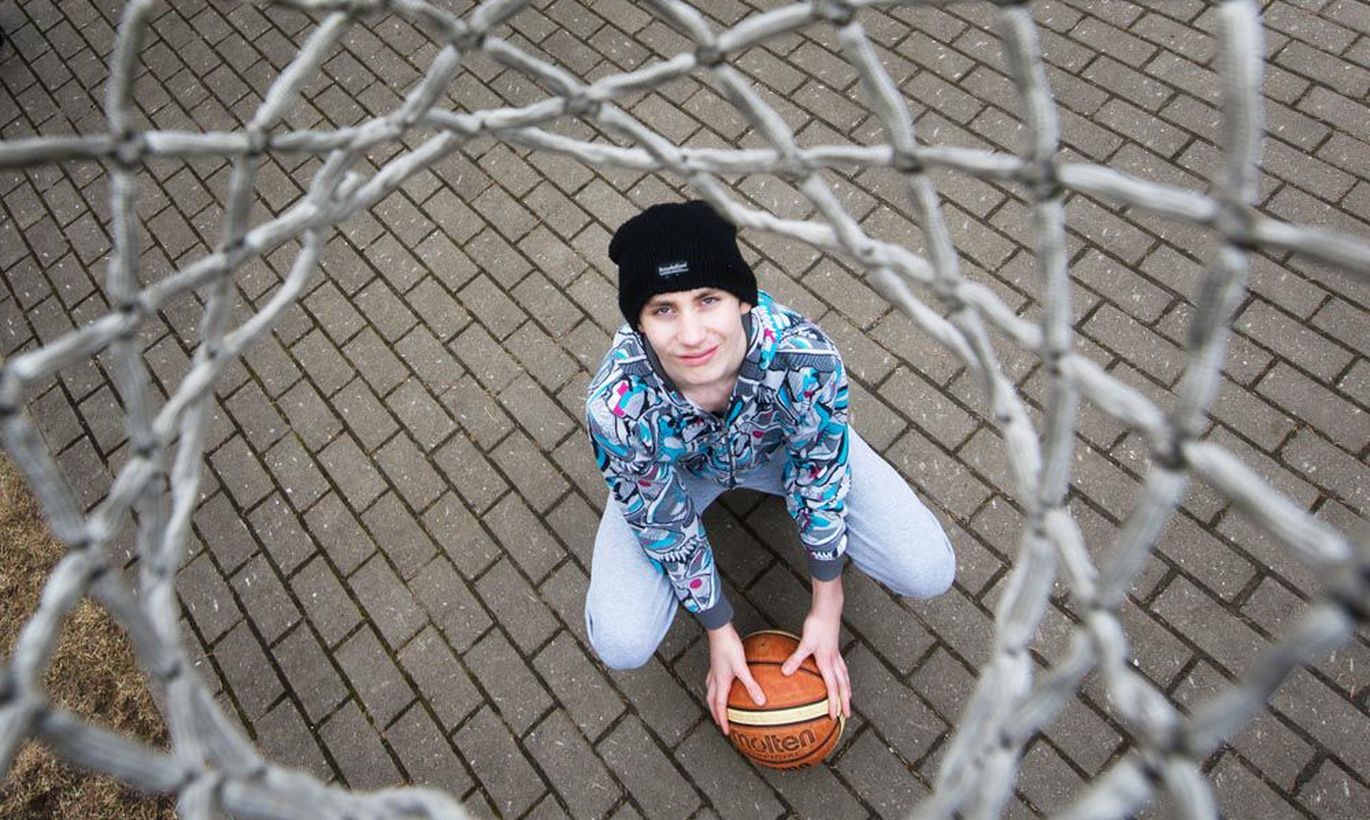 As all sports fans well know, the current Tartu Rock basketball team head coach Gert Kullamäe used to be a bona fide shooting machine, never to be left uncovered on court. This Sunday, his 13 year old son Kristian proved to be a chip off the old block. In a C1 class Estonian Championships game, the young Kullamäe, playing for Audentes, shot 90 points against Rakvere Tarvas.
All who saw the game use language such as «unearthly», «unbelievable», «unreal». Most of Mr Kullamäe's goals came from one-on-one situations and his hit percentage was brilliant – allegedly he only missed six times, in that game…
Also: this was not a piece-of-cake game, but rather a genuine battle of equals, the winner only determined the last minute. In spite of Mr Kullamäe's powerful play, Audentes lost 99:103. As the Rakvere boys were no sissies, either. To secure the game, they did 15 three pointers, eight of which by Kiur-Thomas Vehmanen. Thus, the future of Estonian basketball, when it comes to sharp-shooters, should be secure.
«During the game, the boys started to cheer me on to shoot 50 points, then 60… While playing, I never count the points. It was only afterwards that I got to thinking what was all that about...» Kristian Kullamäe said, a day later. «The referees would not let us play assistive defence. One-on-one, however, I took the ball and passed by or just shot my points.»
Gert Kullamäe, having a day off yesterday and therefore available, at home, admitted he never even came close to that kind of a number, in his career. Thinking back hard, he recalls a few times he did over 50, in inter-school games. 90, however, seems unreal to him. «At that age, throwing that much, your hand ought to wear out,» he said.
Whether Kristian is, thanks to the Sunday score, better than his Dad at the same age, is hard to say. An important landmark, however, being that Gert Kullamäe did his initial Estonian Championship League games while 14 years of age. So, to keep up, the son ought to do that next year already. However, the father doesn't want to pressure the boy too hard. He says that back then, he got to the court due to the rules which demanded that the youth play as well.
Sure, Kristian has inherited a thing or two from his father. However, he is drawn to basketball by an irresistible force, making him polish his skills, over and over. When the «old» Kullamäe still played or whenever he comes to Tallinn, heading Rock, the son always shows up. Often carrying his own ball, to be bounced at every opportunity. Even at home, ball and basket are the main pastime.
«In Audentes, they have this stupid rule of not letting people into the hall before practise time. So I can't shoot before practises. However, sometimes I can do that after the practise is over,» said Kristian Kullamäe. «At home, I go outside a lot, to shoot.»
At Gert Kullamäe's evaluation, the son does hundreds of shoots a day. From early on, year after year. And if Papa happens to be at home, they go for it together. At a «shoot-out», neither will surrender easily.
Kristian started practising basketball at 6, while in kindergarten. From that time forward, he has always played and practised with boys older than himself, competed in multiple age groups. Despite the heavy load, he says he never gets bored with it. The more so that he's got his goals set out for him: first the Euroleague and then NBA, the dream of hordes of boys.
«If a child does what he likes, there's no boredom,» believes Gert Kullamäe. «I myself have been inside the game all of my life, never got bored.»
With all of his connections, it wouldn't be hard for Mr Kullamäe, evidently, to send his son to some basketball centre abroad, to train and to develop. However, he doesn't think it's needed. Not now, at least. Now, it is important that the «good» and «excellent» graded boy would do a good job graduating from basic school.
«I wouldn't overly force him. The more so that I believe one can become a good basketball player in Estonia as well. When some coaches say it's top priority for young players to get away from here, as soon as possible, then they seem to be thinking we are lousy coaches who cannot do the job,» reckons Mr Kullamäe.