It's Hunt-ing season, at NFL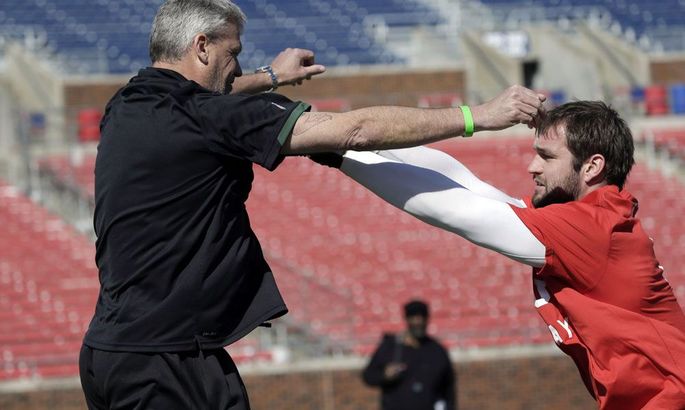 NFL coaches at pains to figure out Margus Hunt worth. New York Jets head coach flies to Dallas to train with the Estonian.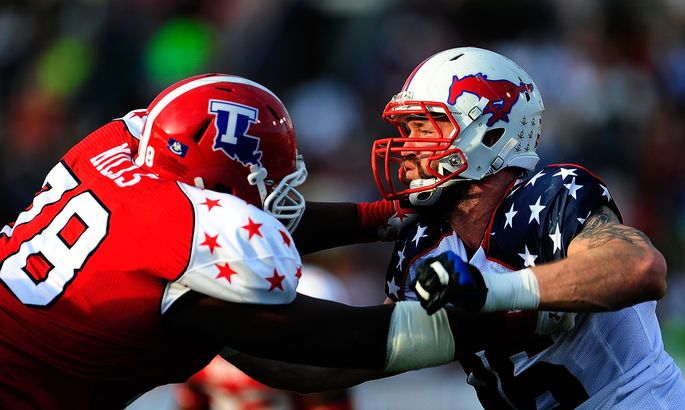 Margus Hunt has become the curiosity of NFL for the simple reason of even experts failing to determine his real worth. Mr Hunt might be a future Hall of Fame guy. Or, he might be a loser. To get a measure of clarity, for instance, the New York Jets head coach Rex Ryan flew to Dallas, in person, to train with the Estonian. A defence specialist, he actually – physically – tried colliding with our guy.
News agency CNN came out with a lengthy Mr Hunt story headlined «NFL teams feverish to solve the Hunt mystery».
The mystery being that with his bulk – 2.03 metres of height, 125 kg of weight and hands stretched to 2.10 metres – and sheer power, Mr Hunt happens to be the toughest dude of the draft. Excepting the breakers i.e. running backs with extraordinary physiques, Mr Hunt got the rest of the bunch's best total results at recent NFL physicals.
However, it's not clear how Mr Hunt, with his less-than-four-years football career, will be able to use all his might in a game. And anyway, is the familiar defensive end (DE) position the best for him, ask US specialists. Maybe he ought to be placed outside linebacker (OLB) or even taken to attack, to be tight end?
In a word, Mr Hunt is said to be a Rubik's Cube to be solved, writes the CNN and quotes their NFL Network expert Mike Mayok: «Today's defenders are multi-faceted and may play various positions. Hunt ... is he a 3-4 formation defensive end or better for 4-3 formation or rather an outside linebacker?»
By the way, when training with Mr Hunt, Mr Ryan also tried him out as OLB.
Talking to Postimees, Mr Hunt claimed he's not eager to change positions: «Ryan trained me as OLB because, in Jets' defence system, a defensive must fall back into zone defence in cooperation with outside linebacker. In training sessions, I've played tight end a couple of times, but for sure I wouldn't want to relearn to be an attacker.»
Jets' head coach visiting Dallas, where Mr Hunt was presenting himself to talent hunters among other footballers recently graduated from Southern Methodist University, at the so-called pros' day, came as total surprise. Mr Ryan just marched up, tackled Mr Hunt and gave him an all out individual training.
«Ryan, who began his career as defence coordinator, wanted to see how many ways I could be used in Jets,» explained Mr Hunt. «Ryan played an attacker I had to pass through, to see how strong and explosive I was. He never gave an assessment. Just explained why we did this or that.»
Thus, Jets is interested, as Mr Hunt says that head coaches do not travel that far just for fun. Philadelphia Eagles and Tampa Bay Buccaneers also show signs of eager interest, Mr Hunt having met the coaches. On their home courts, though. 
According to Mr Hunt, no club wants to show they have a definite plan to pick a certain player: «Thereby, they hope to get their guy as late in the draft as possible.»
Now, with 23 days to go till draft starts, Mr Hunt will be busy as a bee. Having so far visited teams just every now and then, the next couple of weeks he has to become the embodiment of an all-American traveller: «Now the real travelling begins. From club to club. Teams have contacted my agent, gotten the flight tickets. In a word: they cover all costs. My calendar is quite full.»
The closer to the draft, the clearer it becomes that Mr Hunt will be picked in round one. As a good sign, a leading specialist Bucky Brooks raised him, at official NFL website, by ten notches to 30th among juniors. Expert Mike Mayock placed Mr Hunt second among 3-4 formation defensive ends.
Mr Hunt sounds optimistic, himself: «Hopefully I'll find myself a new home on day one, in first round. But nothing is granted, in this business.»