Aspiring Estonia eager to shock Holland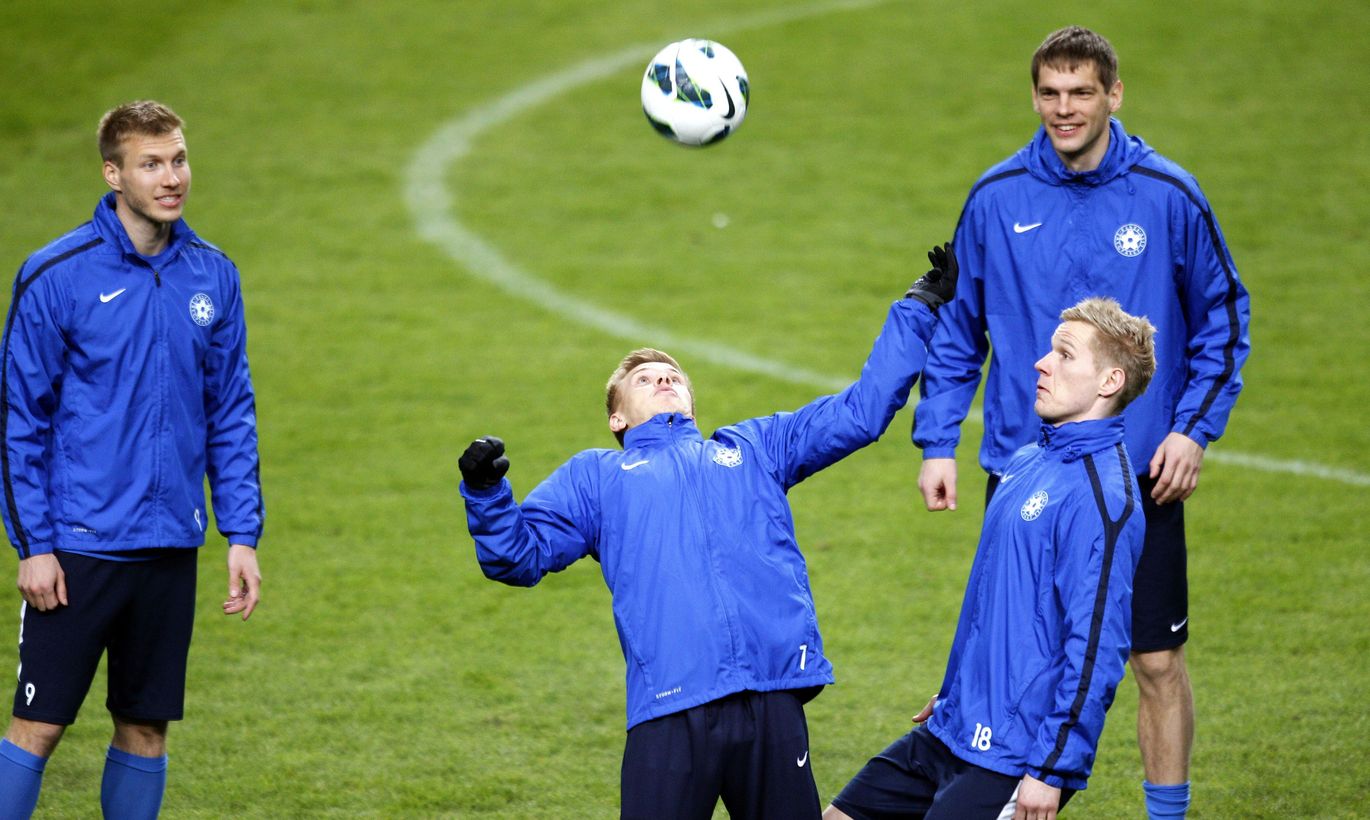 Estonian footballers entering the 53,000-seat Amsterdam Arena tonight, to face the Dutch, see no reason to fear and hunker into all-out defence. However, Captain Ragnar Klavan does underline: it has to be all feet on deck. It's all up to attitude – shall we, at 95th minute, run that extra metre, fight that extra minute? «We must give it our all. And more,» says Mr Klavan.
The centre back, still fluent in Dutch from times spent playing in the Netherlands, confesses to have followed the local media a bit. «What I'm reading from head coach Louis van Gaal's press conference, they will not come rolling like a freight train, to crush us. And, they do indeed feel respect. Not going to look down on us,» believes Mr Klavan.
Estonia's head coach Tarmo Rüütli also trusts that Mr van Gaal respects Estonia, having experienced a certain dose of trouble with us, referring back to the 2001 game in Tallinn when Holland, under Mr van Gaal, only got the upper hand at the very final minutes. The opponents know what to expect and are ready to make an effort. Plus: it doesn't take much to survive the Dutch – just don't let 'em have the ball, jokes Mr Rüütli. The stadium will be bursting, but we'll have our part to play in making the show worthwhile. And then: there will be a decent bunch of Estonian fans around (500, roughly).
«With a tough team like that, there's always the dilemma: do you just go for it, or, like Roman Ubakivi liked to say, try and fence up. However, they've got so much talent that we can't just join the goalkeeper and hope to close up all cracks,» reasons Mr Rüütli.
Attacker Andres Oper says the same. «We want to attack as well, hopefully halting Holland's victory march. They do play at home and, naturally, will want to force their game on us, but we sure have our chances.»
At press conference, Mr Rüütli only revealed that the starting 11 will surely include both Klavan and Oper.
Looking at the team's last night's training session, we concluded that Mr Klavan will initially be assisted, in centre defence, by Igor Morozov. Another opening attacker, next to Mr Oper, will be Henrik Ojamaa.
Mr Oper (35) will be the arrowhead – having, in times past, troubled Mr van Gaal's career a whopping three times. Also underlined as Estonia's pillar by Dutch Voetbal International website, yesterday, Mr Oper not only scored against Holland in Tallinn, but did two goals against the van Gaal led AZ Alkmaar on the final day of 2006. Mr Roda secured a 2:2 draw, but with that game Alkmaar lost hopes to gain Dutch champ title.
For Tarmo Rüütli, playing Holland is somewhat special, as, in the 1970ies, it was the famed and «total football playing» Dutch team that did deeply impress him. «I well remember the Cruyff era, hoped they'd take World Cup. Holland was my favourite, and widely expected to win… still failing to seal the deal. They played total football, they were fast and skilful. It sure had a great impact on my own philosophy,» the Estonian coach admitted.