An Estonian story: Forest Brother daughter thankful to hiders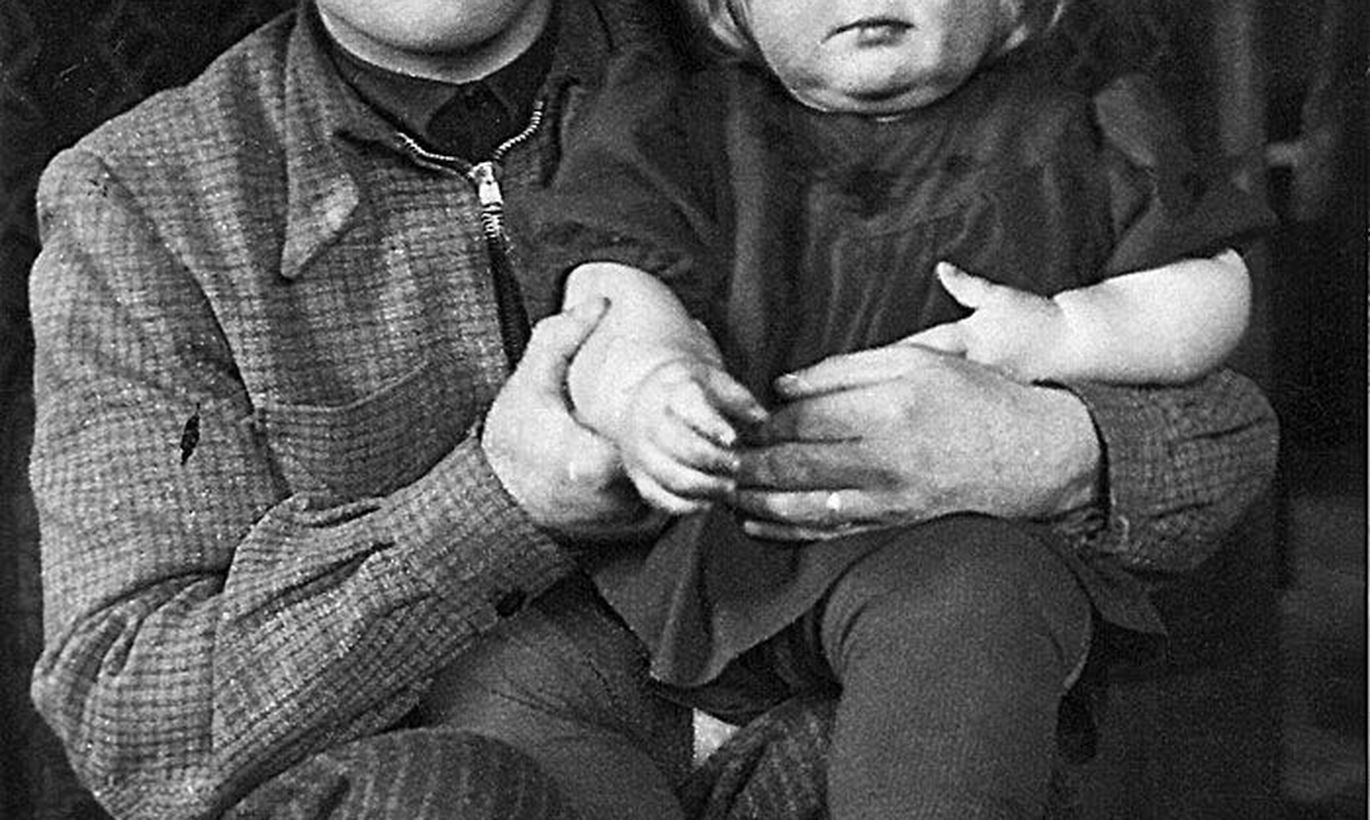 Üvi Kuus, daughter of Richard and Elsa Vähi murdered by chekists in Võrumaa in spring of 1953, was hid in farmsteads with big families, where an extra girl went unspotted.
Richard Vähi, mobilised into the «red» side of German-Soviet conflict, was imprisoned by the Germans. However, freed in 1942, he headed back home. As the Red Army returned, he tried to keep up peaceful living, but the powers-that-were would not let him. Richard headed for the woods when deporters (küüditajad) came – together with wife Elsa, he'd been listed as a kulak.
«I was 6 months old when, in March 1949, they came for us. The way they told it to me later: people warned mom and dad that the trucks were headed our way, leave home at once,» a long-time school-teacher Üvi Kuus (64) reminisced on Tuesday.
Hiding from authorities went on for years. From time to time, little Üvi was in the forests with parents, as also preserved on photos then taken. «They had the guts to shoot pictures, even though in hiding. But: life had to go on.»
Amongst the locals, in today's Meremäe and Misso boroughs, there were those who were willing to take the little girl in, even though unrelated to Vähi family.
«They dared not take me to relatives, as, through me, the parents could have been found also. I do remember that even then I was aware that I was being hidden. Now and again, they feared for spies. And I was tucked away, in some secret hiding place. These were the tense times,» said Üvi Kuus.
On March 7th, 1951, Forest Brothers held a bloody bunker battle with Soviet security men, at Saika village, Misso borough. From that battle, Richard Vähi and August Kuus emerged alive, breaking out of the siege.
Thereafter, harsh repressions fellon locals, pressuring them to betray the Forest Brothers.
KGB turned to inhumane methods and torture, later deemed illegal even by Soviet authorities. In Ministry of State Security of Estonian SSR's (MGB) special inspection records of 1952 it is stated that head of MGB's Vastseliina regional department, Grigori Burakov and his deputy captain Aleksandr Trussov, in spring of 1951, illegally arrested two local men and two women, plus another man in July.
«During interrogations, as the crimes were being denied, Burakov and Trussov, with other MGB employees present, used electric current from the telephone, on the aforementioned citizens,» say the files.
The people had bared wires fastened to their fingers and toes. One man even had them tied to his teeth, another to his head. And electric shocks followed.
In addition to that, the people were mercilessly beaten. At another instance, KGB operative Feodor Teder tied a rope to a female arrestee, repeatedly pushing her over in a puddle outside.
Security Police, having investigated the matter, found that such «physical impact» i.e. torture was often sanctioned by the then Minister of State Security. However, written evidence is scarce. Most evidence is based on words of sufferers and other witnesses.
In 1953, chekists received orders to boost anti-Forest-Brother-activities. The brigade led by Richard Vähi was especially troublesome to authorities. In reality, these people did not engage in systematic battle against Stalinist state, being simply in hiding from deportations and Siberia, trying to survive in the forests – also demanding vital necessities from shops. Mostly, they were supported by locals.
60 years ago, almost to the day, the noose begun to be tightened around many Forest Brothers around Võrumaa. On March 27th, in a bunker battle at Viglasoo, Vastseliina borough, chekists killed two Forest Brothers, the 32 years old Rafael Vähi (Richard Vähi's brother) and Väino Härm, only 17 years of age. The latter one's parents were imprisoned.
On March 29th 1953, KGB forces attacked another bunker, Puutlipalu, Vastseliina borough. According to Security Police, a local farmer called Joosep Piholaan was tortured into revealing the location of the bunker (the man, claim the KGB files, was a «bandit living legally»).
The operation was launched at dawn. The guide did indeed try to lead chekists the wrong way. However, according to MGB minutes, captain Mikhail Kalikov applied «persistent processing», whereupon Mr Piholaan showed them the Forest Brothers' hiding place.
At 3.30 pm, shots started to be exchanged. After many hours of battling, all those in the bunker perished – five men and three women. On the opposite side, one gunner was killed, and two wounded.
In KGB minutes covering the incident, it says that «bandits were liquidated by 18.30 pm». 15 various weapons and 72 cartridges were confiscated.
The dead bodies of those killed at Viglasoo and Puutlipalu were taken to Võru. As stated by identification minutes dated March 31st 1953, a Forest Brother arrested earlier recognised the dead bodies of Richard Vähi and his companions.
However, the Soviet regime's politics included burying the Forest Brothers without a trace, without anybody's knowledge. The bodies, seven men and four women, were put into a common grave in Reedopalu forest, next to Võru-Valga highway, 1.6 kilometres from Võru city limits.
Üvi Kuus knew that her parents perished in 1953. What exactly happened, however, was unknown to her for decades. When Ms Kuus, in 1991, addressed the Interior Ministry and inquired about the fate of her parents, she was told that their burial place was not known.
In 2011, at the end of summer, Security Police did its initial excavations in Reedopalu forest, based on information received. Unexpected to them, a total of ten skeletons were unearthed in a common grave.
As evidenced by Estonian Forensic Science Institute's research, the grave held the bodies of seven men and three women, all having died a violent death. What's more: the injuries point to purposeful slaughter from short distance, not a battle situation. With six persons, bullet injuries were detected in the head. Some had been beaten in the head and face with a hard blunt object – possibly with gun-buts, after death.
The investigators are sure who these are. However, not all DNA expert analysis are completed, as it needs to be specified, which skeleton belongs to whom.
Last September, in the same region, investigators discovered five more skeletons in four graves. Who these were, is currently being investigated.
Security Police superintendent Martin Arpo said that finding out about the Viglasoo and Puutlipalu murders is important, not least because therewith Estonia fulfils its international obligation to investigate such matters.
«This is important, as people need to know: crimes against humanity cannot be hidden, no matter how long it takes,» he said. «Hopefully, it gives people hope for justice – not just the relatives of those murdered, but the society at large.»
Indeed, we are talking about a tragic incident in the Cold War, acutely on international agenda in 1953. The Cold War was not waged in the Kremlin and White House corridors only, also reaching, in ways above described, the villages of Estonia with their simple inhabitants – who just wanted to make a peaceful living with their families.
Still, the discovery of Forest Brothers' burial site has brought some clarity to their loved ones. Üvi Kuus, daughter of Richard and Elsa Vähi murdered by chekists in the woods, is of the opinion that now her parents finally have peace. She is saddened, however, that it happens 60 years too late.
«Regrettably, my mother's sister, who raised me, died five years ago. She never got to know,» she said.
Üvi Kuus is heartily grateful to the people discovering the burial place and the Security Police people communicating with her. However, she is especially thankful to those who, decades ago, dared take a little girl into hiding with their families, risking their own future.
«They really showed some fortitude. It later came out that one of these families, it was the family of my husband's half-sister,» she said.
The pictures from back then… aunt and grandma of Üvi Kuus hid these in their home for a long long time. Only years later, the photos were brought forth. Mother Elsa Vähi's tiny silver cross and a brooch boasting a Viking vessel – of that very same material – were tucked away in a ball of wool, until grandma felt able to pass such keepsakes on to Üvi.