Basketball hero in pie business, warns against addiction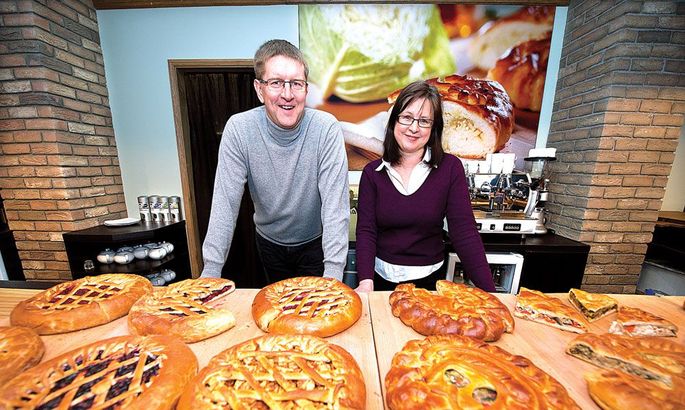 How does one bake a bona fide Slavic style pie? Sister-brother team Pille and Heino Enden, hosts of the newly opened Nikolay pie buffet, hereby leak some secrets.
Entering the Nikolay pie buffet or bar-buffet – as called by its hosts – you may easily happen upon former basketball star turned entrepreneur Heino Enden, ever so busy.
On his shoulders rests general management with all its details, while his sister Pille Enden, heretofore known as author of cookbooks, oversees the kitchen as Chef. The little family bakery has also enlisted Heino Enden's son Anthony right now rushing to refresh us with cowberry juice over his pie-laden counter.
The idea of it all goes back for a decade, when Heino Enden, ever a fan of good genuine food, had his initial bite of delicious Russian pies of this kind, in St Petersburg. Afterwards haunted by the thought of repeating the trick in Estonia.
The more so that he'd always had a sweet tooth for stuff made of dough. His sister always has a kind word of remembrance for her granny's griddle pie, also loving today's quiches.
«Who wouldn't want to eat good?» asks Heino Enden, unmasking his zeal for food, also expressed by him never failing to check the local top spots, where-ever he may be travelling.
Back then, it sort of fizzled out. But as a good businessman-buddy took off with the first Nikolay pie place in Moscow over three years ago, he felt the idea too brilliant to be wasted. So, he jumped in.
The Moscow Nikolay is a Peregoudovs' family business, bearing the name of a great favourite of theirs, grandfather and great famed cello player Nikolai Andreyevich Peregoudov. Who liked good simple food. Soon, another one popped up in Kiev – and now it was Tallinn's turn.
There are indeed slight differences in the Moscow-Kiev-Tallinn trio, but the principle is just the same: genuine ingredients only, all pies made on spot. And better yet if it's one-family-deal, to keep the quality.
«Just delivered our first Internet order ever, two big ones to an elderly Russian lady in Maardu. She promised to get some more, if the stuff's real,» smiles Heino Enden and adds that up to now, at least, expert female pensioners have sounded real positive over the dough.
The dough being among the top secrets, making them Slavic, tasty and right. «Our bakers took dough-making lessons for a month, in very Moscow,» says Pille Enden. It is being made exactly like in Moscow, to the finest detail. The fillings, however, are adjusted according local raw materials, with some creativity involved.
The dough remains top secret. However, we are being told it's layered yeast dough, not as high-fat as layered flaky pastry. And it wouldn't be easy to copy at home, anyhow. To say nothing about the fact that one pie takes four and a half hours to make. It's serious handiwork, skills required for ornaments on top – flowers, plaits and the like. Every pie «species» has its own unique look.
Here, Heino Enden inserts a vital detail making Russian pies juicy and tasty: «There must be more filling than dough!» And verily, the Nikolay pie dough-layer is fine, with insides rich with potato-mushroom, spinach-cheese, cabbage, meat, chicken… The latter being especially abundant, with as much as three layers all together: pancake, mushroom and chicken.
And then there's the sweet stuff with real berries – cherries, raspberries, cowberries. Plus home-like drinks and lemonade. Or, if you like, fresh pelmeni or vareniki, made on the spot.
«All honest and true, nothing like this in Estonia. Addiction hazard!» warns the mountain of a man.