Swedish girls grab for job in Estonian store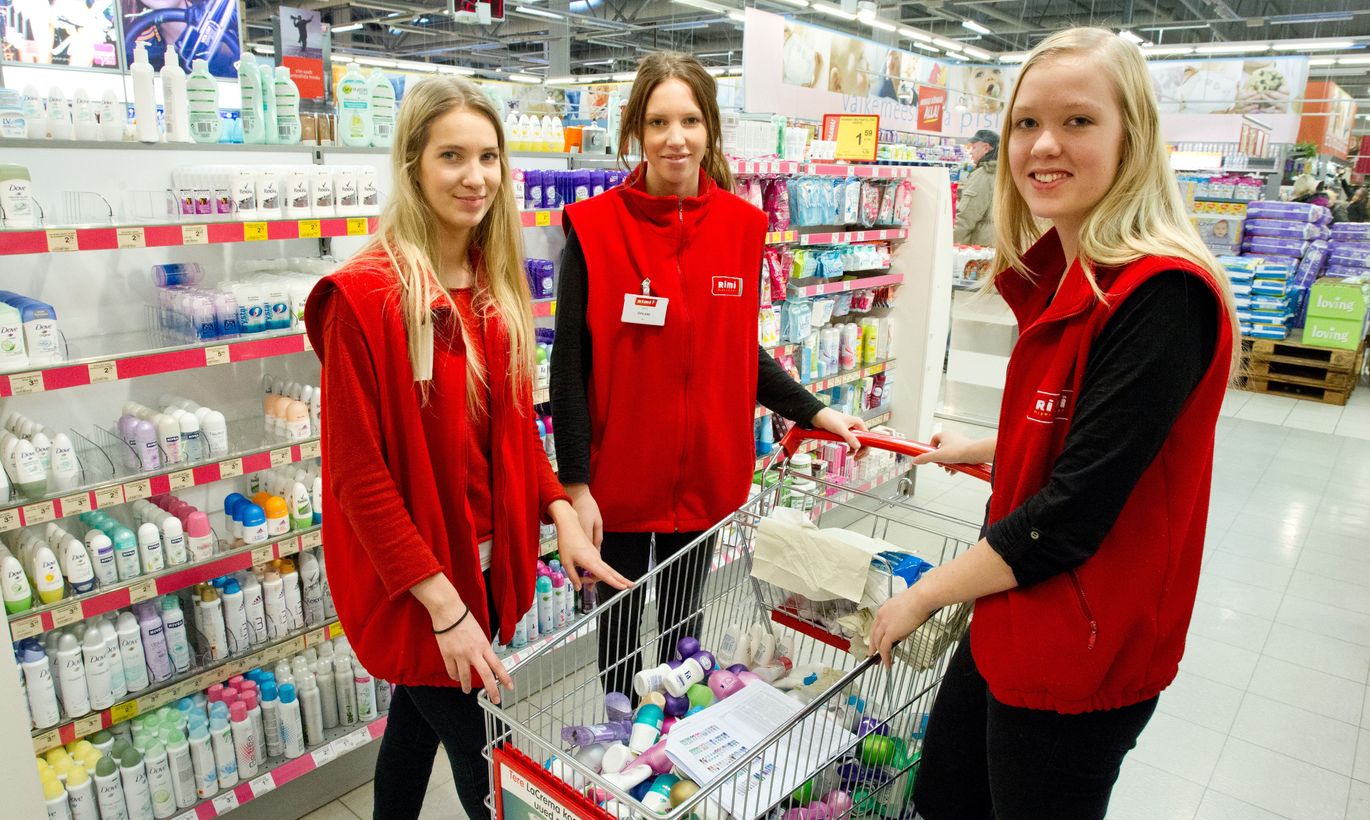 A job in a Tallinn supermarket and housing in somebody's Kopli flat turned Swedish girls into grown-up women, in a month.
C'mon girls, stick it out! The best pupils get to go to Tallinn! Shelving stuff in Tallinn supermarkets. For five weeks.
Doesn't sound inviting, does it? Nor like a fun way to relax while at high school. Especially when one dwells in Sweden and all she knows of life in Estonia is based on films like Screwed in Tallinn. A black-humour-laced false documentary on Swedish bachelors seeking wives in Estonia.
However, this is exactly how teachers managed to motivate kids in Westerlundska high school, near Stockholm. And believe it or not – there was quite a rush. And intense competition.
«We considered tutors' recommendations and marks at school, for in these five weeks others in Sweden did proceed with the curriculum,» says Anneli Aresdotter, a teacher of Swedish at Westerlundska. Of 30 senior graders, seven best were picked, with three discarded.
Madelen Isberg, Caroline Mattsson, Matilda Lindkvist and Emilie Pinola, all 18, did make it to Tallinn, however, by the end of January. To be working in Ülemiste and Norde Centrum's Rimi supermarkets – mainly tidying up shelves and laying out products. None speaking Estonian, you see.
The girls never expected it to be easy. An apartment in Kopli – ideal to get acquainted to a part of town better kept from foreign eyes. Speaking languages unknown to many locals. And what would be a better Welcome to Estonia than stomach flu and a broken car window.
«One day we came out of Ülemiste centre. There was a hole in the car window, the glass cracked,» says Caroline – the most talkative and the one who brought the bunch over in her own car. Instead of calling the parents, they bought some tape and covered the hole with cardboard.
From earlier times, the blond Madelen had the biggest Baltic experience: having spent a few hours in Riga.
«We knew nothing much about Estonia,» admits Caroline.
There was no lengthy studying of local ways and customs, the teachers thought it best to leave them with all the joys of discovery.
«When we googled Estonian food, all that came out was sausages, sausages and more sausages, of all kinds,» laughs Madelen. It was only here they discovered that Estonians do actually eat some other stuff as well.
«We were surprised at so many Swedish labelled goods on the shelves,» says Matilda, the quietest of the gang.
Even greater shock was the Estonians' reservation. «When a person asks an assistant a question, they only look at the shelf, not in your eyes,» says Caroline. «At the first, we didn't even realise they were talking to us. A Swede will come up to the assistant, pull at your sleeve and ask: excuse me, I need help!» And then the Swede expects to be lead straight to the thing they were looking for.
«An Estonian is content to be pointed to the overall direction – go look for yourself,» laughs Caroline. And the girls did get the impression that questions are asked as a matter of last resort, after circling the store a few futile times.
«And they buy so few things!» the girls say as a unified choir.
«In Sweden, the custom is to shop once a week and load up,» explains Caroline. «Here, they come often and only get a basket-full.»
Shocked by low reputation
In hindsight, Ms Aresdotter the teacher admits they should've provided the girls with some basic overview: «Like a short course on history, for instance.» Indeed, this was not intended as shock therapy for welfare state dwellers.
«We have international training,» says Madelen. «We were the first guinea pigs, but not the last.»
As Rimi belongs to the Swedish group ICA, closely cooperating with the Westerlundska high school, the choice of the training country came easy. «We wanted them to get an idea of organisational and business behaviour of another country,» says Ms Aresdotter. «For them to see it's not all like in Sweden. This is something that we here cannot give them.»
According to Ms Aresdotter, the girls were shocked to hear of the low reputation of shop-work in Estonia. In Sweden, nobody is ashamed of that, the jobs being in high esteem among the youth.
«Everybody knows you start from first steps of a ladder, working your way up,» says Madelen. «Without basic knowledge, you can't lead anything.»
Matilda adds: «Young people take it as a way to start their career. It is very common to work while in high school.»
Asked what they'll remember most when it comes to Estonian business culture, we get an unexpected reply: open counters at stores! «In Sweden, all food comes in large packages, so somebody decides it for you, how much you are going to eat,» says Matilda.
In Sweden, only delicatessen comes in open counters, and even these are slowly disappearing. «Probably because they are expensive to keep, due to labour costs,» thinks Caroline.
But yes, life in Estonia is not as bad as the movies say back home. The locals tend to be a little closed up and colder, but – paradoxically – very helpful. «We are more alike than we might have guessed,» finds Caroline.
Asking Ms Aresdotter the teacher if the girls-to-Tallinn mission was successful, she says a new bunch is coming over, next year. «We sent you girls. And they came home independent mature women,» she explains.