Wooden spectacles from Estonia go to London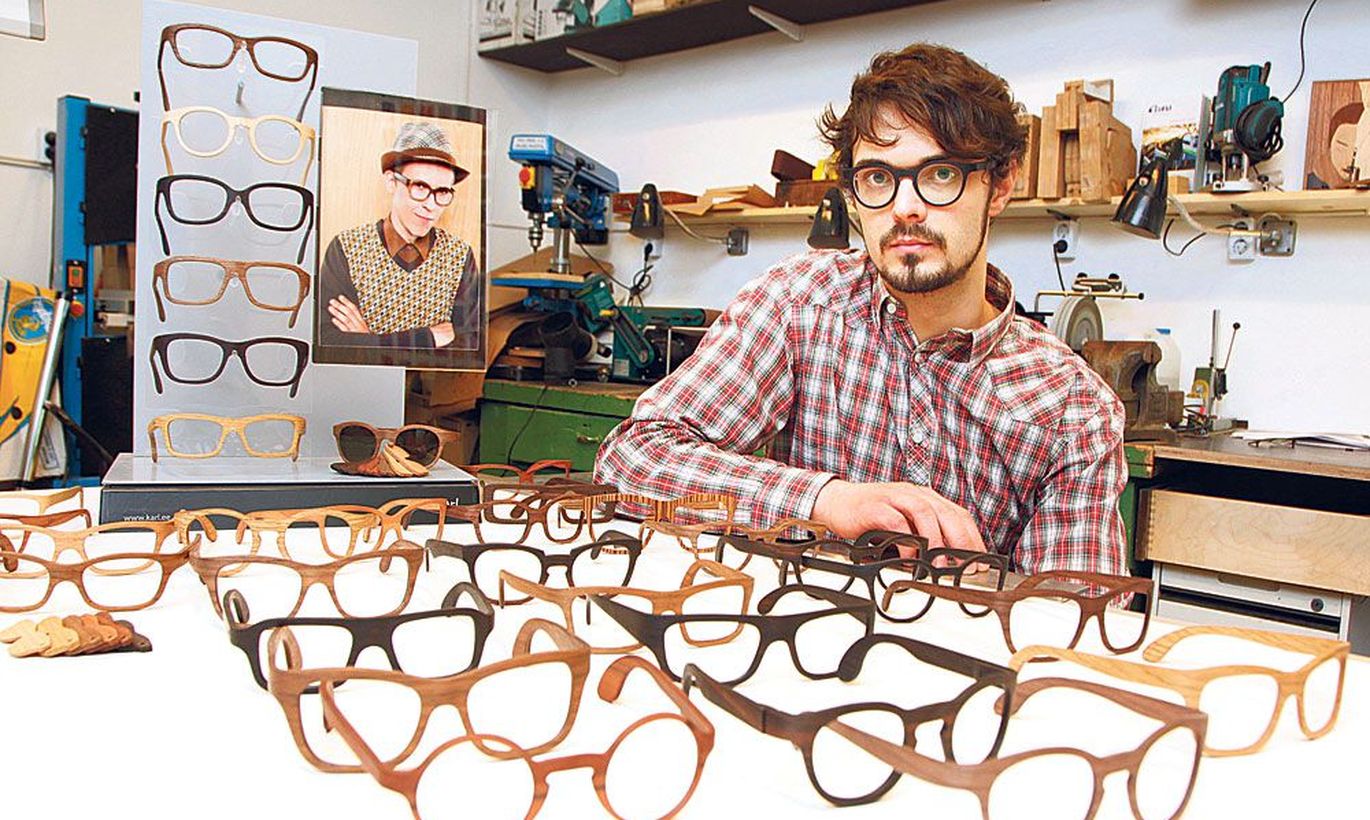 Spectacle designer Karl Annus is one of four Estonian designers taking their stuff to London Fashion Week, in a couple of days' time. He'll be showing the world a new wooden spectacles series, bearing the name Karl on the sides.
Wood is in, this spring. Spectacle frames included. This, however, has nothing to do with why Karl Annus became a designer and craftsman of them. He simply failed to find glasses on sale, ideal for him.
The initial wooden spectacles were made for the purposes of graduating from Tartu Art College, three years ago – long before trend setters, such as the venerable fashion house of Burberry, came out this year with frames decorated with or imitating wood.
Having worn spectacles from childhood days, Karl Annus is well aware of how inconvenient it is to climb trees and fool around, while trying to hold on to your glasses. «The glasses have to be a perfect fit so one can jump and dance with frames firmly in place,» Mr Annus says, underlining an important quality kept in mind with his Karls.
Then came the day when, as a student, he spotted at an exhibition a set of wooden spectacle frames – quite shabby, at that – and his imagination went wild. The youngster studying furniture design and restoration got to experimenting with wooden frames at a Tartu carpenter's shop.
First, three guinea pigs got to wear some, helping Mr Annus graduate. Then came the orders, exhibitions, and a company of his own. Considering his specialty and the unavailability of plastic casting equipment, wood was, indeed, the only option.
Karl Annus isn't, of course, the only wooden-framed-spectacle-maker in this world. We also have Herrlicht and Rolf Spectacles, for instance. However, he is quite unique in only making individual one-of-a-kind products as special orders. Tailor made. And, believe it or not, the queue goes to almost a year!
«I really couldn't do more, anyhow. As it's all pure handicraft,» admits Mr Annus, pointing to slices of wood he bends, glues, saws and polishes into spectacles. All precious wood: ash, oak, beech, maple, walnut, ebony.
Amongst the hundred or so Karl-owners, black ebony retro frames are the current bestsellers. Wood is wanted, being comfortable and light, and neutral.
Frames being custom made, the designer takes into account people's unique features, parameters, personality and preferences – from drawings to reality, it usually takes a month. It is especially tricky when hinges are required for wooden sides.
Should the customer, however, be satisfied with standard frames sitting at the workshop, the process speeds up. Glasses are fitted in at an optician's called MaiMai.
In design, Mr Annus prefers to largely disregard the trends and tides of fashion, valuing simple clean looks. No decorations, no vanity. Keeping the original wood's colour, avoiding paints and tones, only finishing them with oil – which also provides for a protective layer.
And, to be sure, the Annus wooden spectacles keep it retro. Especially the round ones, a classic 1920ies treat.
At London Fashion Week, the FreshEst exhibition set up by Estonian Design Centre and Estonian Embassy, also features fashion designers Kristina Viirpalu and Kristian Steinberg, as well as leather designer Kadri Kruus.