Anarchy rules at Kaagvere school
September 14, 2017 2:19 PM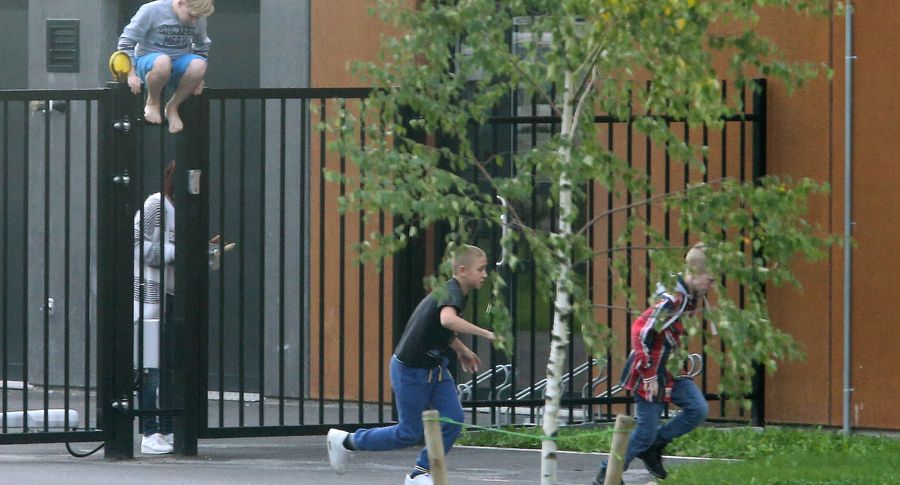 It is difficult to call what is happening at the Maarjamaa Educational College in Kaagvere anything other than anarchy – students trip the school's fire alarm at least a few times every hour, opening all doors and allowing gangs of boys to scale the fence and proceed to vandalize and disturb the village, resorting to theft where possible.
Yes, the formerly all-girls school now teaches boys since last fall. Children with special needs are seen in the village when they should be in class, while things really kick off after 10 p.m.
The school has several modern group homes for children. An employee interviewed by Postimees said that alarms are often pulled at the same time in all homes. Every student home only has a single adult supervisor after hours who can do nothing to contain the children. Raids are most numerous between 10 p.m. and midnight when groups of up to ten students can be seen roaming the village.
An employee makes no secret of the fact that they, and their colleagues, are worn out to say the least and lack both the strength and authority to guide the youngsters. There simply aren't enough of them. Sometimes, students simply resort to breaking things, mostly doors, using different methods in school.
I visited Kaagvere between 7 and 8 p.m. on a Tuesday night, and I could see and even take photographs of how at first an alarm went off, followed by a few boys jumping the fence for a cigarette before jumping back a little while later. Anarchy was again reflected in the fact that despite past interest from Postimees and ERR, our photographer could snap shots of students climbing the fence, walking on the roof, and simply telling employees to shove off yesterday.
Local kids stay inside
Children should not, under any circumstances, leave the territory of the school unattended; many have past criminal punishments and are sent to the school by a court order. Yet, they walk in and out seemingly freely. And it is getting on the nerves of the residents of Kaagvere. The children raid people's garden patches and greenhouses, have broken a door mirror on a resident's car, have been caught trying to open car doors. There is at least one confirmed case of a car having been broken into to steal cigarettes.
Kaagvere, near Tartu, has quite a lot of families with children that admit they no longer allow their kids to go outside at night.
The apartment buildings in the village were largely built around the school. During Soviet times, the school was run with an iron fist, and all manner of night trips were ruled out. Member of the local village society Kadi Saarso said that people there have always accepted the school that had more than 300 children during its heyday (currently a little over 50); however, events of the new academic year have finally broken the residents' patience.
The police are often called to Kaagvere, while residents usually save themselves the aggravation of calling. For the authorities, it is like trying to catch the wind. You chase boys around the village and take them back to school only so they could climb the fence again some time later. At times, they do not even need to do that as the gate is wide open, even though it shouldn't be.
The majority of police calls come from the school, not from villagers, said police captain of the Tartu precinct Kaja Suur. She said there has been a record number of calls this academic year, and that a patrol car is dispatched every other day. It happens that police officers decide not to go and chase children around the village. Suur admits the police are not happy about the situation: "The school should make greater efforts."
Kaagvere resident Erika Kivimaa said that boys and groups of boys leaving the school grounds has been a daily occurrence this academic year. "There were no such problems with girls," she said.
She has also seen the children exit the school with supervisors only to climb onto roofs of cars. "The supervisor then tells them to get down because it is not suitable behavior," Kivimaa describes.
Local resident Piret Saar is tired of Principal Maire Reest's explanations that students will adjust, and that it takes time. "The village wants to live in peace and quiet," she said. "The school is a part of the village, not the other way around."
The village society has also sent a letter to the Ministry of Education and Research to which it expects a reply.
Some local men are of the mind that if the state cannot straighten the school out, they must, using much tougher measures. "I told the boys that if they hang around cars and garden patches at night again, we will adopt a much tougher language – and that they should tell the others," a man who shall remain anonymous told us. "We work all summer long in our gardens only so they could loot them!"
Saar said that she must listen to the students' yelling and foul language when out for a walk with her baby. "When the teacher comes for them, I must also listen to how they treat her."
Modern practices rule out limitation of children's freedom, not to mention lock-ups and physical punishment. However, Saarso said that the modern school complex has become a motel where children from poor circumstances can have a comfortable life. Even the rooms are cleaned for the children. It should be the school's primary task to introduce positive routine and discipline they lack at home into their lives. Today, the state is offering the kids a comfy life while allowing them to do whatever they can think of.
School, not students, at fault
Local people are unanimous in that their problem is not with the children, but the school and the way it is run. "It is the school's fault children act this way," villager Kersti Jürmann said.
She used to work as an assistant teacher at the college before she left of her own will. When she came home from work Monday night, she discovered six boys in front of her building. She called the school so someone would come and pick up the children. "They told me they cannot come. So, I took the children to school myself," she said.
Jürmann said that not everyone can work at the Kaagvere school: one must be able to assert oneself, have character, and know how to refrain from yelling. "As far as I know, the school hires people with basic education and organizes some kind of training, which is nonsense," she believes.
Jürmann said that roaming students haven't caused serious damage yet, but added the boys will only get bolder if the school cannot control the situation. "They gain in power and the feeling of freedom each time."
Saarso, who is also an educational adviser for the Luunja rural municipality, said that in a situation where the school advertises itself as a competency center and talks about scientific approach and pedagogics, the reality is that it is not in control and cannot handle the children.
"They have tried to fit in that school four different kinds of teenagers all of whom have behavioral and emotional disorders, while some have been sent to the school in criminal procedure," she said. "The state also abolished the Vastseliina special boarding school and brought the children here – it used to be a school for mentally disabled children with behavioral and emotional disorders. They are often aggressive and asocial."
Saarso said that it is impossible to prepare more than one soup in a single pot as the school also has relatively intelligent young people who have already committed crimes. "What is more, they now have girls and boys together; hormonal teenagers all," she added.
Saarso believes the current principal is following the education ministry's orders without realizing the extent of her responsibility. "Reading her posts on our village's Facebook page, we could turn to the chapter on learned helplessness in the handbook – what she is saying is a perfect example," Saarso said. "She believes the village should be accommodating and understand they have a lot of new children – what can they do!"
Saarso added that in addition to being short on teachers, the school also has rapid staff turnover. "Positions that require special pedagogical or social pedagogical education are vacant or filled poorly." What is more, Saarso asks whether the rights of children are protected in the college.
She said that the village does not have a contact to turn to in case of problems. "The school tells us to call the police, what can they do!"
Minister of Education and Research Mailis Reps (Center Party) admitted that a situation where children are adjusting at the expense of the villagers is not normal. "It is possible we will have to come to the school's aid with legal measures," she adds. "Let us take a rather simple question – do we have the right to keep children there? Should the school have broader rights in calling these children to order and setting limits? Yes, we can say the principal has once again failed in her tasks; however, we just hired new people at the school!"
Chief expert of the ministry's schools network department Jürgen Rakaselg said that the state is not satisfied with the situation described by Kaagvere residents. "We are definitely not happy with children roaming around disturbing village life. We will surely look at where the school has done well, and where it has failed."