Katri Raik: Narva can only be changed from the inside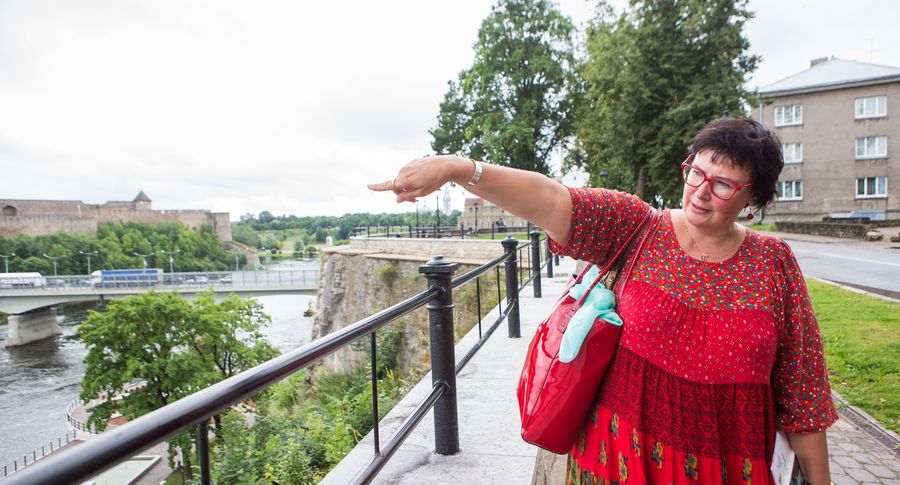 The local power in Narva has over the years learned to act in its own interests rather than those of citizens, claims mayoral candidate, Pro Patria Res Publica Union (IRL) member Katri Raik (49). This fall, Raik and 60 likeminded individuals want to end a quarter of a century of Center Party politicians' hegemony in the city.
We take a drive from Tallinn to Narva on a rainy August morning with Raik. The mayoral candidate, wearing a flowing red Finno-Ugric-themed dress, gets into the car on the corner of Roosikrantsi street and Pärnu road. During the workweek, Raik lives in a rental apartment in Tallinn - she is the rector of the Estonian Academy of Security Sciences.
Raik's home is an apartment in the old town of Narva - a building sporting thick stone walls built in the 50s of the previous century that offers a view of both the Narva and Ivangorod castles with their respective national flags.
Raik is straightforward when she describes the relationship of Narva's citizens and local authorities with the Estonian state: "Denizens of Narva say: the state cannot stand Narva, the state has turned its back on us. Narva has been living that creed since 1991. The creed of us here in Narva and them there in Estonia. A confrontation is a good basis because in it you know who the enemy is. The Estonian government is the enemy. And the majority of the Narva city council has made sure to keep that antagonism alive. It is naive to hope that a minister's visit to Narva and a vague promise can be enough. A ministerial visit or foreign dignitaries were a big thing in the early 2000s. No more."
Who is Raik herself, an Estonian who came to run the University of Tartu Narva College some 20 years ago?
"I'm the Estonian on call so to speak, whom people sometimes ask what the others are thinking, why they do certain things, or what happened. I'm asked by cab drivers, cashiers of small shops, businessmen, teachers. The responsibility for the actions of the government are often on my shoulders. Irrespective of my true opinion of specific decisions or actions by the government, I have always had to find a way to defend the things coming from Tallinn. I'm referred to as a nationalist, but one who still regards the residents of Narva as human."
Four years ago, Raik ran for the Narva city council for the first time (as a member of IRL in the social democrats' or Jevgeni Ossinovski's election list - ed.) and got 573 votes without campaigning. Hers was the seventh best result out of 31 delegates.
The recent poll gives Raik and former Narva "ruler", Center's Mihhail Stalnuhhin both 13 percent of the vote. Residents were far more enthusiastic about the creator and head of the city's symphonic orchestra, honorary citizen Anatoli Štšura (Center Party). Lifelong Narva City Secretary Ants Liimets (Reform Party), who ordered the poll, had about as many supporters as Raik and Stalnuhhin.
Raik said that Narva's population is shrinking by almost 1,000 residents a year - the city is losing people to the cemetery, the capital, and foreign countries. Forecasts suggest the city's population will have fallen from 85,000 today to just 40,000 by 2040, less than a quarter century from now.
Medical assistance is an especially acute concern for the city. The old hospital in the Kreenholm district might look imposing; however, the quality of medical care is a topic of constant complaints. Those who can, see the doctor elsewhere. The average age of doctors at the Narva Hospital is 58.
"The city needs to be consciously reduced; it is time for long-term visions," deputy Raik believes. A deputy, or a delegate, is a dignified title in the city, even in a situation where one can change little working from the opposition. Today Raik admits that the mayor's office would be her dream job.
Raik's election list does not want to tie itself to any party. The word "party" has become a curse word in Narva after long years under the rule of one particular such formation, whereas it doesn't matter which party one is talking about.
"However, the thing about being the mayor of Narva is that it is a person's first and last foray into politics as they have to make so many painful decisions," Raik realizes. Narva has been characterized by opaque and corrupt administration where one hand washes the other. Whoever wants to find work, build something, or do business in Narva must get along with the right people in the inner circle of city administration.
What are Narva's greatest woes?
Dwindling population, living environment, and jobs. Especially living environment - try to walk on sickly legs as a disabled person in Narva. True, some curbs are lowered and a few ramps constructed prior to elections. We have a few such items on the council's agenda for next week. I have spent four years wondering how little time goes into thinking about what's best for citizens.
Will Narva have free public transport?
It is funny; however, free public transport is not a good fit for Narva as cab drivers are important people here. A cab ride anywhere costs just two euros in Narva. The fuel comes from Russia.
If two of you take a ride and one gets off first, the price is four euros. You pay per stop. If we both go to the same place, it is still two euros. Many people meet on street corners to take taxis to work.
Free public transport would immediately hike unemployment in Narva.
That's the cheapest you can get a cab anywhere!
Except Odessa! (Laughs.) To continue on a more serious note, the idea of our election coalition is how to increase mutual trust between the city and the state. So that the people of Narva would trust the state. And so Narva would have city authorities whom the state could trust so it could invest.
So that when the government gives Narva money it can be sure it will be spent as needed and not disappear into the shadows?
Yes. That is difficult in a situation where the chairman of the city council has been convicted in the first court instance - Aleksandr Jefimov (a conditional sentence of more than two years for multiple counts of fraudulent conduct - ed.). And he is not the only member of the council who is or has been on trial.
No one can change city authority from the outside in a democratic society.
That is why we are running - we see it can only be changed from the inside, whereas it is imperative we do, looking at the hands washing other hands there. At the same time, it pains me to invite people to join our list as I know it might hurt them and their families. People who have run in other election lists beside the ruling one in the past have felt how it can be impossible to find work.
Has there ever been a serious alternative to centrist city authority prior to the previous elections?
We had more hope for change last time. Right now feelings of stagnation prevail. In me, it rather inspires the will to fight: the worse the situation, the more needs to be done. There were also disappointments last time as Jevgeni Ossinovski went back to Tallinn and our faction (11 people made it to the council, while only four remain - ed.) fell apart.
I agreed to head the faction following requests from fellow members and former students. It is no act of heroism; one just has to do the things one is good at, and that no one else is doing.
Do people in Narva want the political corruption to end?
When people come to talk to you, they try to convince you that they agree with what you're saying before admitting they've already been put on Center's list. I understand people for not wanting to take the risk. The adversary is mighty. At the same time, there is a lot of moral support. People tell me they will recommend to others vote for me. I do not know how people will really vote in the end.
People give corruption as the number one problem in the city; however, when you ask them for examples, they cannot think of any.
What kind of examples do you give them?
A member of our election list calculated that the coalition's deputies make a total of €820,000 a year through city department councils and the city council. One can make €1,000-1,500 a month just by sitting on the supervisory boards of a few city companies. A council member is paid a little under €300, including representatives of the opposition. Committee chairmen, who are of course coalition members, get a little extra. Our boys calculated that the money would suffice to cover our election promise of free kindergarten places. We try to showcase the difference in magnitudes.
Another example of how the city is currently run. Narva has a number of unfinished major projects. Whether to build a state high school remains undecided. Money for a bicycle and pedestrian road in Narva-Jõesuu has been allocated from the regional development fund; however, an agreement of where to build it cannot be reached. Plus renovation of the town hall. Time keeps ticking away while projects need to be realized inside a window of time. Money can be reallocated if projects aren't even started.
Why is that the case?
Because the state is bad, and life in Narva is bad. Perhaps I'm not the one to say why they act in this manner; however, the fact remains that things aren't progressing. Detailed plans, architectural contests, construction procurements take a long time even if everything is done right; the city of Narva must seize the initiative for things to start moving.
You need to win the election to change Narva?
Exactly. And in order to form the city government, we must form a coalition first.
With whom?
A good question. I'm afraid IRL and the Reform Party are in real danger of falling below the election threshold if they come out under their own flags in Narva. Talks are underway. I do not believe it is the right thing for parties to come wave their flags at local elections in Narva. Where are they in between elections? It doesn't pay to underestimate voters. We have few people as it is; we are even short on people who can hand out pens. "Party" is a curse word, just like "integration" in Narva.
What about the ruling Center Party? Do people associate the city government with the Center Party, Edgar Savisaar?
The connection has been made to Savisaar at one time, Stalnuhhin another; and I believe today it is Yana Toom. A leader is needed. The local authority is plagued by infighting. As long as they themselves understand whose side they're on. Leading centrists have said that the Center Party in Narva is not in effect the Center Party. It is the ruling cabal of the city who happen to be the party's members.
Does your list also include ordinary citizens of Narva so to speak?
Yes, we have pensioners, entrepreneurs, real estate businessmen, kindergarten teachers. They are all running the risk of finding themselves out of work. The risk is considerable. Our train of thought is that come what may, we will be in the council, and we'll be together. We will have failed not if we cannot get a lot of seats, but rather should we fail to stay together.
Where do you stand on the issue of Estonian and Russian schools?
Ten years ago, matters of citizenship and language took center stage in Narva. No longer. We are trying to distance ourselves from the language question. I'm sure some of our competitors will come out for purely Russian education; however, we do not come across the issue when meeting with people.
It could be a case where it depends on who is asking and what answers are given to different people. The idea to have native speakers teach Estonian in kindergartens for the children to speak without an accent is popular among city dwellers.
Where would you get those native speakers in Narva?
A good question; however, the mindset of something being impossible needs to be left behind in Narva. Everything is possible in Narva if you want it badly enough.
There are two topics that should be left well alone in Narva: NATO and May 9. And we should stop asking whether Narva is next and what its citizens think of Russia. It is unnecessary to make people choose which side they'd lean toward in a crisis. It is best if we never had to find out.
In the end, people want to lead peaceful lives in their aging city. To have a better living environment, higher salaries. Or talking about identity, let people be Estonian Russians or citizens of Narva. It is easy to agree that we all live in Estonia.
Has anything shocked you even before the campaign has begun? Something you never knew about Narva.
We stand for an honest election in Narva. I've learned that it is typical in Narva for the secretary to go and vote for all employees using their ID-cards. It has been described as something completely run of the mill in the middle of a conversation. I got a headache that time. My message is that if anyone so much as thinks about doing something of the sort in our list, I will resign as forerunner then and there.
Name some of the people who will meet the election in your list?
The list includes all four opposition deputies who have remained true to the list of 11 from four years ago and have not allowed themselves to be bought: in addition to myself, Ants Kutti, Vladimir Izotov, and Jüri Raud. We also have one of the initiators of the Narva Energy Run Anton Pratkunas, local youth activists. The name of our election list is Forward Narva (Edasi Narva). While it has a Soviet ring to it, it best represents the spirit of things and is translatable: we are looking to the future. There are a lot of good sayings about Narva. One is: Narva does not have to be an island, but a bridge.