Agency bans pharmacy's video consultations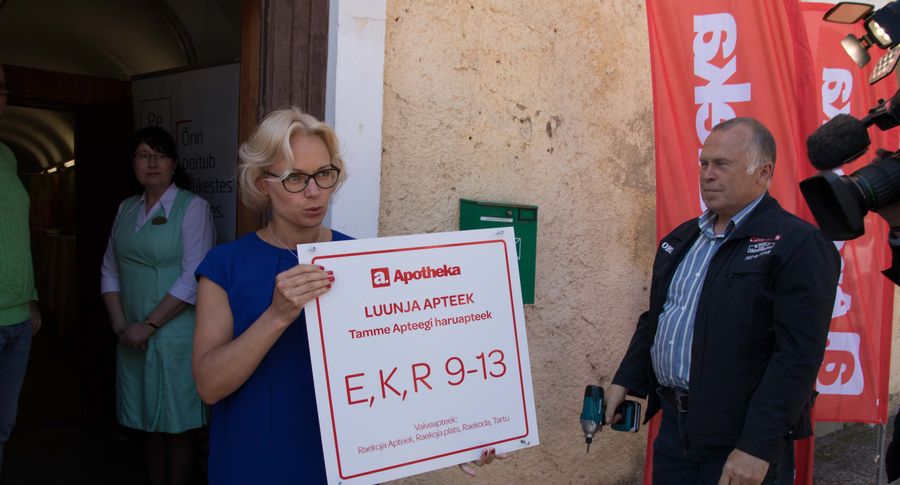 The State Agency of Medicines has banned video consultations at Luunja and Kavastu pharmacies where front-line staff lacks the qualification of a dispensing chemist. The board of OÜ Terve Pere Apteek is prepared to take the matter to court.
Deputy head of the agency Katrin Kiisk said it is not a matter of banning a modern communication technology but the fact pharmacies are required by law to ensure the presence of a dispensing chemist or pharmacist during work hours.
Apotheka launched video consultations in its Luunja and Kavastu pharmacies in Tartu County in June of this year in order to ensure availability of drugs in rural areas. «Even though the pharmacist was not in the same room as the client, thorough consultation of patients that comes with quality pharmacy service was ensured,» said Kadri Ulla, member of the board of OÜ Terve Pere Apteek that runs the Apotheka chain of drugstores. «A situation where a working pharmacy only has a person with no specialist education on location is not prescribed by the Medicinal Products Act,» Kiisk said. She added that the requirement is there for the safety of patients.
«As concerns video consultations, the entrepreneur's initiative to offer it as an additional service in a pharmacy is welcome, provided delicate personal information is kept safe,» Kiisk added.
She said that in the future it is possible to have a single call center in the place of local dispensing chemists or pharmacists. «Today the entrepreneur has interpreted the situation so that clients of rural area pharmacies do not have access to services they expect due to labor shortage,» Kiisk added.
Board member of Terve Pere Apteek Kadri Ulla sees the situation in a different light. «The agency does not deem it acceptable for the clerk to take a box of pills and place it in front of a web camera for a pharmacist to check. They basically find the clerk is not allowed to touch medicines,» she said.
Ulla said that the company started offering video consultations as a result of a serious labor shortage problem. «It is almost impossible to find dispensing chemists in rural areas - especially during the summer holiday season - which is why it is very difficult to keep pharmacies open. This solution even allowed us to extend our working hours,» she said.
Ulla said that the drugstores in Luunja and Kavastu will have to close their doors. «The agency of medicines threatened us with a daily penalty payment of €6,000 if we do not end video consultations in Luunja and Kavastu,» she explained. The agency allegedly threatened to also revoke the company's activity license that would mean the closing of all 85 Apotheka pharmacies.
«It is baffling how the agency refuses to answer the question of how to ensure sustainability of pharmacy services in rural areas while it also does not accept solutions by entrepreneurs,» she said.
«We will do everything in our power to convince the Estonian state to reconsider and not reduce the availability of medicinal products in rural areas. It means we are forced to go to court,» Kadri Ulla added.
Terve Pere Apteek launched its telepharmacy service in the middle of June. Mistakes were ruled out by having a dispensing chemist in Tallinn approve all transactions via video link. If before the telepharmacy service, the Luunja and Kavastu pharmacies were only open on a single day every week, the drugstores were open three and two days a week correspondingly for the past six weeks.