Italian journalist's focus on Baltic children with guns surprised his helpers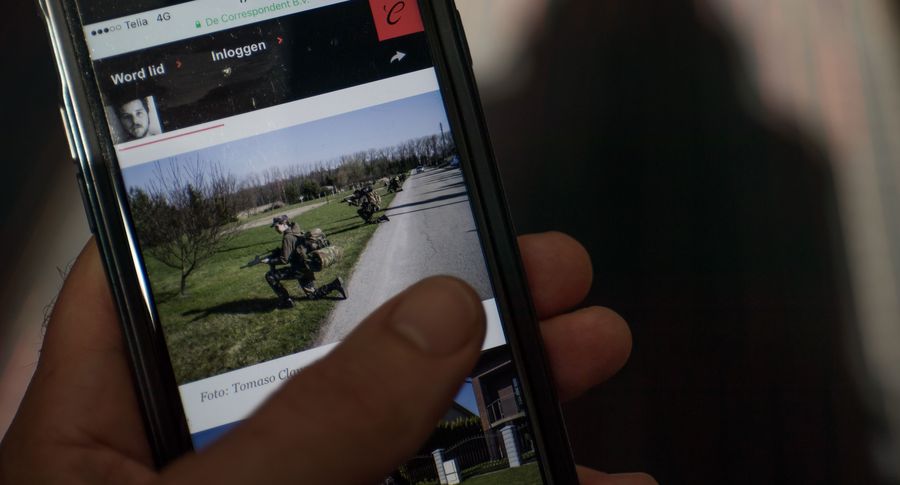 The reason why Italian photojournalist Tomaso Clavarino decided to make a photo-story of children patrolling with guns and «the paramilitary organisations growing in the same vein as nationalism in the Baltic countries» was probably his genuine upset, says his Lithuanian contact person.
«He arrived to Lithuania knowing that the Ministry of Defence allows him to meet with members of the Riflemen's Association, Lithuanian volunteer defence organisation, and visit their training drills. However, upon his arrival to Lithuania the ministry went back on their promise. Clavarino was allowed to visit only children's camps,» said Clavarino's Lithuanian helper, who agreed to comment only on condition of anonymity.
«I would never have thought that the Lithuanian Ministry of Defence would not hold to their promise to a foreign journalist,» said the Lithuanian contact with disappointment.
According to Dovydas Rogulis, the international relations coordinator in the Riflemen's Association, Clavarino wanted to have a look at their activities. During his stay in Lithuania the Young Riflemen happened to have a gathering in Klaipeda and Clavarino was invited to pay a visit. «The youngsters had first aid training course and then went for a hike,» said Rogulis.
It was only shortly before arriving to Estonia when Clavarino brought up his special interest in children. «It took me by surprise, but at that point I couldn't back off. Knowing what I know now – it was a mistake. My apologies to everyone whom I've made feel uncomfortable. It really wasn't my intention,» she added.
Rogulis does not deny that the replica guns seen on the photos are indeed used by the young riflemen during their hikes. However, the purpose of those replica guns is to train discipline and responsible attitude, not to provide kids with tactical training.
«I did see some photos of kids holding real guns, but I think those were taken during an exhibition where the military demonstrated their equipment,» he added. These images are used out of context, claims the spokesperson of Lithuanian Riflemen.
Rogulis finds that Clavarino's article in De Correspondent creates a false impression by presenting volunteer defence organisations as something specific for the Baltic countries. In fact, there are many different volunteer defence organisations all over the Europe, many of them having youth organisations as well. Their focus and activities may vary; some are closer to the national military structures, some focus on traditional scouts training.
As an example, Rogulis refers to the British Army Cadets Force for young people aged 12-18, an organisation funded by the Ministry of Defence. «Their focus is more on the military skills than ours, as they use real firearms and train with air rifles,» explains Rogulis. The similar organisation in Sweden has its main focus on teaching the youth first aid and survival skills.
In Latvia, Dāvis Landorfs, Clavarino's local contact person helped him to arrange a meeting with 12 adult volunteers of Latvian Home Guard, Zemessardze. Clavarino was even invited to the home of a family where a father and two sons are active members of the National Guard. «We were very well received by many Zemessardze members, they were welcoming and open, showing us around and sharing their personal stories,» said Landorfs.
«We also visited a Jaunsardzē (Latvian Youth Guard) camp,» continues Landorfs, «and it seems particularly odd to me that while Clavarino interviewed so many adult Zemessardze volunteers, he did not use any of these interviews for the story. The time he spent in the youth camp was very brief compared to the time he spent elsewhere in Latvia.»
Although Landorfs just worked for Clavarino as a fixer in Latvia, not as a co-author, he did his best to make Clavarino feel welcome. In Riga, he accommodated Clavarino in his home for free, doing so out of solidarity with fellow freelance journalists. For the rest of the trip, Clavarino stayed in guesthouses, paying himself for the accommodation.
After two weeks spent in Lithuania and one week in Latvia, Clavarino's next stop was Estonia. Clavarino's Estonian fixer, Marian Männi, who also works for the biggest Estonian weekly Eesti Ekspress, on 6 June 2017, contacted Estonian Home Guards' youth organisation, Home Daughters.
In her email to Home Daughters sent from her newspaper's email address, Männi introduced Clavarino as a very active and enthusiastic journalist. «He has spent two weeks in Lithuania and another week in Latvia getting to know local volunteer defence organisations, talking to the activists and taking photos. He has participated in their training drills and travelled all around the Baltic countries. Now it's time for Estonia.» Estonian journalist also mentioned that Clavarino has already scheduled number of meetings in Estonia and it would be great to talk to some children, too.
Männi emphasized that she was helping the Italian during her vacation, acting through her agency Fixerspress OÜ. «I'm a full-time journalist at Eesti Ekspress, I've also worked in Postimees. Earlier this year  I received the Bonnier Prize for investigative journalism,» she notes in her letter.
As Bärbel Salumäe, youth instructor of the Estonian Defence League's Tallinn section explains in her report to superiors, the fact that Männi works for that Estonian newspaper added to her credibility.
On 6 June Männi had come to the Home Daughters' meeting alone and spoken with volunteer youth leader Maria Järvis. «We were mainly talking about our activities but  she was really keen to know if our youngsters have shooting training and wear uniforms,» Salumäe's report reads. Männi was told that while they do train with guns, they use only sporting weapons and air rifles under supervision of experienced instructors and one of them is even participating in the shooting world championship.
Salumäe also talked with Männi during this meeting and they agreed she and the Italian will come to the camp for girls aged 7-10 in the Männiku shooting range on 7-8 June. «Marian called me the next day and asked about our daily schedule, specifically about time of the shooting training,» Salumäe adds.
Salumäe received a call from youth leader Järvis the same evening. Järvis told her that the whole thing looks suspicious, as she is all the time asked about possibility to take photos of the girls in a shooting stance. «We became wary of their interest and were no longer excited about their visit. While we did not cancel it, we did not invite them to watch the shooting range training,» the instructor continues.
«Upon arrival they kept asking (especially Marian) whether they could take photos of the shooting exercise, while we kept telling that we cannot change our schedule,» Salumäe writes in her report. When Clavarino and Männi left for Ida-Viru County, the Home Daughters' instructor asked the chief of staff to give a warning to the Alutaguse youth section not to let journalists take pictures of children holding firearms.
Männi said she was put in touch with Clavarino by the Lithuanian fixer, a good friend of hers (according to the site fixers.press they are business partners - ed.). The Italian photojournalist said the report was to be about diversity among members of the Defence League.
«I was tasked to find interesting people for his interviews and to do the translation. As I'm a journalist, too, I took it as an interesting professional experience,» Männi told Postimees yesterday.
The Estonian journalist admitted she asked Defence League people about camps where they could see some action like shooting in order to get better images. When it turned out that there weren't any, the matter was dropped. «I never heard Clavarino ask to stage a photo with guns although I was accompanying him most of the time,» Männi said.
Männi states she would never have agreed to help the Italian had she known the story was going to be on child soldiers in the Baltics: «One just cannot make up a story like this as it simply isn't true.»
Männi said that Clavarino initially told her that the story would be published in one of Italy's leading newspaper L'Espresso. Later he also mentioned Corriere della Sera.
Head of the Defence League's PR department Tanel Rütman showed Postimees Clavarino email from 15th of March 2017 where he claims his work will be published in the Newsweek and will eventually become into a photo book and exhibition.
«I'm writing to you because I'm working on a broader project in which I'm looking at the increase of volunteer groups in the Baltic countries and the Russian threat,» the Italian wrote to Rütman. «My idea is to tell the story of these groups and describe different people who have decided to join.»
The only story about Clavarino's four-week journey in the Baltics found by web search yesterday was the one published by Dutch alternative media outlet De Correspondent.
Männi admitted she was very surprised by Clavarino's article: «I spent three months looking for people for his interviews and in the end he didn't use any of them. All my efforts were in vain.»
Nevertheless, the Italian left Männi with a good overall impression: «He was enthusiastic and dedicated, I cannot say anything negative about him.» Only when towards the end of their journey Clavarino said visiting Baltics was a waste of money as he didn't get anything good, Männi was slightly taken aback: «Then I thought - what exactly was he looking for?»
In his email to De Correspondent yesterday, Clavarino's Latvian fixer Landorfs says that he cannot point out any violations of journalistic ethics in Clavarino's work. «For me the main problem with the story is that it's one-sided and omits a lot of information, context and historical facts about the Latvian National Guard and Youth Guard that Tomaso was introduced to,» the letter reads. «Worse still, he does not do any justice to the people he met in National Guard and Youth Guard – they were open, sincere and shared a large variety of reasons being involved.»
The Latvian's letter to De Correspondent ends with this conclusion: «There is no complexity, context and nuance in the story, although there clearly is in real life. One can, of course, say that it's the journalists choice what to include and what to leave out, but in this case I find the piece to be rather sensationalist and striving for any shock value to be found.»
Clavarino's Lithuanian fixer also contacted the Dutch publication after he had seen the story: «I asked them to make several corrections, which they have luckily done by today.»
Männi stresses that it was Clavarino who repeatedly asked her to find out whether it would be possible to take photos of children who are shooting. She says she also told Salumäe that she's just forwarding Clavarino's questions. It was only shortly before arriving to Estonia when Clavarino brought up his special interest in children.
«It took me by surprise, but at that point I couldn't back off. Knowing what I know now – it was a mistake. My apologies to everyone whom I've made feel uncomfortable. It really wasn't my intention,» she added.
Comments by Clavarino and De Correspondent can be read from the HERE.