Adm. reform to turn Pärnu into Estonia's biggest city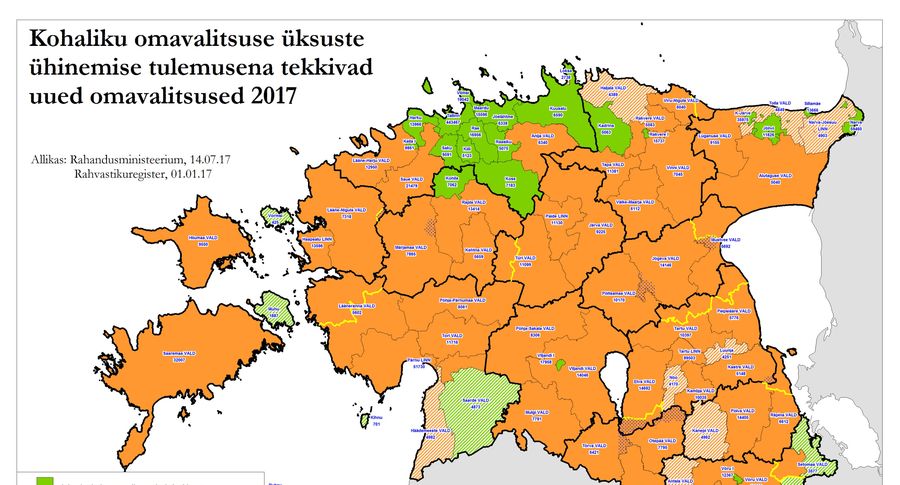 The completion of Estonia's administrative-territorial reform this fall will dethrone Tallinn as the largest city in the country, with the title going to Pärnu after the merger of four local governments will leave it occupying an area several times that of the capital.
Once the results of this October's local government council elections are officially announced, Estonia will have 79 local governments - 15 cities and 64 parishes.
If so far Tallinn has been Estonia's largest city with its area of 158 square kilometers, followed by Narva lying on 85 and Paldiski on 60 square kilometers, the new administrative division will thoroughly shuffle the deck.
The merger of four local governments will make Pärnu the largest city on no fewer than 855 square kilometers. The city currently lies on 32 kilometers, which will make for an increase of 2,600 percent.
Pärnu Postimees has previously reported that this will make Pärnu one of the 100 largest cities in the world as far as total area is concerned, leaving behind such metropolises as Milan, Athens, Brussels, Munich, Vienna, Johannesburg, Buenos Aires, Madrid, Warsaw, Minsk, Zagreb, Barcelona, Toronto, Hamburg, not to mention Copenhagen, Stockholm, Helsinki, Oslo, and Amsterdam.
Estonia's second largest city will be Paide that will come to occupy an area of 443 square kilometers. By far the biggest city in terms of number of citizens, Tallinn, will come in fifth.
The fact Pärnu will come to cover a huge area will result in several curiosities, including a part of the Soomaa national park lying inside city limits.
Looking at county borders, the smallest mainland county - Lääne County - will be rendered even smaller, with its area dropping from 2,400 square kilometers to 1,800. Lääne County will lose a quarter of its area and more than a tenth of its residents to Pärnu County.