Pilots would procure a cheaper chopper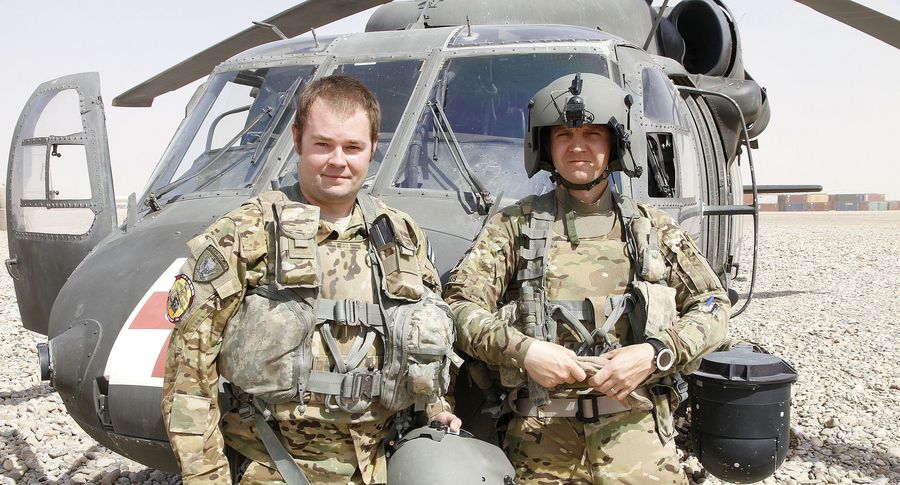 If today the state is considering procuring another large rescue helicopter, experienced pilots describe the move as senseless. What Estonia needs is a smaller chopper that would only handle emergency response flights.
«When our Soviet hardware was replaced with the Agusta rescue helicopter, the aim was to find a machine that could do it all. However, the one size fits all principle doesn't really work in aviation,» experienced pilot Martin Noorsalu from NGO Estonian ER Chopper said.
Noorsalu, employed by the Estonian Defense Forces and having served as a medevac chopper pilot in Afghanistan, said that the three AgustaWestland AW139 helicopters used by the Police and Border Guard Board's (PPA) flight squad are too small for rescue tasks and too big for border patrol or ER flights. The rescue chopper's small wheels mean they cannot land in places where the ground is soft, while there is often not enough room for the large helicopters to land on the islands.
Too expensive
Today, when the state is talking about procuring another rescue chopper, Noorsalu believes it unfounded as the AgustaWestland is just too big and expensive.
The NGO, that has visited both the internal affairs and social ministries to convince them of the need for a medevac chopper, believes the state should consider procuring an ER helicopter for €6-8 million instead of paying another €24-32 million for a large rescue helicopter.
Pilots, trained for medevac flights with the National Guard in Maryland, USA, have been telling different agencies that Estonia needs a medevac helicopter for a year and a half.
«We have no personal stake in it; we're all flying,» said Rene Kallis who is currently on parental leave and is set to leave the Defense Forces come fall. «We want Estonia to have an ER chopper, whereas it doesn't matter whether it would be operated by the state or handed to a private operator.»
Kallis, who has also served in Afghanistan, said that an ER helicopter does three things, and that currently only one of them is done in Estonia - transporting patients to hospitals.
«Evacuating patients from scenes of accidents is not done at all as it is impossible to land everywhere and because it would require a helicopter to be available at all times,» the pilot said.
Even when the PPA's helicopters aren't busy performing other tasks, they only have a six-minute response time during working hours. Outside of that the response time is one hour.
Rescue capacity is often limited also because existing choppers need to be serviced or are out of commission. The men say that a smaller helicopter to be used for ER flights would require less frequent maintenance. «For example, one widely used ER machine, the Eurocopter, has a very long service interval and can be flown for a long time before it needs a tune-up,» Noorsalu said. The pilot is convinced Estonia would only need one ER chopper.
To ensure round-the-clock readiness, a single ER helicopter needs five crews that are usually made up of a single pilot and two medics.
Pilots say that ER choppers usually have a doctor on board in Europe. «Basically they are ER units that start working on the patient right away,» Kallis said. If today around 200 medical flights take place in Estonia annually, the men say based on data from the North Estonia Regional Hospital (PERH) and Tartu ER that the availability of an ER chopper would bring that number to over 700.
An medical chopper would be needed for transport of organs as the number of transplant surgeries is growing, as is the need to transport patients. «It is important to take the patient to the right hospital, while currently ambulances take people to the nearest one where they have to wait for a proper ER vehicle to come get them; that is time wasted,» Noorsalu said.
He added that as things stand, PERH is the most interested in an ER chopper as the major hospital is responsible for the islands.
Pilots say that the services of medical helicopters are financed in one of three ways in Europe. Wealthy countries, like the UK, use donations. «In the Alps, that is to say Germany and Switzerland, they have a combined system of donations and local government financing. In Scandinavia, the state pays for the whole thing,» Kallis said.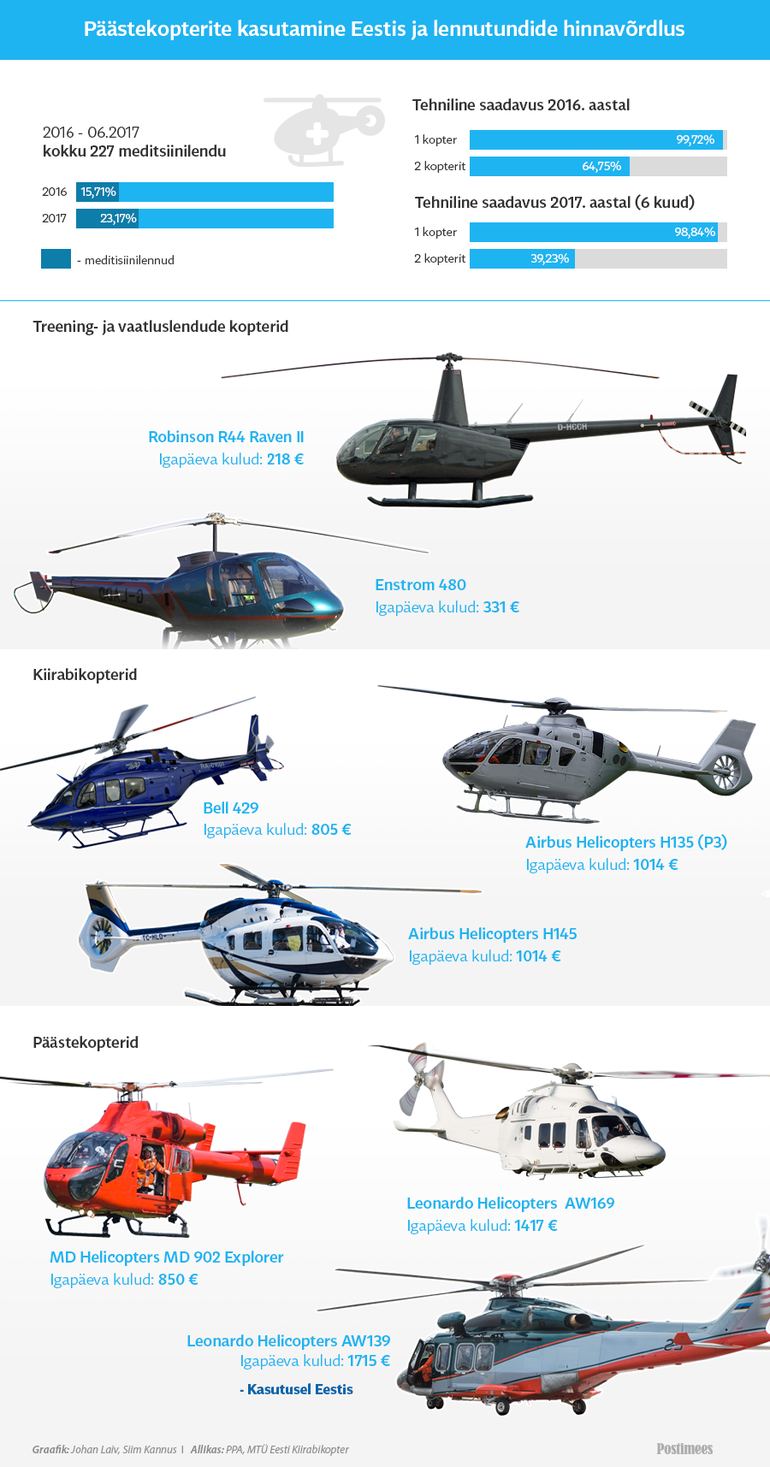 Kopterid / Johan Laiv, Siim Kannus
Where to get the money?
«The Ministry of Social Affairs would like it if the state financed the service; however, that would require resources that would come at someone else's expense,» Kallis said. The Estonian Union of Medical Emergency has already told the NGO that should the money come out of their budget, they will definitely object to the procurement.
Pilots say they are busy lobbying as major reform is looming for ER and the hospitals network, and that the time to create the service is now.
Social democrat ministers Andres Anvelt (interior) and Jevgeni Ossinovski (healthcare and labor) discussed the need for medical flights last Tuesday.
«Medical purpose air transport currently makes up one third of PPA flight squad calls, and that frequency is not likely to change any time soon,» said the social ministry's press representative Ivan Lavrentjev. «We want to increase the choppers' response time outside of working hours when it comes to the healthcare side of things,» he added.