World rally championship can come suddenly like the World Cup skiing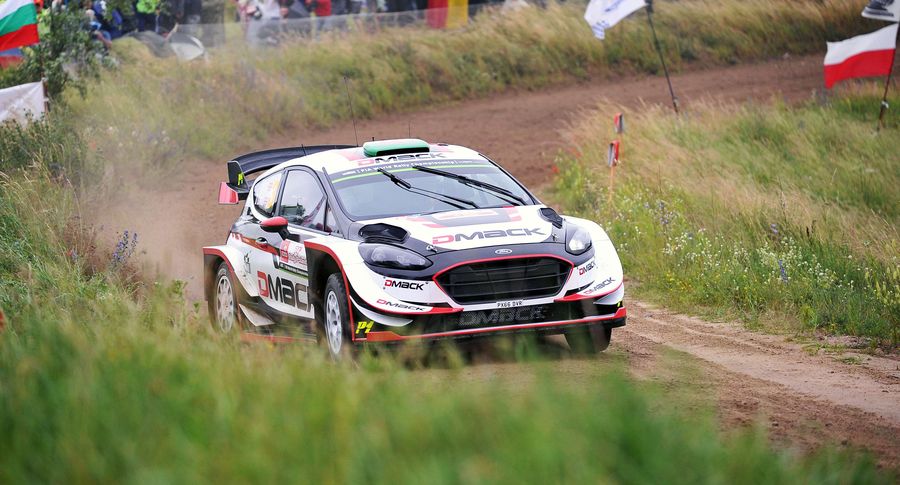 If the impossible dream should come true and Rally Estonia is included in the 2018 rally world championship calendar, the organizers of Estonia's most prominent racing event must be able to draw up the high-ranking competition's program at a moment's notice. There is a precedent: this is precisely the way the World Cup stage in skiing came to Otepää back in 1999.
"It was August 1998, approximately a week after Suverull competition, when the then cross-country head of FIS Bengt-Erik Bengtsson sent a fax to our skiing federation. The main text was the Russians' notice that they would not be able to organize the World Cup competition in Kaugolovo near St. Petersburg on January 5. There was a hand-written question: "Would it be too early for Estonia?"" Alar Arukuusk, Secretary general of the Estonian Autosport Union, then the main organizer of the skiing event, recalls.
"Kaarel Zilmer (secretary general of the Estonian Ski Association) wanted to reply that it is of course too early, we cannot do it in time and we have no proper track. I argued that we should wait a bit and take a day for thinking it over, since once we refuse, we may never get the opportunity again. We decided to take the risk: it would be terribly difficult and hard, but if they give us a chance, we shall somehow manage. I do not know who Zilmer talked to, but he finally replied that we shall be ready."
Estonia's skiing was making progress then: Jaak Mae came sixth in the Nagano Winter Olympics in 10 kilometer classic style, Kristina Šmigun lost the season due to broken collarbone, but she was a rising star among female skiers. Whet we lacked was a top-level contest in Estonia – there was the summer Suverull event, popular among top skiers, but we had not yet reached that level on snow. "Otepää had hosted Soviet competitions and other events, so that the infrastructure was there. It needed upgrading, but if we had given up that chance, there was no predicting when the next opportunity would come", Arukuusk said.
This is how they gave their okay to FIS and important bosses of the discipline, headed by Bengtsson, were in Otepää in two weeks' time to see about the situation. "We prepared as well as we could, but the existing tracks did not meet the requirements", the leader admitted. The presently well-known Tehvandi tracks were renovated to host the World Cup event. "There was bush around some stretches at the Tehvandi slope. We showed them that this is where the World Cup track would go. The FIS guys looked at each other – what, this is a forest, there is no room for a track. I promised that it will all be done, no problem. And so it was, we were placed in the calendar. The work began in the end of September and the contest took place on January 5."
Arukuusk admits that there were a lot of setbacks and the weather failed them as well: "Five days out, when we had to assure that the competition takes place, we only had a three-kilometer track, two kilometers short, since it was raining and there was no snow." But they finally managed to hold the skiing competition. The cherry on the cake was Kristina Šmigun's first World Cup medal after Bente Martinsen and Antonina Ordina.
Since the next season's calendar was already set, there was no World Cup stage in Otepää in 2000. They were lucky again in 2001 at the final testing before the Lahti World Championship. "By that time we had already built some facilities and held such a proper competition that the teams were willing to come here again. Starting from 2003 we began hosting the World Cup stage every year in Otepää."
Rally Estonia waiting for a lucky break
All that would have never happened without the canceling of the competition near St. Petersburg in 1999 or the World Championship in Finland two years later – the countries were different, but globally it meant competing in the same region. If the distances had been greater, Estonia's skiing festivities would have never happened.
Another international top competition held in Otepää – Rally Estonia – is now waiting for a similar windfall. It should be pointed out in advance that the opportunity of seeing a rally WRC stage on South Estonian roads is negligible. Yet it is higher than ever before.
Rally Estonia's potential access to the World Championship calendar is made possible by the troubles besetting the Polish rally. The competition, which is held on roads very similar to those in Estonia, has repeatedly faced the threat of dropping out of the WRC series, but the organizers have always managed to convince the right people and this year saw the fourth World Championship stage at a run. But several important figures were fed up this time. "How can we return here?" an anonymous top driver complained in the magazine Autosport about the security problems of the Polish competition. "There is no logic: people do not understand that a car can go anywhere. We are racing in ruts and sometimes a car may fly off the road in any direction. They stand behind packed straw and hope that this will protect them? No way!"
WRC top teams have allegedly hinted that the Polish rally should be replaced by some other competition in the 2018 calendar. This word – replace – plays the key role in the hopes of Rally Estonia. The WRC calendar will be extended by one stage starting from next season, but it is not yet clear, whether it will take place in New Zealand or Croatia. "Replace" may mean that either option has a chance or that there will be an extra rally, Poland will be dropped and the WRC series will continue as now, with 13 stages. But that could also mean that Rally Estonia, which is held on roads very similar to those of Poland and has already proven itself as highly successful European Championship stage, may be entered in the calendar as the replacement. The decision probably would not become known before October, when the rehearsal of the Croatian stage has been scheduled, meaning that there will be little time until the next season.
Estonia's small market is the problem
"Today we are having a proper competition, which has its definite reputation thanks to ERC. Estonia is not an unknown country, it is a recognized rally country", says Arukuusk, who heads the Estonian Autosport Union since the beginning of this year. One of the ace cards of Rally Estonia is the driver Ott Tänak, but also his competent supporters. "There are no problems with fans showing up and knowing how to behave. It is a matter of sports politics whether a small country like Estonia gets a chance."
WRC teams would hardly object to competing in Estonia. Toyota is already settling in Estonia and Ott Tänak's employer M-Sport tested the Estonian roads before the Polish competition and enjoyed the Estonian hospitality. The problem is with the large car manufacturers behind the rally teams, who cannot see a sufficiently large market to spend money on special stages in Estonia. There is hope for breaking that mentality as the manager of Toyota team Mäkinen told Postimees at the Portuguese rally: "It is only a European thing that they look at flags on the cars. These are the French, there are the Finns etc. Japan looks at rally and at Europe as a single country." It was about the nationality of the drivers, but the European car markets can also be seen in the same light.
Arukuusk is not overly hopeful, but tries to be optimistic: We talked about it last autumn after Rally Estonia  , when I was still working in Tehvandi. I was sharing my ideas and experience with the organizers of the rally. I said then that if there is some light in the end of the tunnel, a small opportunity for a WRC stage in Estonia, then we must work for it and hope for a lucky break. I understand that this is expensive, difficult and there is little time, but no one can entered that series easily. If there is even a five-percent chance that FIA will make the offer, we should risk it."
The situation is better than 19 years ago in Otepää at least in one aspect. "We did not have a large organization at that time – we had never organized competitions at that level. We had to think of the tracks, the stadium…" Rally Estonia already has the experience. It is also boldly experimenting and has turned a mere sports competition into a weekend entertainment event joining several cities. There is no question about it, Estonia could organize a WRC competition.
But if it should go the more realistic way – the WRC series will keep passing Estonia by – Arukuusk hopes that rally Estonia will return to the calendar in 2018, having taken a year off. "The question is about the format", the secretary general says. "ERC is already past, now we have to think how to bring WRC cars to the roads, to have the same cars on our rally, which usually compete for the World Championship. Not just one or two, but more.  It is obvious that holding such a rally takes a lot of money, but I believe that the fans in Estonia are so professional that only R2 (front-wheel drive) cars would not make them happy for long – they would want to see WRC."