Boy who missed his dad fell from fourth floor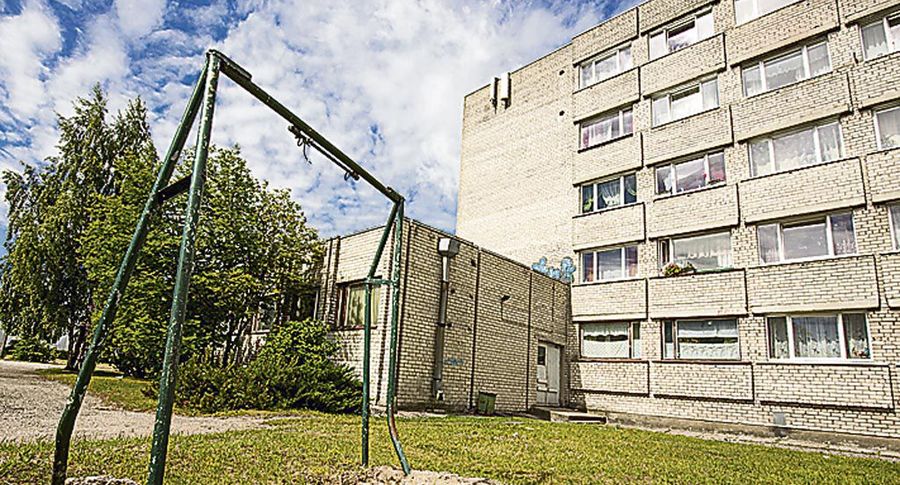 The nine-year-old boy, who fell out of the window of a four-storey house in Pärnu on Victory Day (June 23) and landed on the roof of a lower part of the building, had hoped to reach his hospitalized father by climbing from one windowsill to another. Now the father is home and the son in the hospital, but his life is not in danger and no bones were broken either.
"My partner did not see it, but heard the thump as Igor fell on the roof", said a resident of the council house. Pärnu residents know the building as the Liiva hostel. Despite the fall if 4.-5 meters, the boy had been lucky to drop only when over the roof of the outbuilding, the resident said. Otherwise the drop would have been several meters higher.
According to the neighbor, the nine-year-old had lost control when he wanted to visit his father, who has been hospitalized due to strong stomach ache, but the door was locked.
"He had said "I want my Daddy", but since the door was locked, he went through the window", the neighbor said.
The neighbor added that although the grandmother had also been in the two-room apartment, she had not noticed the grandchild slip out of the window and craw over windowsills.
"Fortunately he received no serious injury like broken bones or something like that", the resident said. Igor is actually well enough to have phoned his father repeatedly co complain about being bored in the hospital and missing home.
The resident remarked that she was not surprised the child's determination to go to the hospital, since Igor is very close to his father. "His mother left and he grows up with his father and grandmother", the neighbor said.
The police was informed on June 23 that a nine-year.-old boy had fallen from the fourth floor of an apartment house on the roof of an outbuilding. An ambulance took him to the hospital. A criminal investigation is in progress. "The boy's life is not in danger and we treat the case as an accident at present. We shall provide further information after completion", said Maria Gonjak, spokeswomen of the Western prefecture.
Gerli Kõiv, PR advisor of Pärnu city government, said that children's welfare specialists are aware of the incident. The advisor did not comment whether the city government intends to contact the family to prevent further incidents. "Since the investigation is in progress, I cannot comment further", Kõiv said.