Commerce sees future in Ida-Viru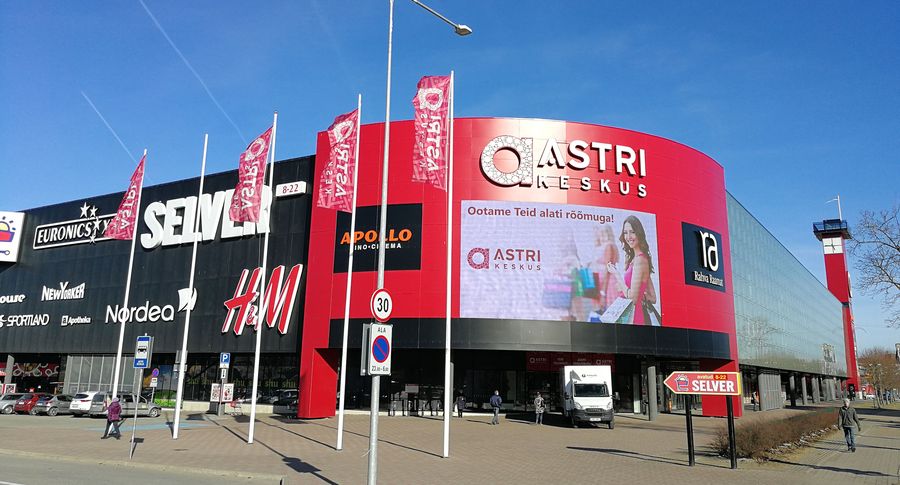 Even though it is widely known Ida-Viru County is one of the fastest-emptying areas in Estonia, that fact does not seem to bother owners of shopping centers and traders looking for space in the latter.
"Because the Vironia shopping center in Kohtla-Järve has been received brilliantly by locals and its monthly visitor figures near 300,000, it has been forced to turn down traders due to lack of space," said member of the board of owner Fausto Grupp Sven Mihailov.
The center has more than doubled in size since its opening in 2011 as the number of companies looking to open shops there is growing. The first extension of the mall in 2014 brought 20 new tenants, including Ehituse ABC, Apollo, Juku, Goldtime, Topshop, Cityalko, Humana, Sidonas, and Sõbralt Sõbrale.
Turnover on the rise
The Vironia Center that already lies on more than 10,000 square meters is set to increase its sales area again this fall when general goods retailer Magaziin will open its first shop in the county. The addition of Magaziin and a few smaller shops will add another 1,100 square meters of sales area. The new shops are expected to create 20-30 jobs by fall.
"Looking at our stores in Estonia, Ida-Viru County is an area that does not know us yet but misses us based on what it hears from other areas," said head of marketing at Magaziin Margit Lukka. The company has ten shops in Estonia three of which are located in Tallinn.
The shopping center's extension will also treat the adjacent Kohtla-Järve bus station to a facelift this year. International chains JYSK and H&M have expressed interest in Vironia, while owners have held talks for a movie theater and a pizza place for the bus station.
Vironia is not the only mall in the area to increase its sales area in the past five years. The same course has been plotted by Astri Grupp that manages the Astri and Fama shopping centers, and furniture shop Tempo Mööblimaja in Narva.
"We can say that the interest of traders and retail chains in Narva has grown again recently. Growing number of tourists from the east has reflected in the turnover of shops. The latter is in turn a result of the improved exchange rate of the ruble that affects the sales of Narva shops very directly. The eastern tourist is largely the engine of Ida-Viru commerce," said member of the board of Astri Grupp Tarmo Kleimann.
If the Fama Center last expanded in 2012 and is currently spread over 30,000 square meters, the sales area of the Astri Center grew to 40,000 square meters in 2014. Kleiman said both centers see approximately 3.6 million visitors every year.
He added that he believes this currently satisfies the demand for trading space in Narva while he did not rule out expansion in the future as there is enough room for it.
Expansion depends on newcomers
The Tsentraal shopping center in Jõhvi that started out on 10,000 square meters in 2005 expanded in 2006. Regional head of manager East Capital Baltics Anneli Mänd said the center has not boosted its sales area in the past seven years because there is physically no room for it.
"Tsentraal has worked on changing its concept of tenants and improving the general image of the center," Mänd said. Unlike the owners of Vironia and Astri centers, she believes expansion by major retail chains to the county has been modest and change has happened from the inside.
The center hosts about 1.7 million annual visitors. Mänd said that there are companies looking to open shops in the center, and that rather local entrepreneurs have taken a greater interest recently. "It is possible newcomers and companies planning expansion are hoping for more Russian tourists," Mänd suggested.
She also said that extensions of shopping malls largely depend on retail chains' desire to open shops in areas where they are not yet represented. "We can take the example of Apranga that is the largest clothes retailer in the Baltic countries but does not have a shop in Ida-Viru County," Mänd said.
The Estonian headquarters of Apranga said the chain has shops in the two largest cities – Tallinn and Tartu – and that is where the group's focus lies. Employees suggested Postimees contact the group's Baltic headquarters in Lithuania with questions concerning policy; however, the article was published before Postimees heard back from Lithuania.
Let it be said that owners of shopping centers did not mention government stimuli for increasing the attractiveness of the county as having played a part in decisions to expand.