The biggest risk is not taking risks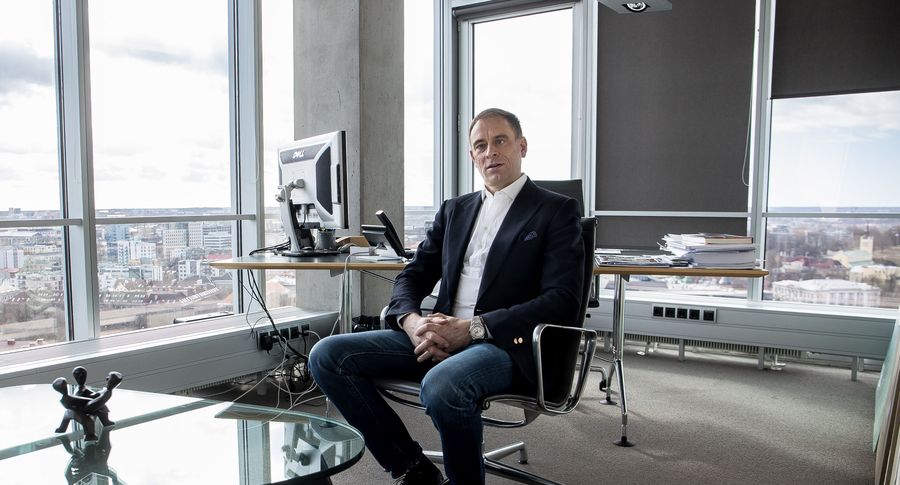 Owner of LHV bank Rain Lõhmus says that one needs to always take risks and keep in mind that every venture cannot succeed. The bank is set to continue its expansion in Estonia after its first year on the stock market. Lõhmus referred to the climb of LHV's stock price since May of last year as having exceeded expectations.
LHV has its shareholders' meeting today. How happy are you with the bank's first year on the market?
It has not been a full year yet; however, we have reason to be satisfied. We outperformed our forecasts by a moderate margin.
LHV's stock has had one hell of a ride, especially in the past six months. Did you believe you would do so well in May of last year?
We believed the price would rise; however, we anticipated a slower pace.
LHV has managed to produce stable growth of deposits, loans, and fund volumes. What are your next plans?
First of all we will continue our domestic expansion in its recent volume. We are also looking for something new; however, that is something we must first notify the market of.
How will the merger of DNB and Nordea change the local banking market?
It changes little in terms of the big picture. Perhaps it will be more consequential in Latvia and Lithuania. Nordea is so much bigger than DNB in Estonia that the merger will not change anything on a fundamental level. Estonia will still have market leader Swedbank, with SEB a long way behind, followed by the third echelon, including LHV, that is in turn a long way behind SEB.
Has LHV considered a takeover of Nordea and DNB? I understand it would be a bit much for you now, but still?
We have considered it; however, there is a big difference between considering something and actually doing it.
Would it be feasible for you?
That depends. Financially we aren't even close. However, it depends on whether we're looking at operations in Estonia or the Baltics in general. We will wait and see, not get ahead of ourselves.
What do you think about Coop bank? (The reorganization of Krediidipank into Coop bank based on the latter's chain of retail shops – ed.). Does the undertaking have a future?
Krediidipank needed to find new momentum, that is clearly positive. Having a clearly different approach is another positive aspect. I cannot say whether doing business in areas other banks have left will be successful or not. I have not done those sums. It is a kind of niche activity. Maybe they'll pull it off. However, it is definitely much more promising than Tallinn's cooperative bank.
Let us talk about the infamous banking fee idea. What could it change for worse or better?
What is the concept? Does it constitute additional taxation of banks because they are somehow bad or different? Or is it an excise duty on money, like we have for gasoline and alcohol? The problem is that while it is theoretically possible to control the movement of alcohol and gasoline, one cannot control the movement of money inside the European Union.
It would mean that money coming into the country would be excise-free, while money in Estonia would be more expensive. You can just have an office in Latvia and send all major transactions there.
There is no other reason for it other than bolstering the state budget. That said, I do not see sense in thinking up complicated structures. Rather we could just have banks pay income tax in some way.
Where would a smart government move with its tax policy today?
The government is overrated as such. Rather we should do more on the local level; there is more democracy there. If you have a village of 2,000 people the alderman of which is useless, the chance of people realizing it and replacing him is greater. Looking at the government, the image seems far-way and packaged by the media. Elections are sold just like Coca Cola. The model of governance is too 19th or 20th century. We should look to the future in terms of being more effective.
Are you still paying taxes in Switzerland? The government's tax policy has not convinced you to move back?
Yes, I still live in Switzerland. And my moving back and forth has not been over taxes. I believe that real estate would be a rather good thing to tax to get money from people like me. It is done far more elsewhere. I would know exactly what to do were I told to come up with how to get taxes from people like myself, people not living in Estonia.
You do not want to advise the government?
(Laughs.) What that is is taking an unsuccessful listed company and giving it advice – nothing will happen.
What could be the effects of Brexit outside of Estonia?
The European Union needs to take a look in the mirror here. It is blaming the Brits, the media, stupid people. The campaign was overwhelmingly alist in favor of the stay camp.
The European Union was founded as a club 60 years ago. That is why its management structure is very undemocratic. Who put Juncker in charge? I cannot for the life of me tell. Was there a deal of some sort? Undemocratic management is the problem of the EU.
Looking from the banking sector's point of view, Brussels is throwing down regulations like Moscow was when I first started working at the light industry ministry. How to stop it? I have no idea.
You do not believe in London being delivered a blow as one of the financial centers of the world?
Not really. The EU will probably make some effort to move certain functions to Frankfurt or France. Then again, they were running away from France because of taxes just a few years ago. Would Goldman Sachs move there? I don't think so.
You seem to think Brexit is quite a normal thing.
Yes. I believe it is good when people realize the world is not just moving in one direction, that it also moves in the other from time to time. Thank God the Brits were the first, not Germany. That would have been a far greater mess.
Will there be other departures?
That depends on whether and how the EU will reform itself. That said, Gorbachev tried to reform the Soviet Union. It will not be easy: as soon as you make a move things start falling apart on the other end.
Is it better for Estonia to be in or out at this time?
Today it is still better to be in. However, it is like tax policy: it needs to be revised every now and again to see what could be better.
Postimees wrote about investments by pension funds, including LHV's, into forest land a few weeks ago. Several forestry sector companies described it as an insensible investment. What is your opinion?
My father used to be a leading forestry expert. When we launched Hansapank he taught me that the rate of return on forest investments will be in the single digits. However, one can lose one's investment in money or bonds these days. This means that returns on forest land are something tangible at least. And our forests hold very little of our assets
Naturally we went over these things as soon as we received those signals. There shouldn't be any major problems there as I understand it.
Would listing of state companies give pension funds good places in which to invest?
To some extent perhaps. State companies are colossi, and they're not very dynamic. The strategy of investing in state-owned companies is buying cheap in a situation where the state is dumb enough to sell. It is convenient as they cannot really go under and no one can criticize you for it.
However, it is not right. Somehow we have developed this attitude that risks should be ruled out since the 1990s. I rather proceed based on the principle that not taking a risk is the biggest risk there is. If you think you can do something entirely risk-free, you are either blind, stupid, or brainwashed.
You must always take the risk, while it has to be measured, and you have to have a proper management strategy as everything cannot possibly succeed.