Estonia's reputation that of contributor, not consumer
February 20, 2017 5:51 PM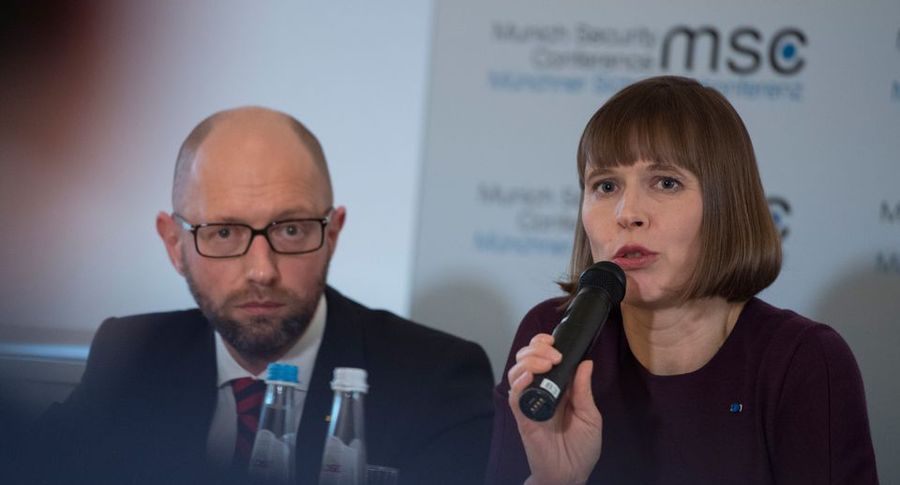 President Kersti Kaljulaid, who visited the Munich Security Conference for the first time this weekend, believes she managed to communicate good ideas for combating false news.
What are these kinds of conferences good for? Nothing is decided there, and yet...
The number of European and U.S. decision-makers whom I've talked to here, and who recognized and waved to me the next morning, has been considerable. It has been a crucial opportunity to establish contacts for someone like me who is fresh out of EU institutions.
Which interesting meetings would you highlight?
More interesting conversations were held in private: [former U.S. Secretary of State] Madeleine Albright, [U.S. Senator] John McCain, the entire Atlantic Council dinner. Meeting U.S. Vice President Mike Pence has been the most noteworthy official meeting.
It is also heartwarming when presidents of other EU member states say to me that they now understand how Estonia's 2 percent of GDP defense spending means a poorer member has paid for the security of wealthier ones as states that have spent less are under the same NATO umbrella. It is a pleasant realization.
One questions participants sought to answer is whether transatlantic relations are as strong as they were yesterday. Were you convinced by the Americans' message?
We have been told for weeks now that transatlantic relations are still relevant. Also that it is seen primarily in NATO context as the Americans have the leading role in the alliance.
The new administration has to get a feel for the European Union. Frequent trips to the States by [EU Foreign Policy Representative] Federica Mogherini and [German Chancellor] Angela Merkel no doubt help. Members of the new administration have not adopted strong positions toward institutions they do not really know.
Here, too, they have spoken of NATO, not the European Union. It is to be understood. The EU is a technical and complex legal construction one can fully understand only after spending some time working there. Only then will one develop a good feel for the EU. I believe that given more time to work with the EU, not just with European countries, the new administration will get a picture of the organization they're dealing with.
How strong were reactions to President of the European Commission Jean-Claude Juncker's words, according to which Europe should not give in to pressure to spend more on defense?
I believe there is no sense in commenting on individual utterances. Policy is what matters. It was agreed back in 2014, as recalled by NATO Secretary General Jens Stoltenberg during the conference, that no further defense cuts would be carried out and defense spending would be hiked to 2 percent of GDP. That decision was made long before Donald Trump was elected president, and it is something member states are executing.
Based on what we could hear from open panels, you seemed to take an interest in false news. Did you receive some new ideas or answers regarding that topic?
It seems to me I managed to create a kind of movement and make people think. That perhaps there is something we can do already this year to keep false news from interfering with elections. No matter where they're from.
Public awareness of that risk being there is promoted by a campaign by the German defense ministry. They have a poster on their wall in Berlin: "German freedom will also be decided online".
Candidates could come out and say that they will verify news concerning opponents that look like they could be false before they react. To stand next to their opponents and say they refuse to profit from this nonsense should the news prove false.
Of course it is possible some peculiar pieces of information will be substantiated. However, that risk is considerably smaller than the danger of strange rumors running rampant when the campaign season makes it impossible to refute them. It is good that most candidates do not know whom these kinds of attacks could target.
Yes, we are mostly talking about intervention from Russia; however, no one is safe from practical jokes. In this light, even those who believe Russia is not working against them could find it sensible to join the initiative. Failure to do so would reflect a potential hope for said intervention. That would also speak volumes about them.
You said yesterday that as a representative of Estonia you are inevitably wearing the "cyber hat". Could there be something new Estonia will pursue in the cyber domain?
The so-called conventional cyber domain of server and machine security is one thing. It is another that we need to promote general understanding of the security of our democratic process. As we can plainly see, these risks and dangers are ever-changing.
I understand that this conference has concentrated on events in our region and so-called conventional risks in past years. This time it is clear others perceive the Warsaw decisions need to be implemented. This means we can be satisfied with developments. Of course, additional steps will need to be taken should threat assessments change. However, current risks do not concern the geographical border; they are elsewhere.
This topic did not just come up during the conference, but also when I talked to German journalists in Berlin toward the beginning of the week. We understood each other well enough when I said that this year we might not be the diving line, that perhaps it will be them instead.
What kind of questions did the German press have for you?
The questions were largely the same: are we satisfied with NATO presence, what is the public attitude, do we feel safe, is there anything else that should be done.
There is a lot of talk about Estonia as a digital state. When I attended the annual dinner of the German small and medium business association and a speech meeting that preceded it earlier in the week, I talked about our digital journey and how it could be used to support small and medium companies in Germany. Subsequent discussions made mention of "Estonia" as frequently as they did "Deutsche Mittelstand" (small and medium business in Germany – ed.). Interest is considerable.
It is very important we continue populating our e-residency program with content. To avoid an empty bubble. While interest in this particular thing is perhaps not that great in Germany, it is considerable globally.
And we know that the X-way program aimed at Estonian citizens was only successful because the private sector quickly came up with services that offered real benefits. The system is used for more than just state-level communication and filing tax returns.
We are equally in a hurry in terms of services other than secure correspondence for our 17,000 e-residents and their 1,200 companies. By the way, I have heard it said here in Munich that if you want your correspondence to be secure, use Estonia's e-residency encryption.
You have been president for a while now, and this has afforded you the opportunity to think foreign policy. What could be the principal foreign policy messages communicated to the world by President Kersti Kaljulaid?
The important message is that we are good and constructive partners in the European Union. That we are looking for a common future for the EU, that we value the fact no country can make better decisions alone than the EU can as a whole.
It is the same in NATO: we are constructive allies, we have contributed to security through troop presence and common security through our cyber know-how, the fact that we have a cyber defense center of excellence.
That we have a more digital society. That our society does not perceive a return to paper or analogue technologies as a solution to cyber woes. That it believes the situation can be managed. That cyberspace is like the Autobahn: we know accidents happen, but we do not give up driving. That the only natural resource Estonia can offer – what its citizens have between their ears – is worth a lot more than one would expect from a tiny country.
The other thing I have said here as well as before is that countries that are trying to change and become a part of our world of values deserve our help. When you helped us 25 years ago, you did not do it to have a digital test site that is Estonia today. However, you did, and today we are contributors – in terms of cyber security and the digital way of life in general.
In other words, and to quote you from yesterday's (day before yesterday – ed.) panel once more: we have started to give back?
Undoubtedly. No one wants to hear what people want from them. They do, however, want to know whether they have something – if only experience – from someone else.
We are not seen solely as consumers of security and economic power that is greater somewhere else. We are clearly contributors.