Estonia has fewer HIV-positive people than thought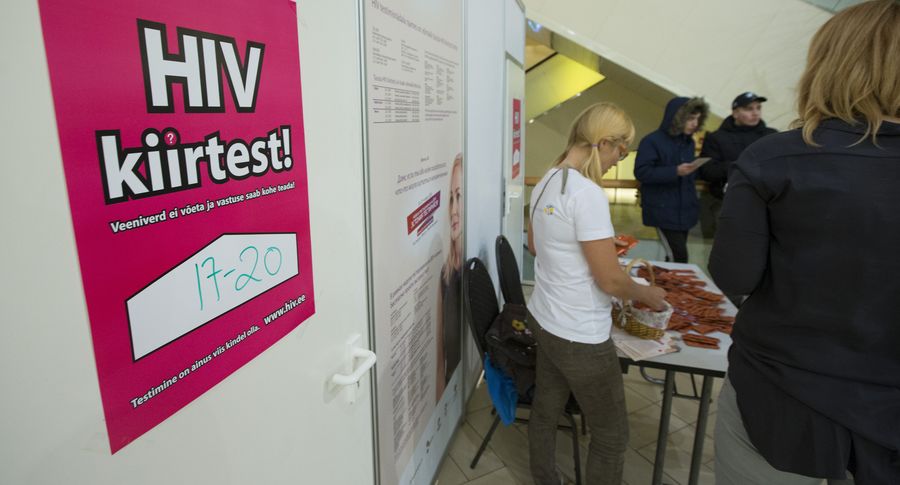 Estonia's first place in Europe in terms of HIV-positive people per capita is among the country's most tragic calling cards and one it might not soon leave behind as doctors say the capacity to find HIV-positive people is still not sufficient. Estonia has registered 9,492 HIV-positive people as from December 30, which is the figure used everywhere.
And yet the figure is exaggerated. It is possible Estonia actually has up to 1,500 fewer people carrying the virus. A difference that equals the number of all HIV-positive cases in 2001. The reason lies in duplicate registration until 2008 as a result of which 20-30 percent more diagnoses could have been recorded.
More tests just in case
The first anonymous HIV test and diagnosis offices were opened in Estonia in the late 1980s, and the number of infected people remained modest until the early 2000s. The epidemic broke out in 2001 when no fewer than 1,474 people were diagnosed with the virus. That figure had been just 390 the previous year, only 12 the year before that.
The statistical error lies in that up until 2009 all anonymous diagnoses of HIV were also entered into official statistics. This means that a person who went to see a doctor after testing positive for the virus at an anonymous center could have been recorded twice – first anonymously and then with their name and personal identification code recorded.
It cannot be ruled out that at the height of the HIV epidemic, when new cases amounted to 800-1,500 diagnoses annually, a single person's diagnosis could have been counted three or four times as people could have visited anonymous testing centers several times. The reason is understandable: a positive diagnosis is so devastating it can send people back to take the test again in hopes of a negative result and assurance by the doctor that mistakes had been made before.
No one can say today just how many such cases there were. The World Health Organization (WHO) believes double diagnoses could account for 9 to 34 percent of the total number of HIV-positive people, while head of the Estonian Institute for Health Development's (TAI) narcotics monitoring center Kristi Rüütel puts the relative importance at just over 20 percent at the most.
"Centers diagnosed 1,483 anonymous cases of HIV in 1987-2008. This makes up 21 percent of all positive diagnoses by the end of 2008 (6,909). The relative importance has been higher in some years, lower in others; however, it has never exceeded 30 percent," she clarified.
The year 2008 serves as an important milestone as since then centers have asked everyone diagnosed as HIV-positive for their personal information. While people can refuse identification, Rüütel says this happens very rarely. This way it is immediately clear whether the person has been diagnosed before.
The likelihood of duplicate diagnoses is further reflected in the fact that the number of new HIV-positive cases fell abruptly in 2009, as well as in falling number of diagnoses by anonymous testing centers – repeat diagnoses were not recorded.
Even though this kind of double registration seems illogical and even peculiar, considering the weight of the matter, Estonia was not the only country to potentially overestimate the number of people infected with the virus.
"HIV has always been surrounded by prejudice. It was necessary to encourage people to come in for testing, and anonymity was largely the key. Anonymous tests were carried out everywhere in the world. In that sense, Estonia's approach was no different; we followed the same practice as the rest of the world," said health project manager at the Praxis Center for Policy Studies, Ülle-Karin Nurm.
Rüütel confirmed as much and said that double registration is a possibility in other types of registers, as well as HIV registers of other countries. Especially in cases where identification markers aren't 100 percent unique or where there are none – when people are identified based on name and date of birth alone.
Head of the HIV program at WHO, Martin Christopher Donoghoe, said that even they do not have a complete picture regarding the accuracy of HIV statistics as double registration was commonplace elsewhere in Europe during the first years of the HIV epidemic.
Data correction in process
Numerous double diagnoses also do little to change the general situation as Estonia would still remain on top regarding cases of HIV per capita – the "lead" the country has opened up as a result of the epidemic of the early 2000s is extensive. The only red herring is 2008 when there were more new cases in Ukraine than Estonia.
Shouldn't statistics reflect a lower figure as it would be more accurate, more so as health care statistics serves as basis for allocation of funds and should therefore be kept in order? Experts Postimees consulted disagree.
"We need to proceed from something, and in this case it makes sense to proceed based on the bigger number as we only have our gut feeling to rely on in terms of how many double diagnoses were recorded," said adviser Anna-Liisa Pääsukene from the social ministry's public health department.
She added, however, that data is being corrected, and that comparing information from different registers will probably lead to greater clarity. The new figures should be in this year.
Nurm and Rüütel noted that even though "statistically wrong", the current figure is closer to the truth as Estonia's problem is still with HIV-positive people that slip through the net of testing. Donoghoe echoed this position, saying that the WHO estimates up to 28 percent of HIV-positive people in Estonia might be unaware they are carrying the virus.