Number of local governments to fall threefold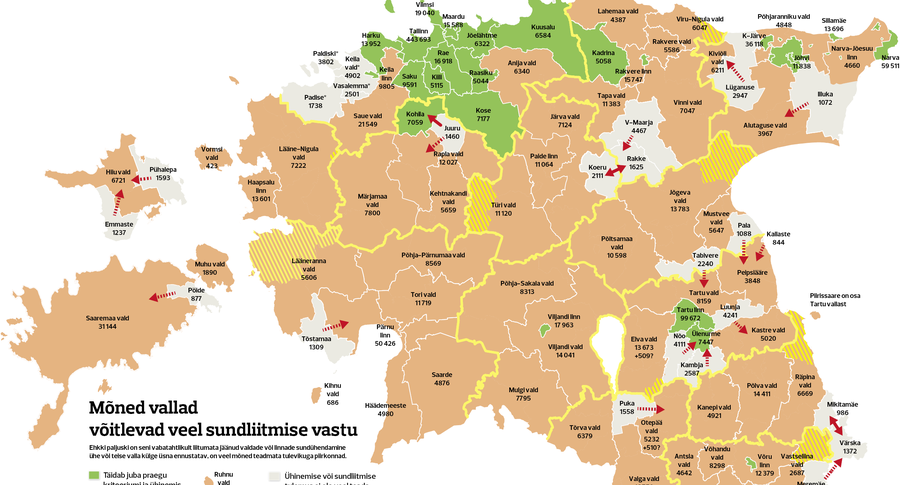 Postimees' calculations suggest that Estonia's future map of towns and parishes will at best have 76-77 local government units, or nearly three times fewer than today.
While the vast majority of local governments will merge voluntarily, we tried to forecast the probable outcome of forced mergers on our map. Of course it is quite speculative in places; however, we based our map on preliminary recommendations by regional administrative reform committees, and in some cases opinions of parish heads regarding the outcome of mandatory mergers.
That said, we left on the map more than one parish – for example Narva-Jõesuu in Ida-Viru County or Saarde and Häädemeeste parishes in Pärnu County – the population of which will just fall short of the 5,000 residents criterion. It is probable such local governments will find it easier to make the case of why they should be allowed to serve as exceptions to their central counterpart.
The island of Hiiumaa will have the fewest local governments – just one – in the future, as it is unlikely the government will allow Emmaste and Pühalepa small parishes to remain independent.
The neighboring Saare County will have three parishes: Muhu parish, with its fewer than 2,000 residents, Ruhnu parish's 148 residents, and the Saaremaa parish that is home to 31,000 people. The law allows parishes surrounded by the sea to retain their independence. Counties sporting three parishes will become commonplace, while Harju County will retain the most local governments – 15 or 16, depending on the outcome of mandatory mergers. The reason for this is a simple one: parishes that form a circle around the capital Tallinn have enough residents and are under no pressure to merge.
Another new phenomenon will see the major cities of Tartu and Pärnu become local governments with their own villages and meadows. Towns have traditionally had country manors in Estonia. Pärnu will grow its holdings the most as the 32-square-km city is set to cover 855 square kilometers as result of mergers. Tartu will merge with Tähtvere parish and come to lie on 154 square km, instead of the current 39.
Even though mandatory mergers of parishes or towns that have not yet merged are largely predictable, there are some areas where the future remains unclear. Nõo and Luunja parishes near Tartu hope to escape mergers and are trying to convince the government that they are self-sufficient despite having only a little over 4,000 residents.
The creation of the Seto parish from the current local governments of Mikitamäe, Värska, and Meremäe also remains undecided.
Koeru and Rakke parishes in Lääne Viru County have decided to merge but lack residents. Rakke has, at the same time, decided not to merge with the neighboring parish of Väike-Maarja – leaving the question whether the government will force all three to merge or opt for a solution where Rakke will be merged with Väike-Maarja and Koeru with Järva parish.