Worst traffic offender committed 22 violations
December 21, 2016 5:44 PM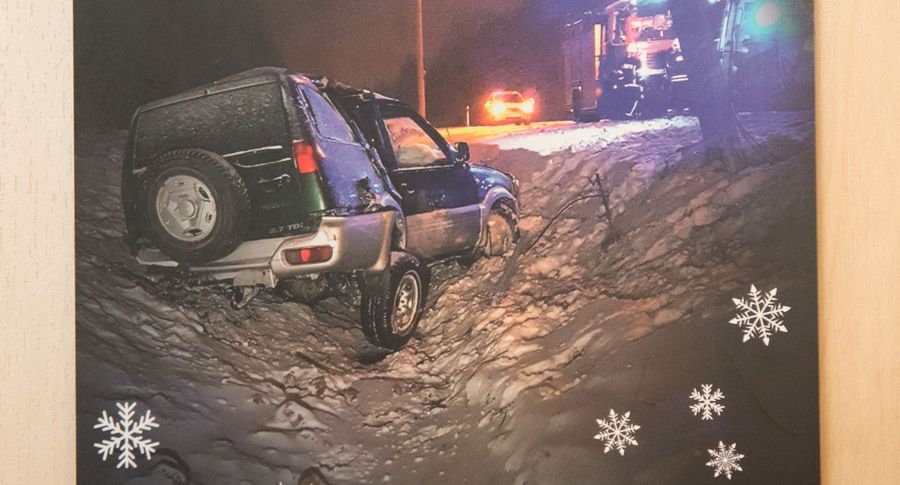 The police posted 200 black Christmas cards on Monday, meant for serial traffic offenders, who have gathered five or more violations during past year.
The most "effective" offender was one Indrek, 31, a resident of Jõgeva county. Indrek scored 22 violations and a total of 4,000 euros worth of fines, 180 euros of which he has paid. But his achievements were not limited to 2016. Since 2000 he has committed some 200 offences, all kinds of traffic violations together with thefts and other crimes.
What kind of man is he? It appears, the driver of a logging truck, who likes to keep driving well above permitted work time and to carry heavier loads than the law allows. The police stopped him on six occasions during the year and every time they had him, a number of violations were discovered.
This year's score was opened on February 22 in Maardu. The load was improperly fixed and the driver Indrek was performing a paid service without a certificate of training.
On March 14 he was caught driving an Audi at 150 km/h on a road near Jõgeva. On July 19 he drove an articulated truck carrying timber. The vehicle, which was stopped in Viru-Nigula municipality, could have been called a killer truck as the axle load exceeded the permitted value, as well as did the actual weight of the truck and the trailer. Overall length of the vehicle was also more than allowed and Indrek again lacked proper certificate.
On August 29 he was caught again driving the "killer truck", this time in Mustvee. And again on August 31, once more in a truck, in Karksi municipality, Viljandi county, where he was stopped for violating the regulation limiting working time.
Moreover, the truck had not passed technical inspection and the same applied to the trailer. The police banned him from traffic, but Indrek and his hazardous truck were back in business in less than a month. The police stopped him in Sõmeru municipality, West Viru county, on September 20.
Sirle Loigo, leading law enforcement officer of the Police and Border Guard Board, hopes that the black Christmas card will make him reconsider. For example, last year's "winner", 20-years-old Ilya with 19 violations, will not receive the black card this year.
"Maybe Indrek will understand that each time he could have killed somebody", Loigo said. The whole people will have to hope for that, because the number of accidents involving truck drivers has gone up significantly this year. As of December 19, truck drivers have been involved in 165 accidents, which injured 23+ people. Last year's figures were 131 and 141, respectively.
Together with Indrek, 878 individuals, who have committed five or more traffic violations, deserve black cards this year. The actual number of cards posted was slightly lower, since not every offender's addresses are known.
In 106 cases the post cards calling for safe driving have had no effect. These people received the reminder last year and will get it again this Christmas. "There are probably some people, who just cannot be improved and the police will have to keep dealing with them," Loigo said. One of this year's serial offenders caused an accident in 2013, which claimed the life of a pedestrian.
All together, 140 out of this year's black card recipients have caused more than 160 accidents during the past five years. One of them has a score of three accidents and 21 have caused two.
What type of person commits five of more traffic violations per year? Loigo says that most of them are men; only 24 women have earned the police Christmas greetings. "The typical offender is a 20-years-old male with basic education and Estonian citizenship," the official said.
If there is anything positive in this story, it may be the fact that this year's list of black card recipients is shorter by 51 names. Last year's number of serial offenders was 929 with a total score of 5,721 violations; the figures for 2016 are 878 offenders and 5.320 violations. These are mostly speeding, driving without license, drunken driving. It usually emerges that the vehicle does not meet technical requirements either.