Estonia's new farm minister has been punished for criminal offense
December 5, 2016 10:05 AM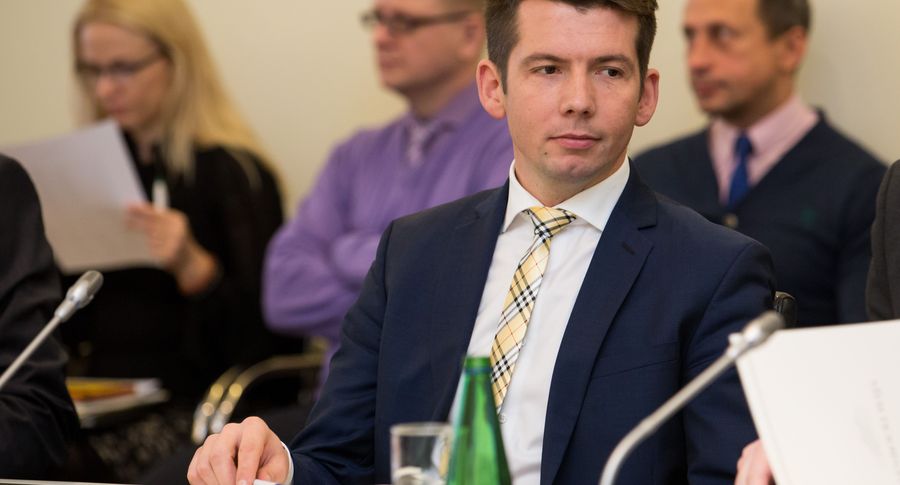 Estonia's new Minister of Rural Affairs Martin Repinski received a conditional prison sentence for attempted fraud as a minor, the news portal of the public broadcaster ERR reports.
According to the judgment at ERR's disposal, the East-Viru county court found Repinski guilty of attempted fraud and gave him a suspended sentence of three months with one year probation on Aug. 12, 2002.
It appears from the statement of charges that in October 2001 Repinski, who was aged 15 at the time, published in the newspaper Infopress an ad calling for donations to the Puhtitsa Convent situated at Kuremae for the restoration of desecrated graves, adding to it the number of his personal bank account.
Although no donations were paid into Repinski's account, a criminal investigation was opened as this was an attempt to obtain other people's assets by fraud.
Repinski pleaded guilty in court and accepted a settlement in simplified proceeding.
«I sincerely regret this incident that happened almost 15 years ago. It's a very personal and difficult topic for me, which I must apologize for and explain more thoroughly. My family was having a very difficult time then, with both my parents having lost their jobs in the oil shale sector, like it happened to hundreds of other families in East-Viru county at that time,» Repinski told ERR.
In his words, owing to the financial difficulties the parents could not even buy winter clothing for their children and because of that he placed the ad calling for donations to the Kuremae convent but giving his own bank account number. «It was a very stupid thing to do for which I apologize,» he told ERR.
The convent turned to the police over the ad. After it learned it was a child's foolish act it wanted to withdraw the report but it was too late by then, Repinski said.
In his words, it was a really stupid thing to do but it cannot be undone and he offers his apologies.
«As regards my subsequent exchanges with the Kuremae convent, I'm very glad to have been able to help them as entrepreneur. I'm grateful that I've been able to make some amends for my youthful foolishness. By the way, the mother superior of the Kuremae convent was the first person I rang up for advice on whether to accept the ministerial position. She gave me her blessing,» Repinski said.
Estonian PM to decide farm minister's fate soon
Estonia's Prime Minister Juri Ratas admitted on Friday that scandals connected with the agriculture minister of his government, Martin Repinski, have raised many questions and promised to make a clear decision in this regard soon.
«Firstly, I sincerely regret that we've had to dedicate a large part of the first ten workdays of this government to the personal question of Minister of Rural Affairs Martin Repinski. Because of that, many issues important to the Estonian people which the newly-installed government addresses on a daily basis have been left without attention. Secondly, I admit that a large number of questions concerning Martin Repinski has arisen by today,» Ratas said on Friday night.
«I understand the public's expectations and must make a clear decision concerning Martin Repinski in my capacity as prime minister. I shall have an eye-to-eye meeting with him at the beginning of next week at the latest and announce my decision thereafter. I also offer my apologies to the Estonian public and government partners for our joint efforts to advance life in Estonia being overshadowed by unpleasant problems,» Ratas said.