Rare tin pendant discovered in Koue coin find
November 28, 2016 11:10 AM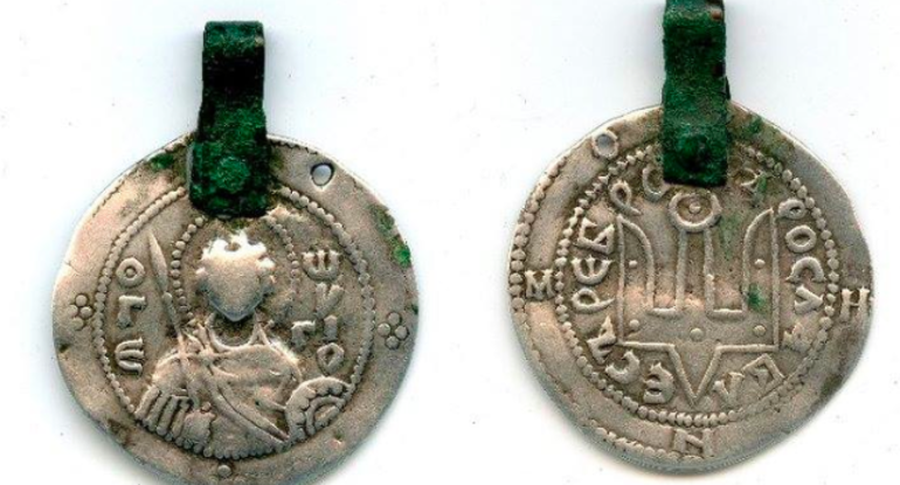 A rare tin pendant copying the Srebrennik silver coin of Yaroslav the Wise, altogether the sixth such item ever found, has been discovered by archeologists dismantling the find made at Koue to the south of Tallinn in June this year.
The find that is the seventh such discovery made in the area of Koue in southern Harju county consists of decorations believed to have been buried there at the end of the 11th century. The find was picked up together with the ground surrounding it and archeologists are now working to identify and separate individual items from the chunk of metal and soil.
This week, a unique tin pendant was identified in the chunk that copies the Srebrennik silver coin of the ancient Russian ruler Yaroslav the Wise.
Archeologist Mauri Kiudsoo said this is the first such pendant discovered in Estonia. So far five similar pendants have been found, including four in Sweden and Lappland and one in the Novgorod area of Russia. The pendant found at Koue is the best preserved of them all.
Kiudsoo said that thanks to the coins unearthed with the same find the pendant found at Koue is the first such item that can be dated with certainty.
The front of the pendant depicts an image of St. George with text in Greek, whereas on the reverse the Rurikid trident is depicted with text in Russian saying that this is Yaroslavl silver.
Only seven or eight Srebrennik coins of Yaroslav the Wise have been discovered altogether, half of them in the territory of Estonia, the archeologist said. One such coin was unearthed as part of the Kose find discovered in 1982, which is the biggest treasure find of the post-Viking era made in Estonia.
The seventh Koue find discovered in June this year contains at least two bracelets and one ring, coins, as well as a large number of beads and copper spirals. The latest of the coins identified in the find so far was minted in Munster, Germany at the end of the 11th century.
Yaroslav the Wise, or Yaroslav I, was grand prince of Kyiv and Veliky Novgorod. Historians say that during his lengthy reign, Kievan Rus reached the peak of its cultural flowering and military power.