Our coalition can do without monkey business
November 21, 2016 4:58 PM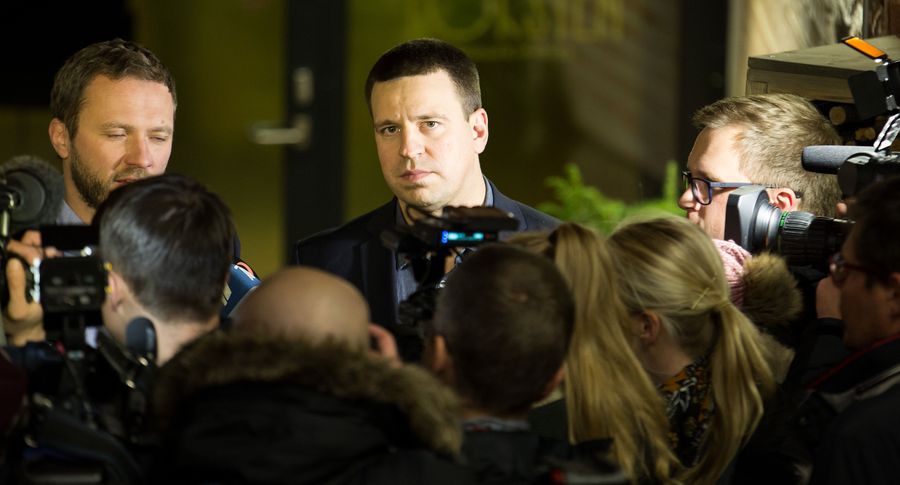 Jüri Ratas, set to officially become Estonia's prime minister the day after tomorrow, believes it is important Estonia would not be limited to Tallinn and Tartu, and that the tax system would finally be updated.
Friday afternoon, you left the other negotiators, took your fellow party chairmen with you, and retreated to a mysterious place to divide ministerial portfolios. Work that was not completed until 8.40 a.m. on Saturday. Have you had any sleep?
JR: Sure. But it is true we've had ten days of serious negotiations. There were days that stretched to 2 a.m., and there were days when we finished around 3.30 a.m.
Your partners speak very highly of your organizational skills and ability to maintain unity. What is your opinion of your team?
It is a very businesslike team. I've never conducted these kinds of negotiations before, and I must admit that what I've really liked over these ten days has been the ability to speak freely about everything. With as little garnish and political rhetoric as possible. That is very important.
Of course, governments are formed of different policies; however, it is important everyone is on the same page, and that there is no monkey business later. I place great value on the fact that we were able to speak freely.
Was it difficult for you?
The agreement was not reached without effort; we had tax questions and matters of integration. It is understandable. However, all three parties had a good grasp on how far it is possible to take this coalition.
Are you bothered by people describing you as the prime minister in Jevgeni Ossinovski's government?
I haven't heard that one. No. Besides, I've never been in a government with him before.
You are the head of the new Center Party. How united is your party, Riigikogu faction in backing you up?
The Center Party clearly wanted certain ministerial positions, and the final division is very good for us.
Your party did not get a single so-called power position besides that of the prime minister.
We wanted three positions above all others: those of the economy, education, and rural affairs ministers. We have them.
It is also understandable that all parties – the Center Party included – want the finance portfolio. However, we did not make these decisions alone. That said, we did manage to secure the vital state administration portfolio. This means that local governments and the entire regional dimension have been allocated not just attention but also funds in the coalition agreement.
You talked about the Reform Party in your speech to the Center Party's council. Let them be, why uphold this controversy?
There is no sense in upholding it. It is very simple: those in the government must do everything in their power so the Estonian people would feel safe. Political culture could change to abandon the automatic position that the opposition does not have good ideas.
Hopefully you know to value and keep this in mind as head of a party that has spent long years in the opposition.
Absolutely. What is even more important is that no matter how big or small, opposition parties have also been given a mandate by the people. It is very wrong to automatically block their ideas from reaching third readings in the Riigikogu. It would be demeaning.
What do you want to get done as prime minister? Have you had a vision throughout striving for that position?
Yes, I have. The most important thing is to tangibly change the tax system. It is very important for me.
Whether that change will happen one way or the other, it is definitely the most important change in the history of re-independent Estonia. In a situation where it benefits 86 percent of the population, and where entrepreneurs say that it is not a question of those earning a good salary, but instead those earning very little, these people need to be given social certainty.
I hope this government will see beyond Tallinn and Tartu. That it will see life elsewhere in Estonia. That is why I emphasized the importance of securing the state administration portfolio.
Allow me to list some plans. Restoration of the local governments' revenue base in terms of abolition of individual income tax share, handing a lot of services over to local governments, whether transport or education. Additional financing for support systems/teachers, school lunches. I very much hope the new government can overcome the eternal standoff and competition between Toompea and Tallinn. The Estonian economy has lost a great deal as a result of this.
How to break it?
For example through national projects that will not be supported unless they are realized in cooperation with Tallinn. I am convinced Estonia needs a proper international conference, tourism, and concert center. I sincerely believe so! We are definitely losing out, for example to Riga, in conference tourism, whereas we do have potential in that field in the form of a beautiful location that has largely remained idle for 16 years.
Could the 2017 local elections erode the new coalition? Will you stay together until the 2019 parliamentary elections?
I take local elections very seriously as the chairman of the Center Party, while I also have great confidence. Talking about the capital, we have always maintained a strong position here, and I see no reason why that should change. On the contrary. I believe that our recent actions have brought us more support among citizens of Tallinn.
There are attempts to find a name for every new coalition. The outgoing government was labeled the hesitation union. How would you call your government?
I have phrased for myself the greatest problem and challenge in overcoming the population crisis, or restoring population increase. That is what all of the new government's activities must proceed from. I'm sure others will find a name for our government.