Officials parry talk of East turn
November 18, 2016 11:50 AM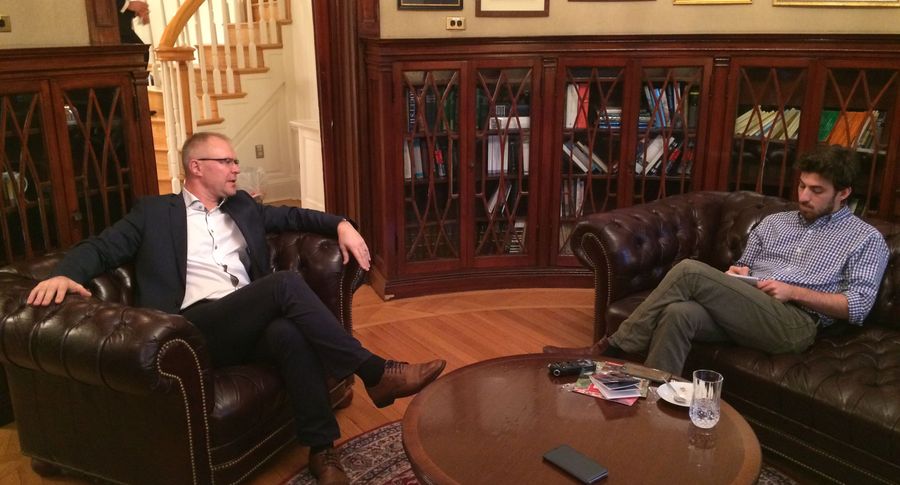 While Estonia discusses tax changes, both government office, as well as foreign and defense ministry officials are busy combating rumors started by some foreign publications of a Kremlin-minded government about to take power in Estonia.
Information available to Postimees suggests these rumors were the reason why the initial coalition talks message was a confirmation to stay on course in foreign and defense policy. It is also rumored it was the reason behind Defense Minister Hannes Hanso's sudden Washington visit. Hanso is an influential minister of the current government whose party (Social Democrats) will also take part in the next.
One of the first full-length stories on Estonia's government crisis was published in the November 7 issue of the New York Times. Its core points include an alleged gambit the switch of power affords the Center Party that, as the widely-read paper recalls, has long-time ties to Vladimir Putin's United Russia party.
"My first reaction: Putin is probably jumping up and down out of sheer joy," Estonian-born Canadian Marcus Kolga said. He characterized the timing and circumstances of Estonia's change of government as extremely troubling from the overseas viewpoint.
From centrists to diplomats
News agency AFP wrote on the same day that infighting cost Estonia its Western-aligned government. "Estonia's triumvirate coalition collapsed on Monday, after minority partners ceased cooperation with pro-NATO PM Taavi Rõivas due to in-house rows born out of his style of leadership," the article's lead reads.
This has in turn served as basis for a news article on the website of Radio Free Europe, published in several languages, that reports Estonia's Western government is on the verge of collapse, and two minority partners are holding talks with the pro-Moscow Center Party.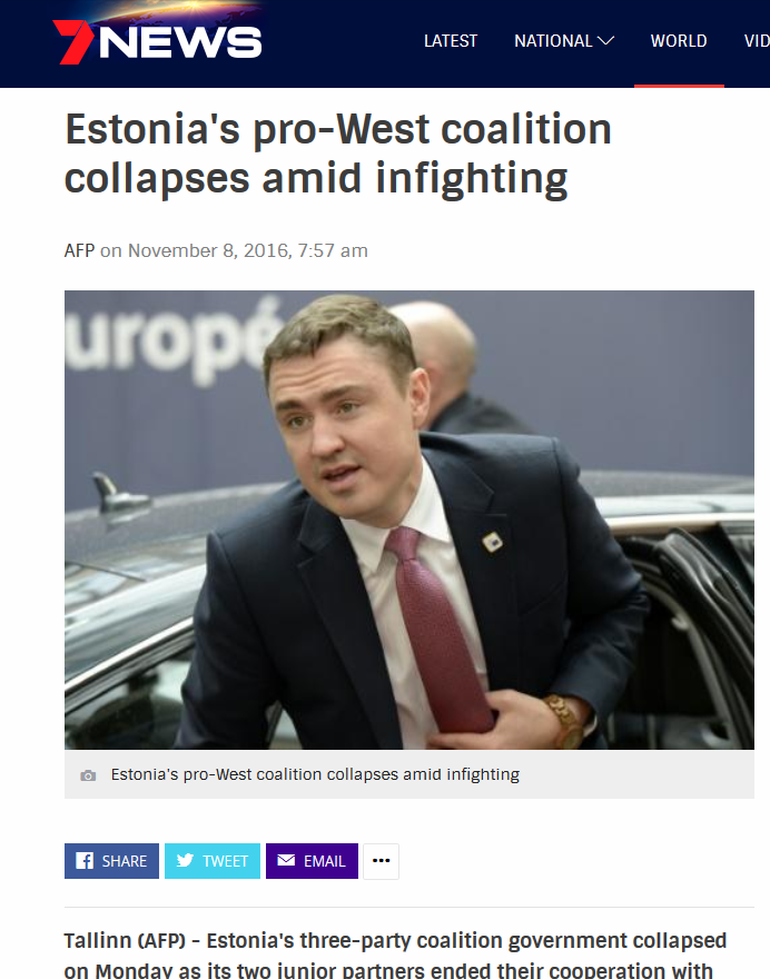 The website of the American Interest magazine described the change of government as nothing short of a victory for Russian soft power, filing it under the same category as communist President Igor Dodon's victory in Moldova.
Coverage by major English publications has resulted in a plethora of echoes in other languages and the topic ending up on think tank blogs.
Officials trying to put out the damaging blaze say the problem is serious. They admit that while they are convinced the participation of IRL and SDE alone is enough to ensure the new government will not be pro-Kremlin, it is difficult for them to explain the ousting of the Reform Party that has remained in power for 15 years. It is also a problem that because officials need to maintain political neutrality, they cannot interpret and communicate the views of the Center Party to foreign press.
Public servants have discussed their concerns with the Center Party. One such example is an event from last week, when the centrists invited diplomats residing in Tallinn for a meeting to assure them that the party is not pursuing the Kremlin's agenda.
Some officials made no secret of their belief that some of the rumors could have been facilitated by better-connected members of the outgoing ruling party. One civil servant said that while the prime minister and foreign minister have maintained a dignified line, the Reform Party could put some of its members on a shorter leash, thinking about the country's reputation.
Long-time AFP correspondent in Estonia Maris Hellrand defended her former employer's perspective: She said she perceives nothing wrong with the agency's story. When asked whether AFP sees the incoming government as pro-East when it describes the outgoing one as pro-West, she said: "Nowhere does it say that. And is it wrong this question is raised?
For ten years Estonia's political narrative has been built on the Center Party equaling Putin. Why do we think anyone should have a different idea?" Hellrand asked. "The fact that we believe an entire party and its political orientation were reborn overnight is wishful thinking on our part."
Writing on a deadline
Hellrand believes no rebirth has taken place. "Looking at what [MEP, member of the board of the Center Party] Yana Toom told BBC 4 this week (Toom said that while NATO is a good thing, Estonia is the main guarantor of its security – ed.), you will have to excuse me if I'm not convinced the Center Party has become a thoroughly Western force that shares the security policy consensus just because Jüri Ratas has replaced Edgar Savisaar as chairman."
Author of the New York Time piece, Richard Martyn-Hemphill who lives in Riga, told Postimees that he was short on time on November 7 – he was forced to start on the piece after the working day had ended in Estonia. "Because of the time difference, Estonians in North America were still up. The sources I used keep a close eye on Estonian politics," he explained.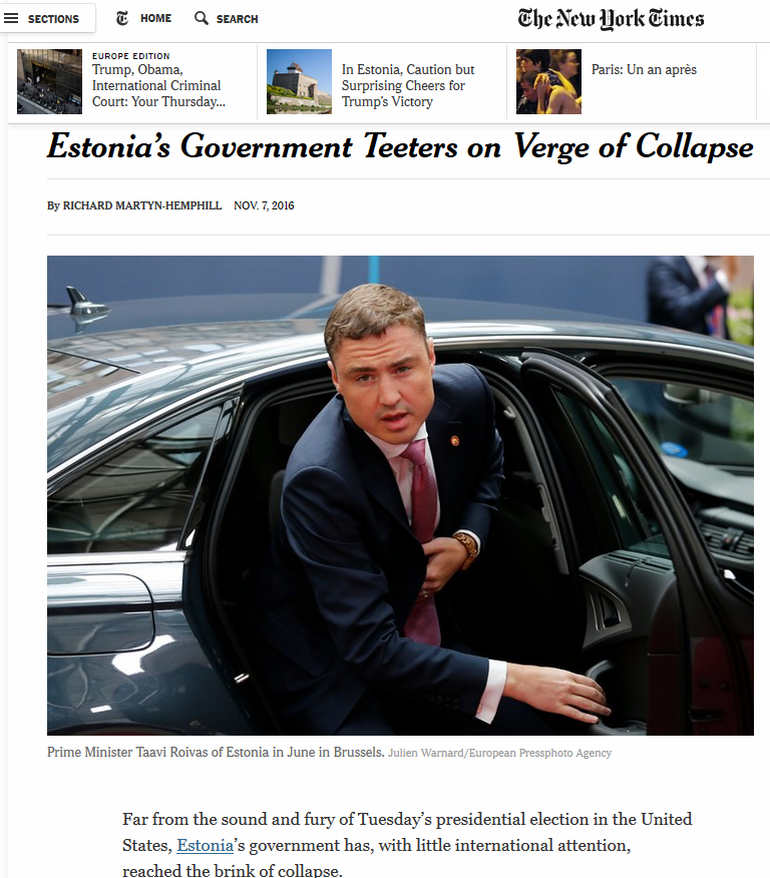 Regarding highlighting the topic of the Center Party and United Russia, Martyn-Hemphill said that international attention is inevitable whenever a party with such a connection comes to power. No matter how vague, long-ago, and unused it is.