Ansip: how is it not a crisis!?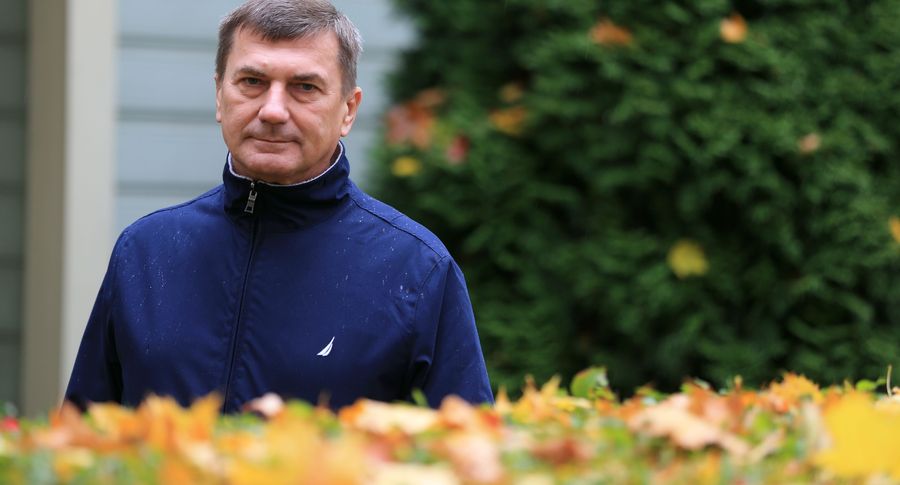 Former prime minister of nine years, current European Commission Vice-President in charge of the common digital market Andrus Ansip finds that the actions of the Social Democrat Party (SDE) and Pro Patria (IRL) have left the government in a deep crisis. He also believes President Toomas Hendrik Ilves should be left alone in connection with funds from Enterprise Estonia (EAS).
Your time as prime minister largely coincided with the term in office of President Toomas Hendrik Ilves. You were saluted on your way out, while things have turned out differently, at least in Estonia, for Ilves. Why is that?
Right now it feels like everyone just wants to take a swing, whether he deserves it or not. There is this whole discourse of whether Ilves should return more of the funds made available to the Ärma farm by EAS than he has. I do have a position regarding that matter. If you double parked your car and are fined 20 euros, and if you have already paid that fine, that should be the end of it for you. The matter of someone finding that the fine amount is too modest, and that instead you should be fined 200 euros after the fact should not be your concern in a state based on the rule of law.
However, what should we do in a situation where a finance ministry audit has found it to be insufficient?
If someone has paid a trifling fine for a parking violation, it is up to the officials who issued the fine to determine why it happened. However, a person who has already complied with a state decision should no longer be involved. I also do not understand people who say that the current head of EAS, Hanno Tomberg, should take responsibility.
If the finance ministry said back in 2012 more or less the same thing it said today, the culprit is probably not there. However, in a situation where EAS made its decision in 2012, and where the agency's position has changed by now and it is agreed that the more recent position is correct, responsibility should fall on those decision-makers back in 2012. Because these people no longer work for EAS, finding the one responsible is difficult.
It is also said that Toomas Hendrik Ilves used taxpayer money to build a house for himself. Now, I wouldn't want to do the Ärma farm injustice; however, what EAS helped build there is no home by my standards. No sane person equips his home with a conference room and corresponding equipment – and yet one has been constructed. Furthermore, those bedrooms are not meant for family members; they are clearly hotel rooms. The claim or presumption that the plan was to use taxpayer euros to build a house from day one is clearly misguided as Ärma farm is obviously an accommodation establishment and not a residence.
How to solve the impasse in a situation where all these 2012 decision-makers are already working somewhere else?
You cannot put people back in their old positions by force so you could then fire them. What is gone is gone. Time has done its work. I'm no legal expert capable of voicing a sound legal position in this matter; however, I do know the principles of rule of law. And they suggest that a state cannot make several decisions in a single matter.
You are the last prime minister whose government included the Center Party. They have not tasted power in years as the Reform Party has deemed them unfit to rule because of their leader. They have just elected a new one. Are they fit now?
Their new leader will have to prove and show the party is no longer what it was. It does not happen automatically. Replacing one's leader is not enough if one's policy remains the same.
Looking at the coalition today, yes, the crisis runs deep. It runs deep, and whether it will lead to the government falling apart depends first and foremost on SDE and IRL.
Everyone understands that the question of MPs on state company supervisory boards is not important enough to disband the government. Yet it seems efforts are being made to turn it into a major issue. Justice chancellors have not said a priori that MPs shouldn't sit on company supervisory boards. The question is how they are appointed.
You said that the matter of supervisory board members is not that important, while you also said the crisis runs deep. Why describe a row on such a trifling matter as a crisis?
How is it not a crisis when two coalition partners are clearly taking arbitrary steps and care nothing for agreements on what is paramount, concentrating instead on demonstrations and populism.
What could cause two partners to act like that?
It is possible to understand this behavior, seeing as one coalition party's support rating has plummeted, while desperate attempts to conjure a rise out of it have been met with lukewarm reactions at best. I'm talking about that so-called core text that talks of masters, servants, horehounds, stagnation engine – not brakes, an engine – and innovative barn swallows.
Of course no one can take that seriously. So next you try something desperate. Pure replacement activity. I agree with Jürgen Ligi when he says that national finance and social policy is far more complicated that busying oneself with replacement activities.
You said that IRL and SDE are looking for replacement activities. Prime Minister Taavi Rõivas has done nothing wrong in terms of these relationships ending up where they have?
Arguments, and eventual divorce, are never one-sided things. Good relationships need daily work from everyone involved. Apparently something has been left undone.
Looking from far away in Brussels, I see that IRL has been given quite a lot: the president is a former member, the European Court of Auditors got an IRL member etc. We cannot say the Reform Party has been unjustly miserly and ignored its partners as the majority member. It also seems to me that the policies of SDE and IRL have been realized to a far greater degree than those of the Reform Party. It seems to me that our partners have not given this fact the credit it deserves.