Silence surrounding dismissal of Tartu airport head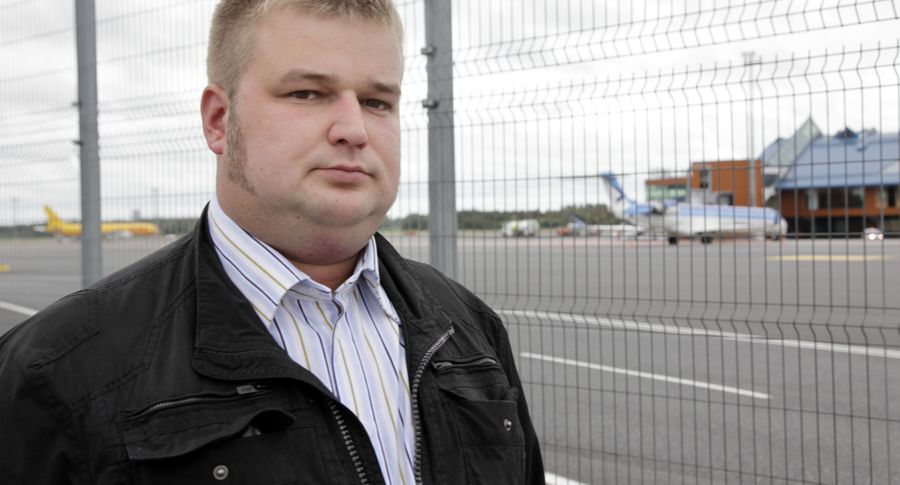 The head of an airport is fired over breach of work discipline in connection with health problems. It is probable health problems of Juhan-Johhen Ross were less than ordinary.
No employer can explain firing someone over loss of trust because they were on sick leave due to of a broken leg or prolonged myocarditis. Reasons for the decision could therefore only concern physical conditions that could serve as basis for dismissal.
The latter fall into two broad categories: mental problems and/or problems with alcohol or psychotropic substances. We can only speculate as to the extent of potential risk posed to an airport by someone suffering from these kinds of problems. These health problems would not be the public's business were we dealing with a pasta cutting factory. Things are different when it comes to an airport.
This is the second time Tallinn fails in choosing a head for the airport in Tartu. Former head of the airport Margo Muda was dismissed in 2011 because of connections to extensive scrap metal business. Postimees wrote back then how the airport wrote off a number of metal aggregates, including generators, that were then sold to metal dealers but also farmers for hundreds of thousands of kroons.
Before Ross, the airport was run for a time by director of regional airports at Tallinn Airport Andres Taimla. Today, Taimla is once again acting officer.
The concern over Ross did not develop overnight but was a problem that had grown worse over time. As put by Tallinn Airport's new CEO Piret Mürk-Dubout: it was a long and winding process that found its culmination. Ross had run the airport in Tartu since 2011 but was fired after Mürk-Dubout took office.
While Tartu Airport is small, it is an international airport – Finnair is moving 3,000 passengers a month between Tartu and Helsinki, and that figure has only grown over time. Airport heads are vetted by the Estonian Internal Security Service (KAPO), while identification cards are issued by the Aviation Board's security committee. Information available to Postimees suggests that one of the reasons Ross was fired was a corresponding recommendation from the committee.
What happened?
Parent company Tallinn Airport said in its brief commentary to Tartu Postimees that violations of rules regulating the operation of an airfield preceded Ross' dismissal.
Taimla told Postimees that while he would not want to comment on the decision, Ross was let down by his health. "They were health problems," he said. How can medical concerns be tied to breach of airport regulations? "Unfortunately then can," Taimla offered.
CEO of Tallinn Airport Piret Mürk-Dubout said safety and security make for a fundamental value of the airport. «We have regular flights, people's lives are at stake,» she said. «Because this parting of ways followed several breaches of procedure, we could not continue the professional relationship. It is an old story that has nothing to do with Tallinn Airport getting a new head. There was no way I could have maintained that professional relationship.»
Mürk-Dubout said that it was a question of mode of operation, requirements of the job that Ross did not and could not meet. «Because the matter concerns delicate personal information, I can give no further comments,» she said. Ross had problems with attendance and was often on sick leave.
Postimees first asked Ross why he was fired last Wednesday. «It is a long story,» he also said. «People who are fired are not paid compensation. I was paid. It is a complicated story; employees miss me and have told me that there are currently three versions circulating, and that no one understands the reason.» Ross added that he has no prior disciplinary punishments.
We agreed to meet and talk about the reason for his dismissal again. When we did last Friday, Ross said he was released from office following the employer's initiative over loss of trust. Ross is not planning to contest the decision. «What would that gain me?» he asked. «It is true that I've had health problems, and I've been away from work.»
Open competition
Ross also said that he is a man who likes to have opinions on things, and that perhaps these opinions haven't always been the most acceptable. That said, the airport has made a lot of progress in his time there.
«When I went to work there seven years ago, I felt I had jumped back in time to 1986,» he said. «If someone dropped a wrench, it made no sound because someone had stolen it mid-air. I've taken all kinds of measures to put an end to that. I've cut padlocks off locker doors to find equipment used to steal fuel for example.» This year's terminal extension and maintenance services renovation were his originally his projects.
Public databases offer no sign of Ross having found himself in trouble with the law or having had solvency problems. He has graduated from the Estonian Aviation Academy and been an active contributor to village life.
The public competition to find the next head of the airport will be declared today (Monday). Mürk-Dubout said that Tartu is the regional airport with the most potential, and she wants to find it a strong director. «So that people could fly to more foreign and domestic destinations from here,» she said.