Need for change brought in old record men
September 15, 2016 12:35 PM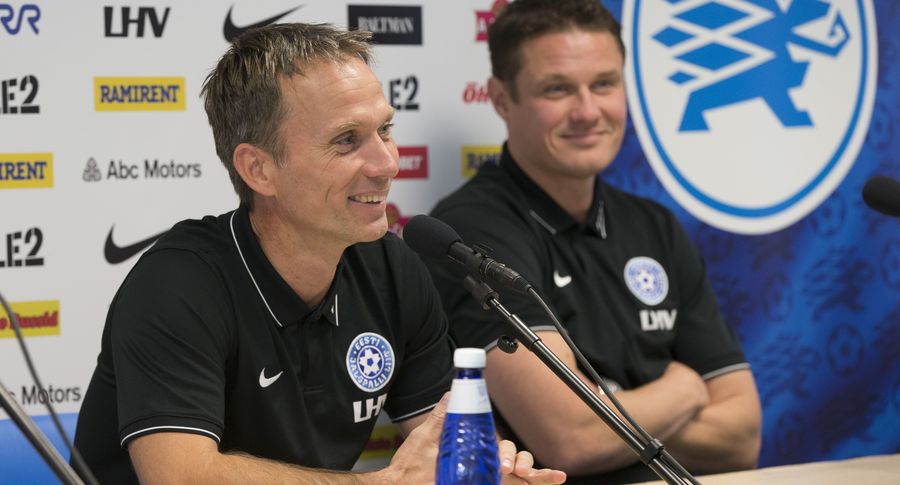 The Estonian soccer team cried out for changes after its 0:5 defeat at the hands of Bosnia and Herzegovina – changes that have now been made. Recent coach Magnus Pehrsson no longer has cause to cross the Baltic Sea. Leadership of the team was given to Estonia's all time best international player Martin Reim, and as assistant coach to Estonian soccer's most successful scorer Andres Oper. Everyone agrees that changes were needed to rediscover a positive note.
Things started moving quickly after the defeat on Tuesday of last week. Both Pehrsson and Reim were contacted on Friday. A meeting in Athens (the venue for the UEFA Congress that chose Akeksander Čeferin as its new president) was scheduled with the former for Tuesday, while the latter was told he would have to face the public as the new head coach of the Estonian team on Wednesday. While the Swede said he guessed what was coming after the phone call from President of the Estonian Soccer Association Aivar Pohlak and the scheduling of the meeting, the final decision was not made until this week.
Pehrsson said that his departure had to do with the game Estonia lost to Bosnia and Herzegovina and the public pressure that followed. "The soccer public found that something needs to change. And you can't change players in the national team," Pehrsson said. He added that all in all he had achieved what was expected of him. "I probably made some mistakes as coach of the Estonian team. Then again, that is the only way to improve. I believe that altogether the results were satisfactory for a small country."
Pehrsson admitted that yesterday was a sad day for him. Reim, Oper, and Ranno Kivisild, who will stay on as assistant coach, said at a press conference that the team needs to rediscover the joy of the game. Pehrsson said that there were no problems concerning the inner climate of the team during his time, and that the reason for lost love for the game does not lie there. Reim said that if there were problems, they need to be solved and cleared post haste. "The team has to fix its inner climate if necessary. We want to move on from here and restore face. We need to be honest with each other and clear the air if necessary."
The team will not be given long to adjust to the new situation as Reim will be initiated already on October 7 when Estonia will host Gibraltar for a world championship qualifier. Considering that this is the game Estonia most desperately needs to win in the qualifying tournament, things need to be put in working order as soon as possible.
That is why no total reform is planned. Everyone behind the press conference table agreed that the team will have to retain the positive Pehrsson introduced – organization. Changes will also have to be made however. Pehrsson left with assistant coaches Jesper Norberg and Jimmy Högberg. "This is something we need to solve. Whether we can manage with what we have, or whether we need helping hands," Reim said.
Change is needed to get the team back on track," he added. "We don't have a lot of time before our next game. Our first goal is to treat the audience to a better-looking game. We need it to shine and be joyful. The Estonian team will not go in to lose. Soccer is an emotional game. That is one thing that's for certain. While you can have tactics down to a tee, things might not work without emotion."
Therefore the first task is to talk to the players and address the mental side, which should be the perfect task for former forward ace Oper. The Estonian soccer team is short on personality after the retirement from professional sport of Oper, Raio Piiroja, Sergei Pareiko, and Joel Lindpere, which means it is short a man who would set things straight and urge the men to fight. Oper said that he is willing to play that role.
"Yes, definitely," the former player, who scored 38 goals for the team in his time, said when asked whether he would be willing to speak up. "I believe men who fit these criteria exist in the team. We need to find them and give them proper guidance."
"Nothing will happen overnight. We need to restore players' faith. I want to see joy and passion out there again. Both from the players and from the fans," the retired forward added.
Pehrsson prioritized defenders, which was reflected in the choices of who got play time. The biggest question regarding the makeup of the national team concerned the exclusion of international forwards Henrik Ojamaa, Tarmo Kink, and Siim Luts. This is one thing Reim wants to revise. He has decided to visit the men at their clubs next week. Estonia cannot boast an extensive choice of players, which is why each and every man needs to be considered carefully.
"It is too soon to say whether they will be on the team in the future." I'm sure everyone who really wants to and is willing to contribute can represent the team," the new coach said.
Reim is looking at two weeks of traveling and meetings next. "The situation is better in the big picture, as Estonians playing for foreign clubs are often first string players. We need to talk to them and find out what has troubled them and what they liked. There is no sense in demolishing the good the previous coach introduced. We need to maintain it. However, some details call for a different approach," said Reim.