North-East Estonia vulnerable to nuclear disaster in Russia
February 17, 2016 1:42 PM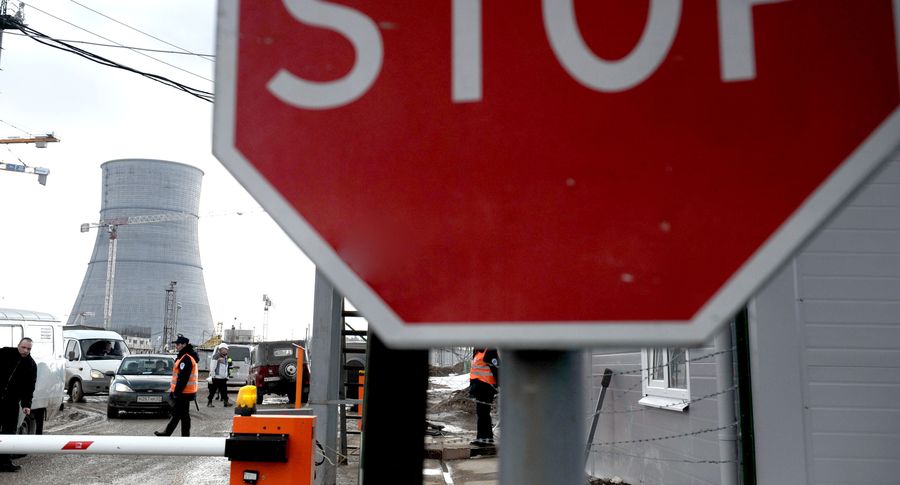 Leningrad Oblast environmentalists are sounding an alarm, assessing that the soon completed nuclear power station in Sosnovy Bor is endangering Narva and Sillamäe as builders wink at security measures.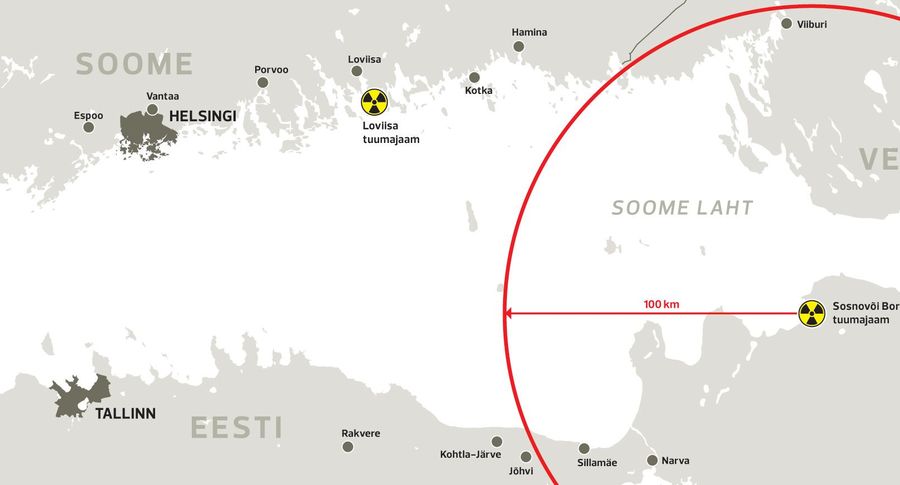 «Should a Chernobyl or Fukushima type disaster happen at the Leningrad nuclear station, in two hours the radioactive cloud will spread in the radius of a hundred kilometres,» says Oleg Bodrov, an environmentalist operating in Sosnovy Bor, the nuclear town closest to Estonia. «The contaminations from Sosnovy Bor may cover the entirety of St Petersburg, as well as part of Estonian territory.»
Mr Bodrov is talking about the danger zone which will be spared from direct impact from a feared major disaster while foodstuffs, water and cattle will be contaminated with radiation.
In USA, an area of 80 kilometre radius is viewed as danger zone to be constantly environmentally monitored; the Russians stretch that radius to a hundred kilometres. The US measurements would determine Narva, Narva-Jõesuu and part of Vaivara Parish as Estonian danger zone; the Russian approach adds the city of Sillamäe.
While Mr Bodrov doubts not the competency of Rosatom as builder of the Russian nuclear plants, he points to a potential source of risk excluded in the West: Rosatom is the one who builds and also controls. Therefore, the Sosnovy Bor new nuclear power station LAES-2 environmental impact assessment leaves out vital risks descriptions, says Mr Bodrov, the document therefore rather resembling an advertisement brochure.
«Only a crematorium guarantees that the deceases will not come back to life,» is what a well respected Russian engineer Oleg Ivanov said last October while addressing a public meeting related to safety of the project, according to Proatom news portal. The statement feels significant as uttered by a man serving as chief engineer for the nuclear blocks being built. Eerily, this was his answer to the question about how they have ensured that Chernobyl would never be repeated in Sosnovy Bor.
Regrettably, telltale incidents occurred at the very beginning of the building project as July 2011 saw the huge steel structure collapse which was set up for concrete works with the protective cupola. In July 2015, a block of steam pipes fell into the used nuclear fuel basin under construction.
The incidents due to sloppiness and lack of control mechanism are also worrisome in the eyes of in dependent energy analyst Andres Mäe.
«The concrete used to build the protective cupola at a nuclear station must be of homogeneous density everywhere, but for a long time Rosatom was hiding the fact that the concrete used to build the first block of LAES-2 was not homogeneous,» noted Mr Mäe. «How could such a thing even happen at the construction of a nuclear plant where every bolt and piece of iron needs to be certified?»
Oleg Bodrov is worried about the remarkable density of reactors in Sosnovy Bor. During 40 years, nine nuclear reactors were opened in the town one after another, four of which are located at the Leningrad nuclear plant LAES-1 and five in the nuclear submarines development centre named after Aleksandrov. As the four blocks of the new LAES-2 are completed during a decade, the town will be hosting 13 reactors.
These past years, Russian nuclear experts have forcefully invested in lengthening the life of the old blocs at Sosnovy Bor. Even so, says Mr Bodrov, incidents are unavoidably on the increase due to age.
For various reasons, environmentalists see the LAES-2 technology as the fuse to the powder keg.
Rules say that for every new type of reactor developed, a prototype needs to be built at a location carefully chosen, in order to ensure a maximally risk-free testing of the operation of the device, and detect any error of design and construction. However, the reactor type VVER 1200 / RU V-491 built in LAES-2 has never been built and tested before, according to environmentalists.
They are especially nervous about the giant cooling towers built for the reactors. At the assessment of Mr Bodrov, the towers will be sending into the atmosphere vast amounts of Baltic Sea water used for cooling of reactors and vaporized, to impact near vicinity and the health of inhabitants in regions close by.
The worst may occur as the unnaturally vast amount of water vapour will form on technical facilities at the plant. In extraordinarily cold weather, the ice may begin to break electricity transmission lines which in turn may trigger a series of unpredictable accidents various Sosnovy Bor reactors.
Pursuant to building rules established in Russia after the Chernobyl disaster, nuclear plants are not allowed within 100 kilometres of cities of two million inhabitants, as such large settlements are deemed impossible to evacuate.
«That means that when a nuclear plant is closer than that to a large city, the safety rules will simply be reworded to avoid panic,» explained Mr Bodrov.
A graduate of Leningrad Polytechnic institute as engineer-physicist, Mr Bodrov has participated at testing of nuclear submarines. For a lengthy period of time, he worked as group manager at environmental laboratory of Hlopin Radium Institute. Having visited the Chernobyl disaster area in 10993, he left the nuclear business to focus on environmental protection.
In Sosnovy Bor, Mr Bodrov leads Zeljony Mir (Green World), an organisation mainly focussed on safety of nuclear plants and the handling of nuclear waste – declared a «foreign agent» by a recent law amendment. This is a label by Russian authorities on organisations supported from foreign foundations, to underline their untrustworthiness from the viewpoint of official Russian policy.
At the beginning of February, Sosnovy Bor city court fined Mr Bodrov's organisation with  nearly €3,500 for not agreeing to voluntarily register as a foreign agent.
«On each of our documents we need to write that we are a foreign agent, to let the officials know they have to do with an untrustworthy organisation. Reminds me of the Star of David they marked the Jews with in Germany at one time,» added Mr Bodrov.
Leningrad's nuclear plants
LAES – Leningradskaya Atomnaya Elektrostantsia
LAES-1 construction begun in 1970
Reactor type RBMK 1000
Reactor capacity 925 MW
Launch    Closure
Reactor 1        1974                2016
Reactor 2        1975                2017
Reactor 3        1980                2024
Reactor 4        1981                2025
LAES-2 construction begun in 2008
Reactor type VVER-1200/491
Reactor capacity 1085 MW
Launch
Reactor 1        2018
Reactor 2        2019
Reactor 3        ?
Reactor 4        ?
Source: Wikipedia
-----------------
End to clean drinking water
While Estonian Environmental Agency assures us we possess reaction ability conformable to international standards, and interior ministry website is loaded with guidelines for action, talking to local authorities in Ida-Virumaa it becomes obvious they are helpless should a disaster strike.
They either totally lack the information, or have their own differing understanding of potential solutions.
«Our parish has no information whatsoever about a potential nuclear disaster and coping with its outcome,» said Vaivara Parish elder Veikko Luhalaid. «If surface water should be polluted on a broad area, I doubt if we would find cisterns to supply population with clean drinking water.»
In Narva, the city's water company tanks hold clean water for six hours. In case of contamination, taps will be closed for city dwellers, and water will be brought to houses in cisterns from bore wells.
«As a hazard from Sosnovy Bor, I see radiation pollution for Narva and the surroundings,» said city government adviser Urmas Tokman. «As Narva water system has surface water flowing in it, we need to consider with the water resources being polluted.»
Though the Narva water company owns seven bore wells in Narva-Jõesuu and two in Narva, Mr Tokman says they should also utilise the national crisis reserve i.e. bottled water in stores and warehouses.
Meanwhile, Estonia retail chains have not been told about the potential of having to give bottled drinking water to crisis managers in emergency. «Drinking water can be purchased in our stores the usual way,» Selver and Prisma Peremarket representatives said as one.
In Selver, for instance, contractual partners need to register bigger buys at least five days in advance, meaning that the store doors will be closed to crisis managers.
-----------------
Economy hit
The new Sosnovy Bor nuclear plant will be a pain for Estonia even with its safety and success.
Up to now, the tests to see if our electricity system works without Russia have been successful as executed at night. According to professor emeritus of Tallinn University of Technology Heiki Tammoja, during the day such a step would mean part of the users being switched off the grid.
Mr Tammoja sees a big problem in a situation when the new nuclear station is completed in Sosnovy Bor while the old continues working.
«Due to Ohm's law, we will be turned into an energy island or we will be forced to buy electricity from Russia as our network will not be able to take the situation otherwise,» explained Mr Tammoja. «We will need to build an extra transformer station in Narva, which will direct the electricity flow elsewhere; or else we will switch off the line from Russia.»
Elering, responsible for electricity supply in Estonia, has not calculated the potential damage by a Sosnovy Bor disaster for our national economy, but assures us electricity consumer will afterwards cover the costs via electricity bills.
«As compared to the usual situation, we would have to use our power stations to a much larger degree to regulate frequency,» said Elering press representative Ain Köster.
But Elering thinks it of little likelihood that ice do damage to power lines as feared by Leningrad's environmentalists.
«About glaze frost, it does happen due to weather but an experienced colleague did not recall lines ever breaking in Estonia due to glazed frost. If there is much glazed frost, and the lines sink lower, the ice needs to be removed from the wires,» added Mr Köster.
-----------------
COMMENT
Sille Ader, press rep at the Environmental Board
The distance from Estonia of Sosnovy Bor is still long enough as to have the concentration of a potential cloud moving towards Estonia, with a potential accident and unfavourable weather, to be diminished to a degree as to exclude direct impact on human health. However, Estonia is in the area where temporary restrictions would be the order of the day regarding certain food products grown in the open, animal feed, and drinking water from open water bodies. The advisable zone ids300 kilometre radius from the nuclear plant. The actual spread of impact depends on weather and will be determined by monitoring.
Estonia possesses a radiation monitoring network composed of 15 automatic stations which operates non-stop and sends data every ten minutes. With alert threshold crossed, the person on duty will immediately notify environmental board. In case of an emergency situation at the nuclear station, information will arrive via international channels long before the pollution is released from the reactor. Thus, the radiation monitoring network is mainly to measure the actual situation, not to sound the alarm. One of the radiation monitoring stations, as well as one of the stationary air sample collection filters, ate in Narva-Jõesuu, in the corner of Estonia closest to Sosnovy Bor.
Estonia is member of nuclear safety and early nuclear radiation hazard warning conventions, is involved in assessment of cross-border nuclear risks, and possesses International Atomic Energy Agency conformable warning and reaction capacity.