God'swill Ayobamidele Nkwusi: my life in Estonia
November 27, 2015 3:12 PM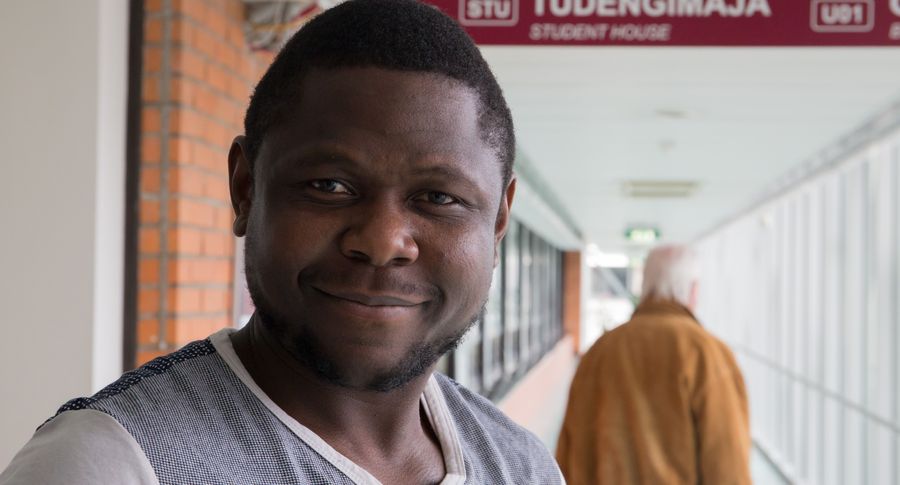 «Go back home nigga!» «We don't want you here. I hate you, you nigga! Don't steal our jobs!» These are chants that already suggest one word - racism. This word provokes feelings of anger, hatred and even attacks on self-esteem. My first three years out of the four, that I've spent here in Tallinn, were not totally joyous; however, I had an experience void of an attack on my personality in relation to colour or race, writes God'swill Ayobamidele Nkwusi, who studies in Estonia.
In an attempt to bridge the gap in in my educational development and career pursuit, I sought to pursue a Master's degree abroad. Having completed a Bachelor's degree in Chemistry and a Master's in Environmental Management in Nigeria, I decided to enrol for a Master's degree in Materials and Processes for Sustainable Energetics.
On the 26th of August 2011, I set out on a journey to one of the least-populated countries in the world, completely different compared to my home country in most ramifications. I was unaware of the challenges ahead and could not predict what to expect. I was sure it was going to be great but I could not figure out how.
On arrival as a newcomer to Estonia, fondly referred to by fellow Nigerians as JJC (Johnny Just Come), I had to cope with a lot of differences. I was the first African in my faculty and department, so I did not have any opportunity to learn from the experiences of others, which meant I had to write my own story for others who will come later to read. So I was determined, focused and zealous. I was ready to set high standards for other Nigerians and Africans that will come in the future. I was ready to put all distractions behind and erase any negative thoughts that may come to mind in relation to my home country, Nigeria.
Just when I thought it could only get better, then began the influx of internally-displaced people from troubled countries of the world into Europe.
Going through the years, I have made friends, even though that was the hardest thing to do especially with Estonians who are very nice but also conservative in a beautiful contrast. I succeeded in relating with a few of them. I had the opportunity to learn a lot of new things and saw things from different perspectives.
I was always happy and have a lot of good memories, although some not so good ones as well. Everything seemed to be going well because I never thought of having such a hospitable place away from home. I began spreading the word about the good and friendly Estonia to my fellow Africans and by September 2015, the number of Africans studying in Estonia had increased greatly.
After four years, I have taken inventory of my decision to come to Estonia and without reserve, I must say that I have no single regret about leaving the shores of my country to study here in Estonia. I have made progress and achieved a good deal of success that I can link to Estonia.
I have become a better person and have learned a lot of new things. I graduated with a Cum Laude as the first African in my faculty. I have won several awards and scholarships in my field of studies. I travelled to the University of California, Berkeley, USA for exchange studies during my program.
As a current doctoral student, I have a registered business operating in Estonia. I consider these to be substantial benefits and owe much gratitude to the good people of Estonia.
Wind of change
Just when I thought it could only get better, then began the influx of internally-displaced people from troubled countries of the world into Europe. The impact on Estonia has been very varied across all strata of society. From stark indifference to opinions and suggestions at both ends of the argument, these issues are viewed differently by everyone in the society. My focus however, will be on my personal experience and views that tell my story.
The expressions that started this article are now to be expected by anyone who does not fit in by virtue of race and colour. My personal experience is that people have suddenly become more aggressive. Hate words are more commonplace and the feeling of safety that I rightly associate with Estonia seems to have disappeared from the minds of most foreigners.
It has become difficult to explain to my people what has suddenly changed in the Estonian people of whom I sang high praise as a racism-free society. It will be rather unfair however, to class this issue as a problem of the Estonian society since in the midst of it all, I have had the unflinching support of my Estonian friends to whom I remain grateful.
Unfortunately, this is an unexpected and unpleasant situation which has to be addressed urgently. I accept the responsibility, I have to remain positive, especially within my circle of influence. I understand the question of racism has no absolute answer as we have seen even in bigger countries. Therefore, it will be wrong to label Estonians as racist – considering everyone is involved in trying to find answers to these important questions of nation-building.
Period of adjustment
My resolution is also not to discriminate those who have been displaced from their countries due to crisis. I believe that the society is currently facing some challenges on the issue of racism. This could be connected to the fact that a very large number of Estonians are still trying to understand and cope with other cultures as is case when we move new cultures in other parts of the world. This is therefore a period of adjustment not only for the new immigrants but to the host community as well.
The above perspective changes my attitude and reaction to these situations that are becoming increasingly rare. I became more active in sharing what I believe is right. Among my fellow Africans, I try to promote open-mindedness to these issues and life-patterns that depict excellence and active interest in the welfare of the Estonian community.
We choose to be kind to everyone even when they do not return the favour. We decide to remain positive about everyone we come across. We will not stand as judge. We prefer to show those we meet every day how nice we are as foreigners, what our uniqueness is, and where our motives are drawn from – love and peaceful coexistence.
To conclude, my question is: who do we lay the blame on for all the negative publicity generated by these arguments? My humble submission is that no one is to blame. Sure, there are unfavourable news items all over media. There have also been a couple of incidents that aggravate the fears of the people but these are issues that every society has had to deal with at some point in history. These also, are on-going situations in most parts of the world.
I am of the opinion that the good will always overcome the evil. I believe normalcy will be restored since the friendly Estonians that form the majority have chosen to have an international and result-driven society that everyone can thrive in. I choose to stand in solidarity with friendly Estonians. I choose to remain positive and open-minded. I insist Estonia is a friendly society that is well-positioned to bring glory to Europe!