Rõivas: I must tell the naked truth
November 19, 2015 3:40 PM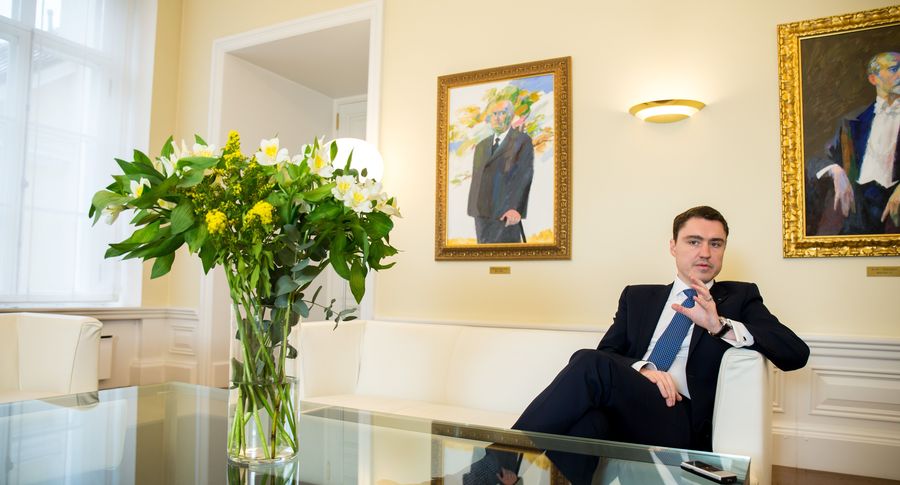 In the nervous Europe, Estonia must not panic, not become uptight, but must take the situation as a challenge that the Estonian state is prepared for, says Prime Minister Taavi Rõivas (Reform).
-After the Paris terrorist attack, France has let it be known they are not excluding cooperation with Russia in fighting ISIS. Broadly, how does that alter our security picture? In a situation like this, it isn't difficult to reach a point where a Russia which continues to attack Ukraine will become diplomatically okay for Europe.
The European Union continues to denounce Russia's attacks towards Ukraine. Ukraine is continually at war, that's a fact. The last time I met the Ukrainian prime minister, he described the events to me in great details and confirmed our conviction that this is a very fragile cease-fire.
The Minsk 2 peace treaty has not been carried out to the full – this is fact. Until it is carried out, until Ukraine does not have Ukrainian border-guards on its Eastern border, no-one will do away with sanctions against Russia. This is what I also told the new Russian Ambassador to Estonia. From here, Estonia will definitely not back down.
-But if France is cooperating with Russia and the USA led by President Barack Obama only think of how to defend themselves and not the others, then...
The Syrian conflict in which Russia intentionally has become a player without whom it is supposedly impossible to solve the situation does not mean that there will be cooperation with Russia in other issues.
Vladimir Putin's interest is to get back in the picture, to again become diplomatically okay as a cooperation partner, but the European Union will not tolerate what is happening in Ukraine because of potential cooperation in Syria. Russia must draw back in Ukraine. Only then is it possible to talk with them as a partner.
-With the attacks in Paris, the war refugees were not the cause or the motive. And yet, many have begun to feel like that.
Those who committed the terrorist attacks are known, these were French citizens and not those fleeing the war. I understand it is difficult for people to make a difference between those who have been totally radicalised and thus have become terrorists, and those who are from these same territories yet are fleeing from terror.
Obviously, people who are worried connect things which are not connected. This comes from fears and I do understand.
-Why is the Estonian society continually cautious and rather even afraid about the refugees?
The most logical explanation is that we actually do not know Syrians. For the people in Estonia, it is much easier to understand refugees of war coming from Ukraine. There are tens of thousands of Ukrainians currently dwelling among us. I believe we would have a hard time finding anybody who would say we should not help the Ukrainians who are fleeing their home.
Ignorance breeds fear. Here we cannot find fault with the ignorance in people, but the Estonian society as not been in contact with this before. We can act the Estonian rational way.
At some point, some part of people fleeing the war in Syria will come to Estonia. We are preparing for that, we have clear steps how to receive them here and cope the best way with the common European problem.
In the bigger picture, Estonia's responsibility is that the inflow of refugees into Europe would be substantially diminished. At first glance, it may seem that this is a topic firstly touching Germany and Sweden, but it is in our interests to find a sustainable solution so we would not have millions of people coming to us.
For that, there are two directions. Europe has the option to have a say to arrive at a peaceable solution both in Syria and in Northern-Africa so people would not need to flee their homes. Secondly, the European Union must financially support the refugees where they initially arrived: in Turkey, Lebanon, Jordan, as well as in Northern Africa. And regarding that, an agreement has also been signed with European leaders.
Let's be honest, all refugees cannot come to Europe. We will not be able to help them all. In high likelihood, we will find agreements that the European Union will invest several billion euros in supporting the refugees in Turkey, and then these people will not need to undertake the life-threatening trip to Europe.
-You say Estonians cannot be accused for not knowing Syrians, but could you and the other governmental leaders be accused for not being with your people enough? Why have you not shown personal example and explicitly stood against the rising racism? Whatever! Joint pictures with those who live here that are different, travel Estonia with them, communicate with your people, not focussing on Europe?
I am always ready for explanations. Even if my honest and open explanations do not fit everyone, it has still been appreciated and it has been said that I have still been the one to explain most.
-Why is that not enough, what is wrong?
The work of explanation cannot be polishing things up. This will not work. Indeed we must say that there is a crisis in Europe. I do not believe that for the people in Estonia the issue is that those coming here are different. Rather, the insecurity lies in how we will be able to integrate them.
Yes, we have little experience. But we also have a clear plan that first in line we will help those who need it most. We realise that when a family with children has undertaken a very long journey far from home, they have not done that out of their free will. When the first families make it here from Syria at the beginning of the new year, the fear will gradually give way.
-But still. I think an important reason why many people in Estonia cannot cope with the refugee topic is their own daily hardship. Hearing how so-called strangers are offered money, apartments, language study, training for children, they will first and foremost think about themselves and their own family who will have to do with €500 a month. And the response is protest. They must be understood.
Absolutely. It must also be understood that there are costs with supporting war refugees. It is our desire to support them until they have a secure job. Even the people in Estonia who for whatever reason are caught in the cogwheels of life know that the state has the opportunity to help them both with payment of the utilities and subsistence benefit. The same goes regarding the refugees.
-Not trying to be mean, but have you sensed that the people do not believe these words? Not yours, neither those by other leaders. A distancing has happened. So we keep talking about how we ought to help Europe together, but our own people...
I believe that my responsibility as Prime Minister is to speak the naked truth. Whether these views are popular or whether the people fear that things are otherwise somehow – I cannot only go by that.
My part is to speak honestly. When afterwards it is realised that indeed it was as the Prime Minister said, [the people] will also get the confirmation that my words have been true. With very many earlier topics it has also been so that the solutions offered by Estonia work.
I perfectly understand... To fear is human. But my part as Prime Minister is to explain, to be honest. It is much easier in such a situation for an extremist group, even an extremist party, to forward its message, who may say that all is bad and doomed. The doomsday preachers are actually not out to offer honest explanation, but to raise their own political profile.
We must not go with the EKRE-style battles but say honestly that yes, there indeed is a serious crisis in Europe. And yes, Estonia also must deal with it. This is our choice: to panic, to become uptight, or take the common European crisis as a challenge.
We are ready for that. We know that during the next two years we will receive a refugee a day, on the average. Which for us is totally. We must not become unglued as a state. Definitely not.
-Before the elections, you promised us a new Nordic nation. This is surely a slogan more emotional that to be «among top five richest nations [in Europe] in five years», but have we taken even a tiny step closer? A new Nordic would mean flexibility, innovation?
We are daily toiling for the new Nordic. The prerequisite for that, primarily, is to be a safe nation. All the recent governments have toiled towards that. Even a few years ago, NATO presence seemed rather unbelievable. Surely, this has raised the security level in people.
We have not reached the Nordic living standard yet. Our ambition is to catch up with the Nordics. In nothing are we worse than they – neither by diligence, nor by creativity. Recently, we have definitely taken several steps towards that. I have called an expert group to help me work through all areas of economic life to achieve how to give the economy a new boost.
Yes, we are still on our way towards becoming a new Nordic nation. This isn't a vision that would be fulfilled in a couple of weeks. This is a vision which is the most comprehensive to have been put forwards in recent Estonian politics.
-Do you have anyone bold enough in that expert group to blurt that we have been stuck in Reform dogmas, electoral promises for too long? That we have entered a quiet stagnation?
No, economic experts see the facts and do not take things emotionally. We do have it well, don't we, in many ways. Over these past ten years, we have doubled the ranks of entrepreneurs, out unemployment has dropped very rapidly. We have it very well with very many things! The issue is we haven't arrived yet!
Glancing in the so-called rear view mirror, I say we have no reason to regret any big step. During these past years, we have dome almost everything right. And not in economy only. As confirmed by the living standard rising a lot faster than with peers.
But today we are not looking in the rear view mirror, but through binoculars into the future, five-ten years ahead. To say in 15 years: no other European nation has developed as fast as Estonia has. This is our goal.
-Why hasn't a brightest Nordic foreign minister Marina Kaljurand joined the Reform Party?
She surely will.
-Really?
I am absolutely positive.
-So this isn't a game to leave an impression of Ms Kaljurand as outwardly apolitical popular foreign minister to present her as presidential candidate this coming summer?
I think Marina would be a very good president. But she isn't the only option. I am sure we will find a good presidential candidate in the summer.
It's totally obvious that the next President cannot be elected without Reform, and there are very worthy candidates among us. There has been the talk about Siim Kallas, logical every whit; there's been talk about Urmas Paet, also logical. Meanwhile, we haven't even begun with the topic and the President must not come from reform; rather, we need to find the best one.
-But enough of the names. What should Estonia's new President be like? Patting children's hair and wheat on the fields at home, or focussed on the international arena?
As the head of the government, I am able to say that I have found great support in having a President highly active in foreign relations. This has been to the benefit of the entire nation and in this President Toomas Hendrik Ilves has been very strong.
I expect that from the next President as well. In this world, Estonia's voice must be heard as precisely as possible.
-How's the health of your government? Is it nice to sit at same table with the Soc Dems who in summer attempted to betray you with Centre?
The government is healthy as a top form amateur sportsman! The form is obviously on the rise with room to rise higher yet. The work climate is every whit good. We have been able to find sensible solutions on rather complex and uncomfortable topics.
The lesson is we must have closer communication on certain subjects. There are the dissonances and these cannot be viewed as quarrels. Differences of opinion are accepted, the shared responsibility is to find a shared decision.