An Oscar for «Tangerines»? Pray for a miracle
February 20, 2015 2:53 PM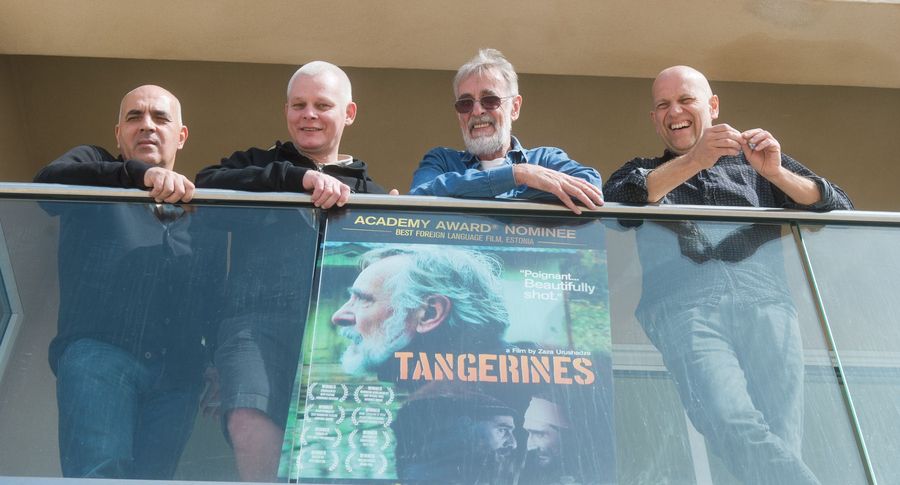 Come Sunday night, will «Tangerines» reap an Oscar? Alas, no... if the influential US entertainment predictions portal GoldDerby be believed. The chances are just as tiny as with Golden Globe: one percent out of hundred.
Out of 29 experts, featuring editors of such movie industry heavyweights as Variety and Hollywood Reporter, none predicts Estonia would win. Only five place «Tangerines» above 5th: fourth.
«Ida» from Poland looks sure to be crowned, offered an Oscar for a whopping 25 times. ««Ida» will win, «Tangerines» has five percent chance,» is what Postimees was told by the Hollywood Reporter editor Scott Feinberg, considered the top knowledgeable forecaster in all of Hollywood.
«Difficult to shoot a movie more according to Academy taste than the black-and-white «Ida» touching on the Holocaust.»
GoldDerby not unerring
Asked by Postimees, Poland is also the favourite for Sergei Rakhlin, Hollywood foreign press association non-English film committee chairman. «That the British film academy just named «Ida» the best non-English movie increases the Oscar likelihood: over a thousand of their members are also part of American movie academy.»
On top of that, he underlines that «Ida» had a forceful and massive ad campaign in movie industry publications carefully read by the voters. Much more massive than that of «Tangerines».
GoldDerby is not unerring, though. Overwhelmingly, «Ida» was also predicted to pocket the Golden Globe, but Russia's «Leviathan» stole the show.
The non-English movie category is also deemed unpredictable by Deadline Hollywood's critic Pete Hammond – a glad tiding for us, a rare one. «Here, anyone can win,» said Mr Hammond.
What he has in mind is the change of rules pursuant to which all academy members wishing to vote need no longer see all five movies in a theatre – a requirement that mercilessly thinned the «electorate». Instead, the academy now sends DVD copies to its over 6,000 members. To watch these will be a matter of conscience.
««Ida» had a strong start and became art house audience hit, which was hard to foresee. And Poland has never ever won before. «Wild Tales» is the most dashing and funny, but it is questionable if it works just as well with DVD as in a cinema. And usually the comedies do not win,» analysed Mr Hammond.
««Timbuktu» is strikingly beautiful and relevant in the current political situation. «Leviathan» is a triumph if for the very reason of Russia presenting a film so self-critical. «Tangerines» is a so-called classical movie academy movie. So it's pitch and toss. For me, «Timbuktu» came topmost,» said Mr Hammond.
Surprises happen
It's also not hopeless in the opinion of the «Tangerines» PR-chief Tatyana Detlofson. «I'm a realistic optimist,» she said.
«We have a chance: we are no favourites but these past few years surprises have happened. My hope is that «Tangerines» has touched the hearts of all who got the anti-war message. The film is well made, excellent music and script,» Ms Detlofson told Postimees.
«All four main roles are very likable, some came close to comparing the Ivo by Lembit Ulfsak with God and Markus by Elmo Nüganen as His assistant. Some academy members showed up to see the movie for the second time over the week-end, and were seriously considering voting for it.»
«Peace be to you! The chance is 20 percent, we have five movies competing,» said the «Tangerines» producer Ivo Felt.
These days, the Hollywood Boulevard is living in anticipation of the Oscars. Partly, the street is already closed for traffic and the fenced-off are keeps widening day by day. Meanwhile, all are welcome to shoot – and pay for! – a picture of all sorts of costumed heroes.
Ads «fired off» to wind up campaign
The Oscars voting was closed on Tuesday, preceded by the last act of a long campaign: full page ads in Hollywood Reporter, Variety and Wrap; 24-hour full-blast ad in Deadline Hollywood – at cheap price.
All told, the film was shown 19 times including at the script-writers guild, a repeat at directors guild, in American Film Institute. On top of that, in New York and London where a considerable number of academy members dwell.
Hopefully, two pieces of good news sent a happy signal: a contract with Samuel Goldwyn Films to spread «Tangerines» in US movie theatres, and the Satellite award by International Press Academy (IPA) with membership of some 200 film and TV journalists from all over the world.
«The latter is nothing big but it's not bad either – main thing, it happened just before the voting was closed,» said Ivo Felt, the producer.
«Now, there's nothing more we can do,» were the Wednesday morning worn-out words Tatyana Detlofson in charge of the ads campaign.
On Tuesday, Mr Felt and director Zaza Urušadze were joined in USA by Lembit Ulfsak and cinematographer Rein Kotov; Wednesday saw the arrival of the Georgian actors Mihheil Meshi and Giorgi Nakašidze. All six are participating in the ceremony, Sunday night.
Prior to that, there'll be a press conference, the red carpet dress rehearsal, festive reception at the academy and a symposium of non-English nominees. Everything is possible.
Foreign language film Oscar nominees
«Ida» (Poland)
«Leviathan» (Russia)
«Tangerines» (Estonia)
«Timbuktu» (Mauritania)
«Wild Tales» (Argentina)