Estonian épée ladies win World Cup silver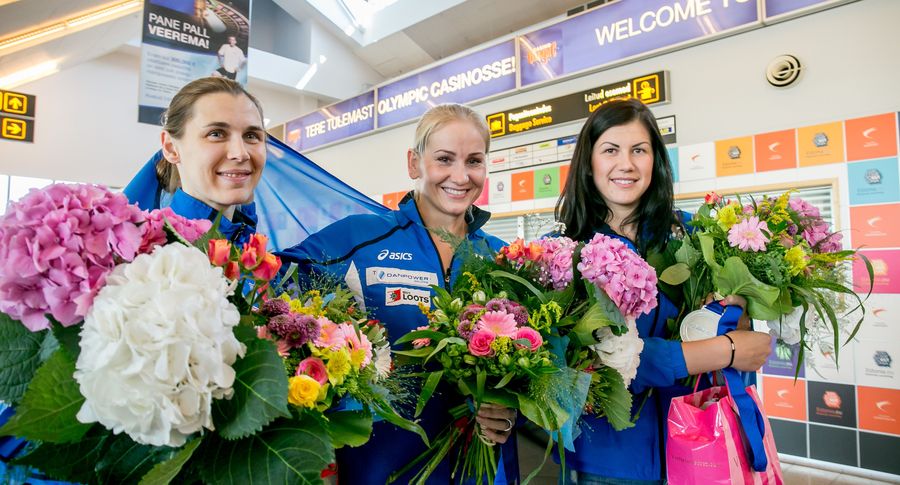 This surely was a silver won and not a gold lost, assured Irina Embrich after the team was beaten by Russia, in the finals. «One is disappointed with each defeat, but this time the joy outweighs the sadness.» Erika Kirpu added that appetite is now whetted: «One day we'll be the champions!»
No sorrow in Julia Beljajeva's voice either: «We've been fencing with the same team, for five years, and never even got into semi-finals at World Cup. And now we've got a silver medal. Sure, we are strong and we want gold, but this time silver will have to do.»
The Estonian quartet of Embrich, Beljajeva, Kirpu and Kristina Kuusk are mighty indeed, pocketing European bronze last year but one, and gold in 2013. Understandably, therefore, they danced no victory dance once the finals were over. Rather, it was mild satisfaction. Shouting time came earlier, after the dramatic quarter-finals against China. And there might be some slight laughter once the time comes to celebrate.
«There'll be a little party, as always, some little champagne,» assured the captain Ms Embrich. «Without celebrations, a medal isn't valid. The younger ones have more energy, they can be up longer... I'm older already and really tired after today. Also, there'll be a 3 am night bus to take us to the airport.»
But back to the silver – this was a win indeed. After walking over Sweden to make it among eight best, China and Italy were an epic challenge and the story will be long told. Bitter opponents, both have crushed dreams before: last year, China blocked the path to World Cup semi-finals; last year, Italy robbed us of European bronze this very year.
«We pulled ourselves together, discussed the tactics. Each convinced herself to do no stupidities, to take revenge,» related Ms Beljajeva.
Heroine happening
The line between loss and win is thin; a heroine stands out for mental stamina. Hitting the Chinese wall was barely escaped in quarter-finals.
Till the last four seconds, all went smooth. Everyone doing her share, Ms Embrich decisively faced Yiven Sun in three hit advantage.
Then, all of a sudden, it was a tie. The face of Ms Embrich was one of anguish. The victory had been so close...
Extra time. Priority goes to China: in case of a tie, theirs will be the victory. Ms Embrich will have to attack. And does it textbook style! Double hit at first try, then one more to be sure. Done deal.
«That was tough. But so what – her [Ms Embrich's] head remained cool, she fought till the very end,» sighed coach Kaido Kaaberma once it was over.
Italy demolished
Semi-finals against Italy went like clockwork. Breakthrough was secured by second match, Ms Embrich vs Bianca del Carretto – 8:2. And, against the vigorous Rossella Fiamingo, with Estonia ahead 23:20, the gap is stretched by Ms Embrich to a whopping 42:32.
«We only went to win,» said Ms Kirpu who also pocketed an individual bronze. «We knew a medal was in the balance.»
The finals against Russia fell apart at once. In the second match, Violeta Kolobova whipped Ms Embrich 6:1 and Estonia never recovered. 40:29 to Russia, as the bell tolled.
Silver sounds good, but the girls hunger for more now. Shaking off all sadness, Ms Kirpu is convinced that «someday we will win!»