Patti Smith hammers Tallinn with punk liturgy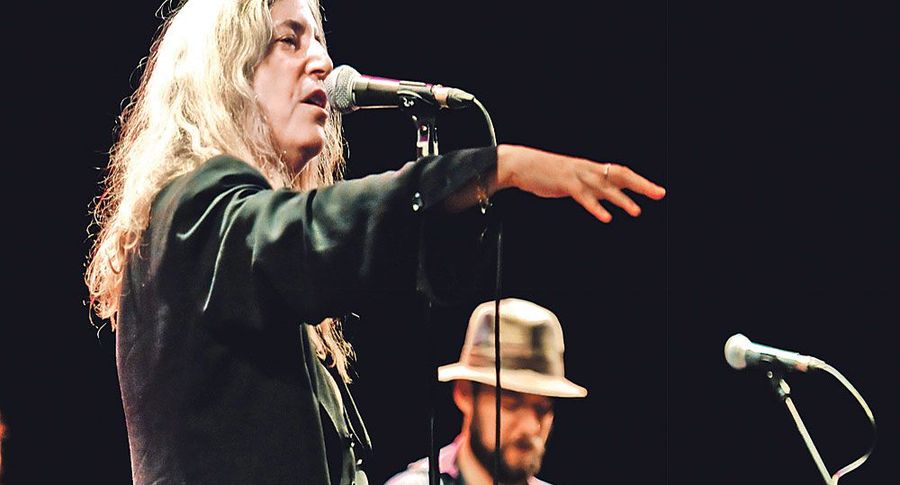 Not quite dead yet, punk's only 68 and has just been spotted performing in Tallinn.
Mighty oh how mighty was the finale of Patti Smith performance this Monday, in Solaris large hall. I went to hear a cultural icon – a lady that used to do great stuff, know great people and has written some great texts. Like a bolt from the blue, emotions struck me as if Estonia's sung herself free once again.
The first time I ever became aware there was a Patti Smith was somewhere around mid-1980ies: a girl from an intelligentsia-type home gave me a book with her poems. Suffocating stagnation all around me, this felt such a ray of light – what a way to write! Only a decade after did I learn of her ability to do (punk) music. To this day, for me, Patti Smith remained rather a poet, not a musician.
For her as well. Monday, at noon, she said in the Rahva Raamat book store: «I'm a writer, not musician. But I've always loved to perform.»
So thus the concert got underway as a poet presenting her work, accompanied by instruments. The band, her own son on guitars and daughter doing the keyboards, was nothing much at all. Depressingly mediocre, for a stage like this. Still, for Solaris, the sound was well balanced (at fifth row, at the very edge of it), with each word clearly heard. Which, with her, is the main thing anyhow. As remarked by the poet and essayist Igor Kotjuh, post-concert: «Never have I seen as many writers in this hall.»
The fourteen songs she sung Monday night were the top popular ones, spanning the long career. At song No 9, the poems night got a bit rockier with «Banga» (title song of Ms Smith's last 2012 album and, in my thinking, the best piece of it). Ere entering into it, Ms Smith explained having been inspired here by reading «Master and Margarita», by  Mikhail Bulgakov. Turns out, Banga was Pontius Pilate's faithful dog. So look what she dug out – Peemot would have struck me as much more punk.
Catharsis hit about at song No 11th and 12th, the two last («People Have the Power» and «Babelogue/Rock'n Roll Nigger»). Ten front rows stood as one man; from the back, folks flocked to the front to dance and finger bang. Like a shaman, at stage's edge, the long/grey headed lady howled her «You are free, you are free … You are the future!» Like a meeting of some more ecstatic sect, or Jim Morrison's «American Prayer». Felt like we'd soon see the miracles as hands are laid on people. Instead of collectively panicking before Steven Seagal, why didn't we have the guy confronted by Patti and see the granny sing him right into the ground.
As NO99 the theatre wound up its memorable «Unified Estonia» with Tiit Ojasoo also declaring us «Free!», it came across as irony. In the case of Patti, it dripped with such American sincerity as uncaught by some cynical Estonians. At end of concert, the guitar man demonstratively pulled his strings apart. Hardly, one assumes, will the protest-thing mean silence from now on. Good he didn't set the thing on fire, though, as some have been known to do...