European Museum 2014 nominees range from İstanbul to Tallinn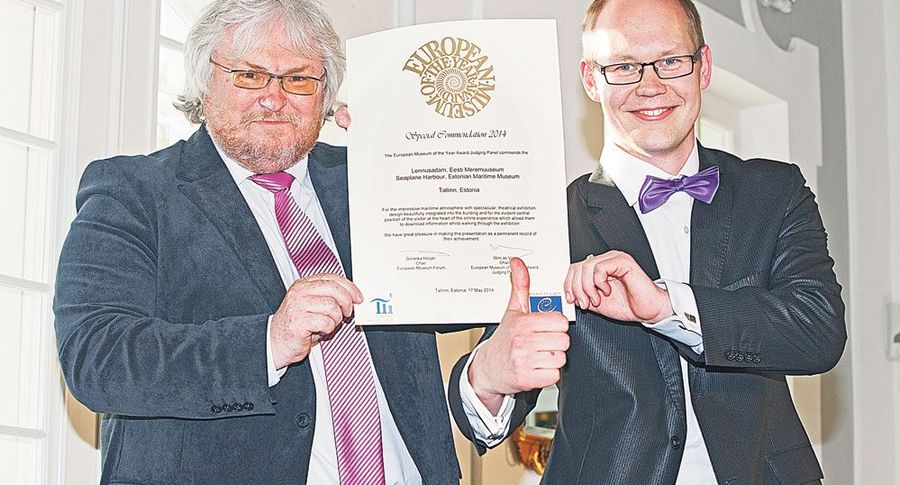 European Museum Forum annual conference held in Tallinn, at Art Museum of Estonia, was wound up with awards gala in Kadriorg last Saturday with the European Museum of the Year proclaimed from among 36 candidates. Estonian Maritime Museum, the Seaplane Harbour or Lennusadam, received special commendations.
European Museum of the Year 2014 award went to Museum of Innocence (Masumiyet Müzesi), established in 2006 by the Nobel literature prize laureate Orhan Pamuk. The museum was completed parallel to a novel by the same title, showcasing everyday items from the lives of the heroes of the novel – inhabitants of İstanbul during the second half of the 20th century.
The title, available since 1977, was on offer first of all for new or freshly renovated museums, or such as had thoroughly updated their exposition.
«The candidates were expected to present a new angle, or a new approach, so as to serve as an example to other museums. A vital criterion was a museum's openness to various publics, an ability to speak different languages – so to say. And this we emphasised from the start,» explained Sirje Helme, director general for Art museum of Estonia and a member of the jury.
Museums, difficult to assess, are evaluated on bases of art world networks and institutions, as well as relations to their communities – thus not always necessarily answering to the common taste.
The Estonian Maritime Museum was commended by its very maritime atmosphere attractive to young and old alike, as well as its theatrical exposition and the blending of it with the wonderfully restored building.
«The same recognition, as received by Estonian Maritime Museum this year, has formerly been the lot of the Vasa museum in Stockholm, the Viking ship museum in Roskilde, Denmark, and the Dutch maritime museum in Amsterdam, for instance,» listed its director Urmas Dresen.
It is hoped that the vessel Suur Tõll, with its fascinating story, will prove as popular as the exhibition on Titanic: the Artifact Exhibition open from November 15th last year till March 31st 2014, visited by 220,000 people. The Suur Tõll, built in Stettin, Germany, a hundred years ago, reached its home port of Tallinn in the summer of 1914. So, on June 14th, the Seaplane Harbour is planning grand celebrations of the icebreaker's centenary. In the renovated vessel, there will be an updated exhibition, a book will be launched, and a play Century of the Icebreaker performed.
The Seaplane Harbour, open for mere two years, has been visited by over 700,000 people, 40 to 45 percent of these from abroad.
«From the start, the Finns have discovered us. Probably, this is thanks to stirring media coverage in Helsingin Sanomat and Yleisradio, as well as feedback by eyewitnesses,» says Mr Dresen.
Maritime Museum is far from completed, however. In Fat Margaret's, an exposition of old time seafaring is planned. In Seaplane Harbour, old headquarters and barracks are about to undergo a refreshing – to house short-term exhibitions and offices. Over a short period of time, the Maritime Museum staff has ballooned from 40 to 140.
----------------------------------------------------------------
European Museum of the Year 2014
Masumiyet Müzesi, İstanbul, Turkey
EMYA rotating cup, a sculpture of Henry Moore, will be held by the winner for a year.
The museum touches on the males-centred society of the city in second half of 20th century, the class-related advantages, the mingling of local traditions with European influences, and the tensions between the sacred and the secular.
Delving into psychological meanings and emotional aspects of the times, the museum offers a novel approach.
Council of Europe Museum Award 2014
Baksı Müzesi, Bayburt, Turkey
Located in the picturesque Anatolia, the museum presents itself as a platform for cultural communication, creating a dialogue between centre and periphery, city and countryside, today and the history.
The Baksı museum draws attention to economic and cultural inequality of regions in Turkey and Europe, while pondering the complexities of differing and often conflicting world views, religions and lifestyles.
Silletto award 2014
Saurer Museum, Arbon, Switzerland
Silletto prize for community and volunteer involvement for work at the Sauer plant, the employer of Arbon and the surroundings till its closure in 1987, leading to lay-offs of over 6,000 people.
The Saurer remembrance club has been collecting machines and vehicles manufactured at the plant, with the aim of passing machine handling skills to future generations. Despite the limited financing options, the plant-museum is a wonder to behold.
Kenneth Hudson Prize
Žaņa Lipkes memoriāls (Žanis Lipke memorial museum), Riga, Latvia
The museum, established in 2013, has been dedicated to a Latvian port hand and smuggler Žanis Lipke, and his operation to save human lives. During WW2, Mr Lipke succeeded in rescuing over 50,000 Jews placed in the Ghetto of Riga. In Latvia, the low-born Mr Lipke has grown into a hero. The museum is deeply moving and involving to visit.
-----------------------------------------------------
This year's best
Special Commendations
Estonian Seaplane Harbour, Tallinn
Bildmuseet, Umeå, Sweden
•    For creating a modern and innovative museum offering dynamic exhibition continuity and a permanent platform for the promotion of European and global cultural knowledge and multi-layered intercultural dialogue.
Museo Nacional de Ciencia y Tecnología, A Coruña, Spain
•    For its ability to communicate scientific and technical concepts in an inspiring way and for its strong commitment to social responsibility in preserving the technical, industrial and scientific heritage of Spain and Galicia.
Museo Occidens, Pamplona, Soain
•    For the outstanding way in which it presents the values that underpin the civilization of the "West" and challenges us to rethink our collective future, and our concepts of democracy, solidarity, justice, peace and freedom.
Also recognised:
Kazerne Dossin, Mechelen, Belgium
KZ-Gedenkstätte Flossenbürg, Flossenbürg, Germany
•    Both museums carry a strong message, and are geared towards the future while seeking innovative ownership relations and dealing with WW2 related topics.
Source: www.emya2014.eu