Unbelievable triumph: Novosjolov, gold! Beljajeva, gold!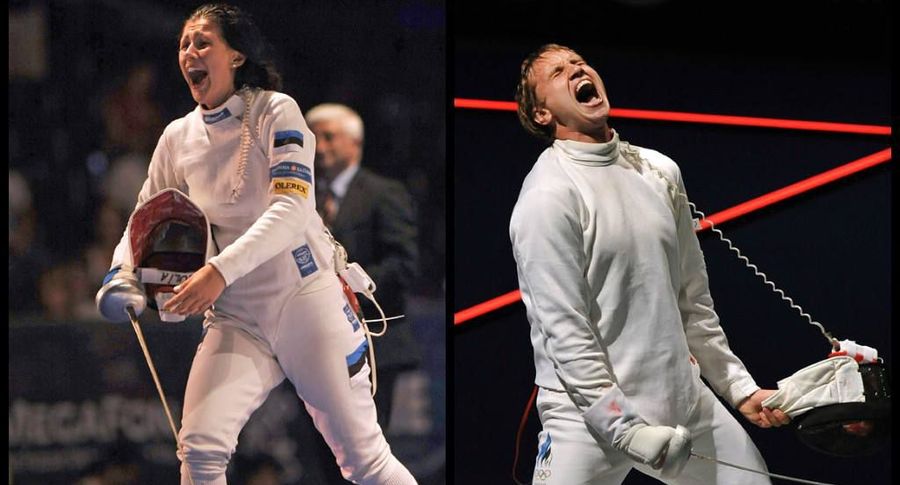 Estonia is a formidable fencer! Taking two World Champs golds... While the victory by Nikolai Novosjolov, the 2010 world champion was, perhaps, to be expected, Julia Beljajeva was a bolt out of the blue. The damsel being only 21, and fencing a sports for the experienced.
Mr Novosjolov headed towards the semi-finals smooth and easy. Then, an old Russian rival Pavel Sukhov had to be faced, who proved better in last years' European finals. Mr Novosjolov kept the lead, but was caught up to 14:14. The Russian charged... and was hit.
Proving oneself
Finals, however, were a one man show. Mr Novosjolov taking a 6:0 lead against the Venezuelan Olympic champion Ruben Limardo, who the appeared crushed: 15:7. Mr Novosjolov emerging as double world champion.
«Again, Novosjolov proved to be absolute world top,» rejoiced coach Igor Tšikinjov. «Last year's Olympics were wasted, European championship were no better... Even so, accounts are settled after World Championships. The first medal is hard to take; the others especially so: you are being counted on, you are known, beating you is counter an honour.»
According to Mr Tšikinjov, this year they did prepare for World Championships, mainly: «We were on form, just in time. Both physically and mentally, thence the assurance. Tactically, he was brilliant – made some mistakes, but was able to compensate. Never let anybody press him back, controlled the situation. He held to the line agreed and was always a step ahead of the opponents.»
«We both hoped for a medal... Hoping quietly, on the inside, fencing being for the older, for the experienced,» admitted Ms Beljajeva's coach Natalja Kotova. «Having beaten world No 1 Ana Branza, in quarter finals, Beljajeva could not believe it. And then, Emese Szasz... It must have been our day, today.»
Ms Beljajeva was mighty indeed. After taking out Chialing Chang (Thailand, world No 73 – four notches below Beljajeva) for starters, thereafter she was felling stars: Tiffany Geroudet, Switzerland (world No 11), Rossella Fiamingo (10) and the great Ms Branza herself. In extra time.
Ms Beljajeva proving more experienced than someone with an Olympic silver, two world titles and five European golds. Ms Szasz (5) was also subdued at extra time. Ms Beljajeva squealing with delight.
Finals, against the Russian Anna Sivkova (4). Ms Beljajeva leads, letting it go to 13:13. In a few seconds, it is 14:14. Poking the opponent to a 15:14 defeat, Ms Beljajeva shakes her head, bursts into tears.
Politically correct, Estonia's coach Kaido Kaaberma lets it be known that all girls were medals-minded, he not being surprised by Ms Beljajeva's success: «Quietly, she has been doing her thing, being 3rd and 4th in the national team, a pillar to be counted on. Not overly brilliant, personally. But she kept at it, never gave up. Waited for her time to come. She is tough, you know. Fears not the devil itself.»
Beljajeva the Patient
According to Mr Kaaberma, Ms Beljajeva is to be praised for her wise and cold-blooded fencing: «She held to the tactics agreed, to the last detail. Waiting for her chances, then charging... Being patient. Going for counter attack, mainly. Plus the occasional bite.»
Ms Kotova portrays Ms Beljajeva as a hard worker: «Among cadets, she gained European gold, but no individual medals as a junior. Joining the grown up ranks did not come easy, either: I saw the talent was there, but it was real slow coming forth. I'm so glad she had the patience to pursue.»