Tom Stoppard – correcting mistakes of former interviews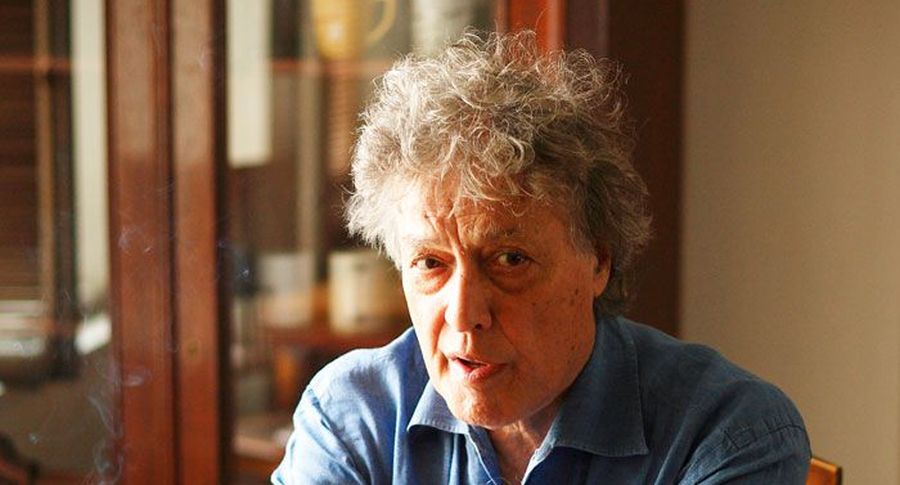 Sir Tom Stoppard, world's most famous living playwright, will be 76 «in a minute», having just finished writing the Pink Floyd BBC radio drama, Dark Side. At the same time, the man is busy with screenplays of BBC/HBO TV drama Parade's End and a film adaptation of Anna Karenina. At the moment, he is in Estonia in connection with theatre trilogy The Coast of Utopia, talking about a Russian intellectuals. Two parts of it having been staged, with mixed troupes, in Tallinn City Theatre and Estonian Drama Theatre. Mr Stoppard answers questions thoroughly – in the order of his plays – coming from various angles.
Trilogy The Coast of Utopia talks about intellectuals in 19th century Russia – Bakunin, Belinski, Herzen, Turgenev. Whence such love and interest towards Russia?
Most British playwrights of my generation, as well as younger folks, apparently feel somewhat obliged to Russian literature – and not only those writing for theatres. Russian literature is part of the basic background knowledge for any writer. So there is nothing exceptional in the interest I had towards Russian literature and theatre. Frankly, I couldn't image what a culture would be like without sympathy towards Russian literature and Russia, whether we'd be talking about drama or Djagilev.
I used to read on  Aleksandr Herzen and Vissarion Belinski in the works of the historical philosopher Isaiah Berlin. I think, by now, more is known about Herzen. But 10-15 years ago, when I started working at plays, very few had ever heard of him – and no-one had heard of Belinski. Naturally, all of us had heard of Turgenev, but basically we lacked an understanding of what transpired in the Russian thought prior to 1917. It was just Czarist Russia... many had heard of the nihilists, but a generation was missing, as if.
You have translated, into English The Seagull by Anton Chekhov; in the foreword bringing out interesting comparisons of methods of translation. Does this mean you have studied Russian?
I feel so embarrassed when people view me as one drawn to Russia – I feel like a cheat, as my admiration and enjoyment of Russian literature and drama comes via translations. Having translated two plays by Chekhov, and not speaking Russian myself – I cannot say one sentence. This may shock people... However, I am not shocked, as it is not hard to find out what the words mean. To be frank: the translations that often sound bad in the mouths of the actors, these have often been done by linguists.
In my twenties I was very interested in a girl who took Russian lessons. My tragedy being that she quit after three weeks – and I saw no reason to continue, either. I do have a friend I admire a lot. While in his thirties, he came to realise it was no use reading Pushkin – in some other language. So he learnt Russian to read Pushkin. I wish I could say I had the same determination and discipline... I still sense the lack in me.
Being a language-sensitive person, you are still remembered by your letters of complaint to British newspapers – sent over a course of many years – pointing out misuse of  «who» and «whom» in headlines. Are you still in the fight? Or have you given up?
I have given up. The war has been lost. But I do notice the mistakes every time – and by now, they are the rule in the English language based journalism. I think people like me come across like pedant, capricious. Still, such misuse at times alters the meaning. Should one put that sentence into Latin and back again, it might say quite the opposite.
In addition to Voyage, in City Theatre, and Shipwreck, in Drama Theatre, you have, at earlier times, seen The Coast of Utopia plays in London, New York, Russia, Italy and Japan. What are the differences in the varying cultures?
The main difference is how it looks. Once you get used to it, it's the same storey, after all.
Having had glimpses of the Japanese theatre's style of acting and expression, I took the long journey to Tokyo, earnestly hoping to behold something I would hardly recognise. Then, seeing the Japanese Utopia not in the least Easternised... it was a funny feeling indeed. Sure, it was a bit «tuned» by Japanese culture, but with no attempts to place it in another cultural context.
I think my characters are quite distinguishable. So, bursting into any theatre and viewing, on the stage, Belinski, Bakunin, Natasha or Maria, they would never overlay each other – that's the way I like to bring the characters forth. I could just enter at the end of the second act and pinpoint who is who. Just like I wrote them. So, I answered your question coming along a long circle, but I guess my characters are such as to be recognisable, no matter the language and the culture.
Your style being creating characters with strong personal traits...
It seems to me I am drawn, as a writer, to archetypes. I'll try to treat myself nice now... but I often write in stereotypes, and I really like clichés. Not always, but prosaists and essayists look down, on clichés. Unjustifiably so, in my opinion. When writing dialogues, it is wonderful if you can convey lots of information fast – and plainly enough not to be misunderstood, using well-known phrases. Would be nice, of course, if these would not be such clichés that have turned into clichés among clichés...
In theatres, your characters have been interpreted a lot. Same with you as a playwright. How do you look at somebody named Tom Stoppard being written so much about? Critique, reviews, books? Are you able to take this as feedback into your work?
I never read them. This is the only kind of literature I do not read. I like all else. Science fiction, pornography, books on my own plays – these genres never cross my path. I do get letters, often, from people who write essays on me – school children, students – and I always feel they are getting me totally wrong: the examiners are not after my opinion; they are after the students' opinion of me. There is a false teaching being spread: namely, a play has a secret, known to the author – and, should you guess it, then that's the correct answer. If not, then you're wrong.
It is obviously hard to really grasp that a play like Rosencrantz & Guildenstern Are Dead will resonate differently in different people and there is no correct answer – any way a person perceives it, carries some value. I strongly believe that. Few plays are so agitprop-polemical that there would be this one definite thing that it is attempting to say, that one should learn and take away.
This usually meaning the play was not too good?
Yes, often. And still that play may be staged and presented with a big bang. I am aware of that, countries do have their traditions and points of view – and should you, for instance, happen to be an artist in a totalitarian society, or in a society where creative people face certain measures of censorship, then my view on theatre would not be acceptable...