Nanae, a Japanese Bayadere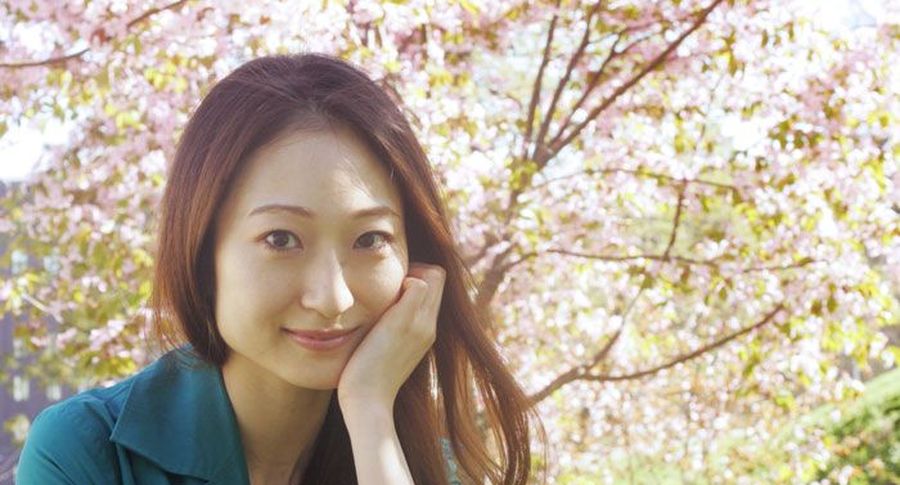 Surprise? Absolutely. La Bayadere's heroine Nikiya – always the prima ballerinas' bread – is, at today's premiere, danced by Nanae Maruyama… not even a soloist.
This being her first main role in big ballet. Up to now, the 27 years old Japanese has, in Theatre Estonia, done bit parts as Queen Anna in Three Musketeers, a Doll in The Nutcracker, or Amor in Don Quixote.
And now Nikiya, like a bolt out of the blue. The role, 22 years ago danced by Kaie Kõrb herself.
Ms Maruyama is no less surprised. «You're kidding, Sergei?» he asked her stagepartner-to- Sergei Upkin, the first to break the news. «I didn't trust him at all, not a bit,» she recalls.
Peace of mind only came after assured by La Bayadere director Toomas Edur. Then, doubts set in. is she able to do that? «Doubt not, you can do it,» insisted Mr Edur.
Now, the premiere soon to start, the latter says: «She fits the role real well – having both the dancing grace and emotional tenderness, being a bit exotic, as well.» And, half joking: «The only problem – she's too modest.»
Dancing. Happy
Truth be told, there is a double burden on Ms Maruyama's shoulders. For it was supposed to be the job for the theatre's prima ballerina Alena Škatula. Her turn ought to have come later. Sadly, Ms Škatula has had her leg injured. The role had to be mastered in less than a month. Not enough time, really. «I thought I would make it to the stage next season, in a couple of years, maybe,» she says. And laughs.
«All are asking if I'm nervous. I'm not. I don't think I have nerves...»
La Bayadere is a ballet by Ludwig Minkus, with Marius Petipa's choreography and libretto. A story on how an Indian temple dancer Nikiya falls in love and is betrayed, still keeping her honour – at price of life, however. The second scene, especially, being famed, played out in the Kingdom of The Shades – to which Solor falls, in mourning for Nikiya and smoking opium.
«This ballet is one of my favourites – just for the lovely music,» says Ms Maruyama.
Psychologically and technically, it is quite a test for her. «My technique isn't the highest – needs a lot of work, still,» she sticks to her modesty.
There is a moment at the end of first scene where Nikiya is tasked with entertaining guests at the party, knowing that Solor is not returning to her – pouring her sadness into the dance. This very episode is considered, by Ms Maruyama, to be the most beautiful and important, as well as the most challenging – dancing wise – as great pain has to be hidden behind a mask of mirth.
If that works, all works, she says. At yesterday's dress rehearsal it worked.
In Theatre Estonia, Ms Maruyama has danced for seven seasons – a very long time for a legionary, in sports terms.
«Oh, it's seven!» she looks surprised. «How the time flies.»
A workaholic, she admits she haven't even had the time for hanami (the traditional Japanese cherry blossom admiring thing - TT). Making it to the blooming cherry trees, at the Japanese embassy, only now that it's time to take pictures.
«I'm dancing every day – and I'm happy!»
So what more do you ask now?!
Still: she came to Estonia after graduating from the John Cranko ballet school in Stuttgart, and danced for years in Cannes, at Jeune Ballet. Such youth troupes, where stage practice is acquired, for a couple of years after school, being quite numerous.
«I was looking for a theatre where I could do classical ballet. Estonia was one of those that responded, invited for tests,» she explains.
Prior to that, Ms Maruyama knew nothing of Estonia – the country. She only knew the name and the Soviet past bit. Being among the first dancers coming from the West.
Get the language!
Estonia proved to be very cold – colder than she could ever have expected. However, there were no cultural conflicts. At least, she can't remember any. «You surprised, yes? Culture, people, food, language – I still like it all,» she assures me. Refusing to point out anything that would classify as strangely Estonian, though I'm asking hard. Well… the summers are too short, the winters too long.
Ms Maruyama didn't understand the Estonian and the Russian spoken at the troupe. But she wanted to. Almost at once, she took up Estonian, intensifying the studies a year ago – as a special course was arranged for those interested, at the theatre.
«Well, I did come to Estonia, I wanted to say tere and aitäh…»
It was hard, but she made it. Working long days – training, rehearsals, the plays at night. Studying, burning the midnight oil. True to the Japanese tradition, she was the most hardworking in her group.
So hardworking that by now she can do the simple conversations in Estonian. And she understands what we are talking about, anyhow. She claims to have some grammar trouble – but, I assure you, she's doing great!
How do you manage with the average Estonian salary – that's the way the group dancers are paid – in Tallinn, renting an apartment as well? «Well, I'd like to ask myself that very question as well,» she replies. And smiles, of course. Every penny is counted – as she also considers it her duty to help parents, hopping to Japan every summer.
By the way: the family hasn't seen her live onstage for ten years already. Only on pictures. Someday, Ms Maruyama wants to buy them plane tickets and bring them over. She hasn't got the money collected, yet.
The future? «If I fall into complacency or pride, I'll quit dancing immediately, that very day,» she vows.
What a beautiful end. A likable dancer indeed.
Nanae Maruyama
•    Aged 27, 164 centimetres, 45 kg
•    Eats no sushi, wears no kimono, holds no tea ceremonies at home
•    Studied dancing at Tokyo Ballet School (2000–2002) and at John Cranko Ballet School, Stuttgart (2004–2006)
•    Estonia Theatre's group dancer since 2006
•    Roles: Queen  Anna (Three Musketeers),  I pas de deux (Before Night Falls), pas de trois (Swan Lake), Doll (The Nutcracker), Bee/Orange (Cinderella), courtesan («Manon»)
•    She has been recognised at various international dance contests