Kangert goes to take Giro. For Nibali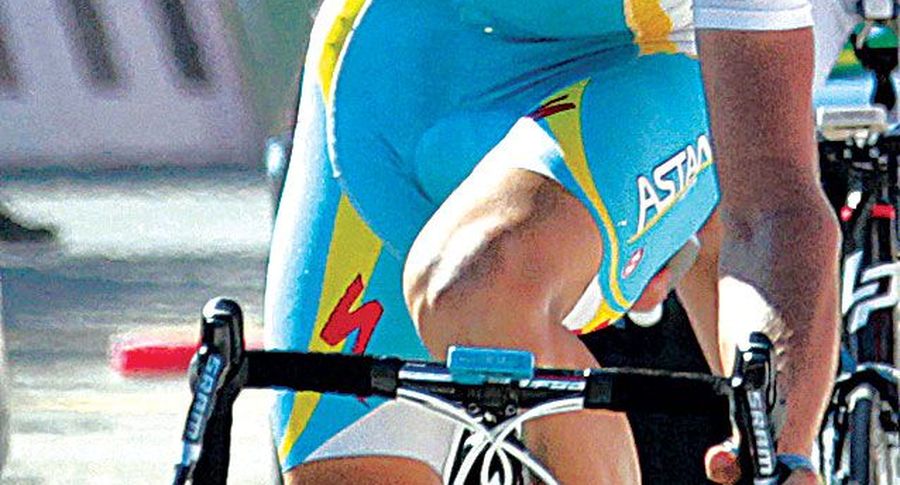 On Saturday, Tanel Kangert starts at the Italian Giro bicycle race, to take the first major win of the season. For the team, that is. Him being the helper-in-chief for the Astana leader Vincenzo Nibali.
Putting together a professional team is sensitive business. The last year but one, Astana hired the young Czech Roman Kreuziger to be its leader. Hopes were high, but alas! Mr Kreuziger didn't make it and left last December. So, time for a replacement. For a man who could do great things at Giro, Tour or Vuelta. For failing to shine at these, a team is nonexistent.
The Astana bosses finally set their gaze at Mr Nibali. The talks were a success. «We had to find a potential big tour winner, at least a winning-trio-guy,» explains the Astana sports director Jaan Kirsipuu.
Sure, a star like Mr Nibali will not change teams for a warm handshake, but big money. «Astana has money,» smiles Mr Kirsipuu. «The budget is not overly tight. Of course, we cannot just randomly purchase riders; but once you manage to prove your point, they'll find the money.»
No liberty for Kangert
Once the leader is hired, a meeting is held to learn his wishes. Mr Nibali, 2nd and 3rd places from Giro under his belt, announced he would set it as his goal, even at Astana, to fight for victory at this very tour. By this, Giro momentarily turned into the most important race of the season, for Astana.
The next task is put together the team – to help the leader. Mr Nibali had his say. A strong say. He demanded that together with him, Astana hire two buddies and helpers of his – Valerio Agnoli and Alessandro Vanotti – and a massager.
«With the aces, it is standard stuff that they can take a couple of their guys along,» says Mr Kirsipuu. «True, they need to be paid a bit over their market value, but that's the way it is. Good to be friends with a great rider. But then: Agnoli and Vanotti are not bad… but not very good either.»
Even with Giro starting at the beginning of May, Astana had its grand plan – whom to include, how to prepare for the tour – fixed in November, already. «First, there were 15 men in the Giro team. A month before the start, it was eight certain guys and five spare guys.»
A team is compiled according to the goal. Astana is not after stage wins – should any come, fine – but a high place, overall. Therefore, no sprinters are sent to Giro, but men who can get up the hills and make it till the end. And here enters Mr Kangert.
«Last year, they didn't really count on Kangert at Giro, as they weren't sure of his abilities. But he worked hard, not in the hills only, but on level ground as well. Including the final and the toughest week. Therefore, this year, Kangert is one of Nibali's main assistants – at the decisive stages, at that. Meaning: he'll not be given much chance to try to win a stage.»
Mr Kangert is said to be remarkably unselfish, the Astana bosses highly satisfied with him. In addition to him, Mr Nibali's main helpers are the Swede Fredrik Kessiakoff and Paolo Tiralongo, an Italian. «Tiralongo, a one-time assistant to Alberto Contador, is a great rider; unable, however, to win the big races,» said Mr Kirsipuu. «Luckily, he is well aware of that, keeps both feet on the ground, and is ready to carry water for the team leader.»
The rest of the bunch – the Kazakhs Dmitri Kruzdjev and Andrei Zeis, Agnoli, Vanotti and Fabio Aru – are the so-called cannon fodder. The ones first to be sacrificed – if there's hard work to be done, to pull the main group back to the runaways, or to give it all in the hills, they get their working orders. Should they totally wear out, it's no big deal. In extreme cases, it's allowed to quit a stage.
The helper's job is no picnic. Before each stage, the day's plan is laid out at the morning meeting. Tasks are distributed according to the men's abilities and the structure of the stage. For instance: those helping Mr Nibali in the mountains, will take it easier on the plains that day. There are always two-three men at the leader's side, bringing him food and drink as needed, and clothes – should the weather change. Also, Mr Nibali is protected in hustles, also from side winds. Should he have a flat tyre or break a wheel, the entire Astana team will wait until the equipment is fixed – to escort the leader back to the main group, shielding him from winds; and then, through the masses of riders, get him back to a good position.
Nibali – a born leader
At the final rise, at least two Astana guys pedal alongside of Nibali as long as possible, ideally up to the last couple of hundreds of metres, to help the Italian if needed, offer him shade from winds or give him something to drink, cheering him on… The rest of the guys will ease it off, halfway up the hill, «strolling» to the finish line.
Mr Kangert is among those who could always make it to the top, with Mr Nibali. However, it is not required of him every time. His main task is to last till the final stages. Therefore, in the first half of Giro, he is often ordered not to push too hard in the hills.
«Nibali is a born leader,» says Mr Kirsipuu. «He doesn't lay stress on others, doesn't lose sleep over anything. It is well with his soul. He says what he has to say; never yells at helpers, as this would be no use at all. Kangert, in his turn, is a born helper. The most unproblematic guy in Astana. Does what he needs to do, always gives his best.»
So: should Mr Nibali win the Giro, a tenth of the glory should go to Mr Kangert, minimum.
The Astana boss: «Kangert is strong, fearless, quiet.»
A couple of days before Giro, the Astana boss, London Olympics winner Aleksander Vinokurov gave high praise to Tanel Kangert: «Tanel is a bona fide Estonian rider. Strong, fearless, quiet,» said Mr Vinokurov, adding that Mr Kangert is able to ride in any weather and always fights till the end.
Preparations for Giro were according to quite individual programs. Only Valerio Agnoli and Alessandro Vanotti, and the third Italian Fabio Aru were with the team-leader Vincenzo Nibali the whole time and rode the same races. It was only a week before Giro that the entire bunch met in a mountain camp for the final polish.
«Judging by the April races, there's no team stronger that Astana,» thinks the sports director Jaan Kirsipuu. «Maybe Sky is at that level, if any. So, the preparations have been right on.»