Uibo, Estonia's fresh decathlon star: not bad, room for growth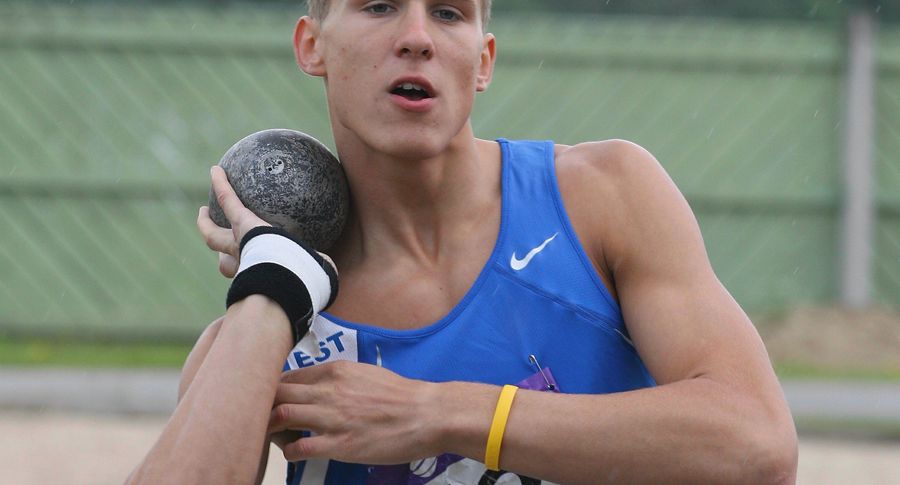 Track and field outdoors season is off with a bang: Maicel Uibo's 8,223 in decathlon is strong stuff for a 20 year old, says the legendary Erki Nool. «Rather surprising, the result. However, the boy does have good technique, keeps his head cool. Provided he'll train hard and avoid injury, he may make it big.»
The 8,223 gained in Athens, Georgia (separately: 10.99, 7.82, 12.73, 2.05, 50.94, 14.93, 49.14, 4.95, 59.21, 4:30.60) mean:
* 675 points over Mr Uibo's former personal record,
* seventh best result in Estonian history,
* Moscow World Championship A-level (8,200) cleared,
* this season's world leading result.
Let it here be mentioned that the three all-time great decathletes – Ashton Eaton, Roman Šebrle and Tomaš Dvorak – were behind Mr Uibo at 20 years of age. Their records, at 20, being 8,122, 7,642 and 8,054 points, respectively. The fact – of course – meaning nothing, but fun to know anyway.
8,500 points? Why not!
Mr Uibo, combining sports with business management studies at the University of Georgia, was really aiming at 8,000 at best. However, as things went smooth, he wasn't going to hold himself back: «I came to compete straight from heavy training and never planned to be on form like that. Some results came as surprises. Yet, there's room enough for growth. I'm satisfied with day one, the second was average – discus throw was good, the rest just so, nothing more.»
Estonian Athletic Association's decathlon and heptathlon department head Tõnu Kaukis, who used to train Mr Uibo before the lad crossed the ocean, is both surprised and calm: «I knew 8,000 points was realistic, but over 8,200… Before that competition, Uibo's personal records added up equalled 8,032 points… and now 8,223… That's not normal. Usually one comes below the sum of records, by 300 points or so. And yet, I'm not overly excited, as Uibo is a hard-working man, late in development. He probably got a decent foundation in the fall, and as spring came around hormones went wild, and – here's the result.»
Weighing Mr Uibo's results, separately, Mr Kaukis concludes that this was no miracle: «We worked hard at the discus, in summer. It flew over 44 meters back then, already. Long jump… He hits the board good, takeoff is phenomenal. Now, he also got the speed. Shot put wasn't that great. In high jump he only did two attempts as the kick-off foot was a bit bad. In hurdles, he was holding himself back, the 1,500 metres race… he had to run alone, basically – and was five seconds slower than he should have been.»
Oh boy! Counting the missed points, he could have gotten all of 8,300 or more.
«Well, yes,» comments Mr Kaukis, adding that in this very summer, Mr Uibo intends to pole-vault 5.20 and do 400 metres under 49 seconds.
Meaning that 8,500 in near future would be no miracle?
Mr Kaukis: «Single results need to be improved a little, gaining extra speed. However, should he lay even more solid a foundation this upcoming autumn, then – why not. If 8,500 comes, who's there to stop it.»
Moscow World Championships likely
Hearing of the 8,500 points, Mr Uibo thinks deep… «If everything comes out ideal, it could be done. And yet – no easy feat to get everything rolling at one event. At my age, first you have to get stability at single disciplines.»
This year, Mr Uibo plans three more decathlons, two of them in US – fist the Conference finals, then the universities' championships. In Europe, he probably does the Moscow World Championships, in August. Mr Kaukis thinks it's not worth it to do the U23 World Championships in Tampere: «The arena is bad and windy. And there'll be more time to be restored for Moscow. Back from America, he ought to have some rest. Then do a slight preparation, and by August Uibo might be on form, more or less.»
To this, Mr Uibo agrees: «Yes, I'll probably do the World Championships, really.»