Mandri: Tour of Estonia will be a super cool race!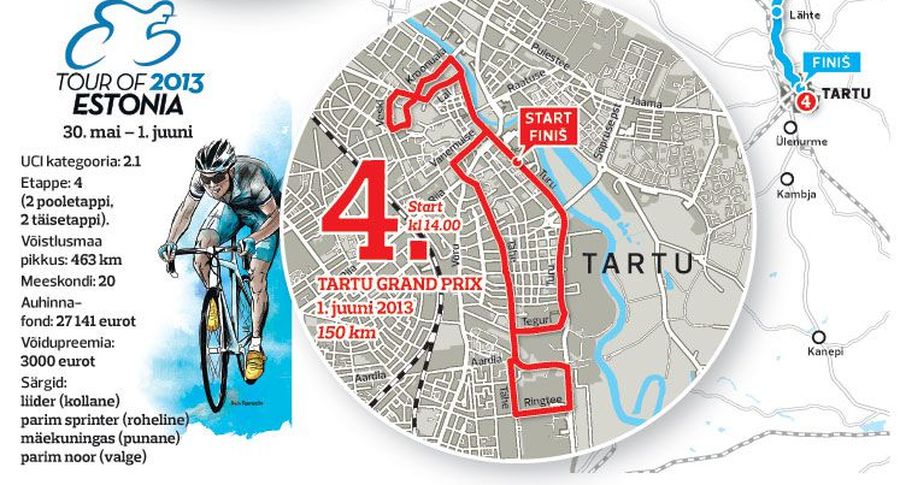 «The Estonian bicycle race will be super cool! The stages are fun, great both for the public and the cyclist,» said Rene Mandri, in praise of the newborn days-long race officially called  Tour of Estonia.
For years, the grumble has been that Estonia, bicycle country that it is, lacks an international tour. There's the Rwanda tour and the Burkina Faso tour, Eritrea, Costa Rica, Guatemala and Iran tours. Even the isle of Borneo has its multiple-day-race – but not Estonia. Now, the shame has been washed off. The Estonian tour starts on May 30th.
«Estonians get a bigger kick out of tours than one-day-races,» stated the Tour of Estonia organiser-in-chief Indrek Kelk. «The love for multiple day tours came long before the Aavo Pikkuus' Peace Race feats and Jaan Kirsipuu and Rein Taaramäe taking up the torch.»
Truth be told, Tour of Estonia is nothing more than Estonian Cycling Weekend stretched to three days: prior to Tallinn–Tartu and Tartu stages, 125 km are covered in Viimsi, on Thursday, and, in the evening, a 3 km separate start stage is done in Tallinn Old Town. However, a tour's a tour, with all of its intrigues and tactical play.
One would think that Tour of Estonia would be no tough race – with no mountains here to locate the finish. Cycling legend and the Astana professional team sports director Jaan Kirsipuu disagrees: won't be easy here, at all.
«Should, at Viimsi stage, west winds blow from sea, it will be hard on open areas to hold a group together,» explains Mr Kirsipuu. «The Pikk Jalg Street rise [in Old Town], to be conquered at tempo ride, will shake up the deck of cards. The Tallinn–Tartu stage is, at certain weather conditions, quite a struggle, and the Tartu circle will be hard anyhow.»
Mr Kirsipuu, a four time champion of Tartu one-day-race, thinks that in his glory days he would surely have attempted to take a Tour of Estonia title. This year, of course, he won't show up: «I have trained, actually. Last week, in a training session, I rode the last 100 km of Paris–Roubaix' classic with the Astana guys. Stuck right with them.»
No doubt, Estonians will be hungry to win the local race. There's a big question mark over Tanel Kangert and Rein Taaramäe participating. However, the last year's Tartu street race champion Rene Mandri, Mart Ojavee, the Cofidis' guy Gert Jõeäär, Mihkel Räim of Amore & Vita club, the Alpha Baltic leader Erki Pütsep and many others may surely enlist.
But that's only the beginning. The first goal is stretching the Estonian tour to 4-5 days. Dreaming to hit the Eurosport screens.